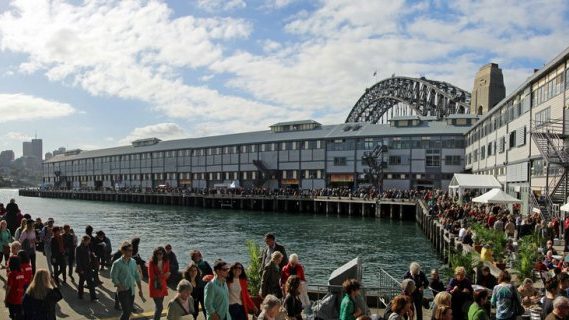 At a loss about what to do this weekend? Generally, you can't beat a good book. Sadly the "one type of book that practically no one likes to read is a book about the law. Books about the law are notorious for being very long, very dull, and very difficult to read"… at least according to Lemony Snicket.
With the Sydney Writers Festival happening in Walsh Bay this weekend, we hope you'll find a few reasons to disagree. To help you, we have put together this guide for those interested in civil rights, crime and free speech. Our highlights include talks by investigative journalists, crime writers, and former Solicitor-General Justin Gleeson.
"I wanted something that would allow our writers to speak about something that was quite serious, that impacted many people… The flipside of all the examination of the forces that people are seeking refuge from is the idea of returning to literature as solace" Michaela McGuire, artistic director of the Festival, said.
Friday
Deng Adut: Songs of a War Boy
11.30am – 12.30am, Roslyn Packer Theatre
"Conscripted at age seven into Sudan's brutal civil war, Deng Adut was groomed to handle an AK47 instead of a pencil. He escaped bullet wounds, atrocities and near starvation to become a lawyer, refugee advocate and NSW Australian of the Year. His memoir, Songs of a War Boy, is equally remarkable as it was written by a man who learned English by watching The Wiggles. He shares his inspiring story with Suzanne Leal." [More info]
Ian Ranks: Who Says Crime Doesn't Pay
6.30pm – 7.30pm, City Recital Hall
 "Ian Rankin's depictions of a hard-nosed and unforgiving Edinburgh blasted the city's genteel, chocolate-box image and helped usher in a new wave of Scottish crime writing. With his 21st instalment of the Inspector Rebus series currently on shelves, Rather Be The Devil, Ian talks to fellow crime author Michael Robotham (Close Your Eyes) about what it takes to create a great crime novel, and walking the sometimes blurry line between real life and fiction." [More info]
Saturday
Smoking Gun: Crime Fiction
10am – 11am, Richard Wherrett Studio
"Some of Australia's finest crime writers discuss the art of suspense. Tom Keneally and Meg Keneally are behind the Monsarrat series, where historical fiction meets crime. Bestselling writer Candice Fox has delivered again with her latest, Crimson Lake. Melina Marchetta turned her hand to crime fiction after building a career as one of Australia's best-loved Young Adult authors. With Giulia De Biase, these acclaimed crime writers will shed light on writing about the shadowy world of crime." [More info]
Trust And Persistence: How Investigative Journalists Cultivate Sources and Share Their Stories
10 – 11am, Sydney Dance 2 (Free)
"Journalists often talk about the documents and data that can be the building blocks of an investigation. But what about the people? Four of the best share their strategies and best practices for finding and cultivating sources – and the ethics of protecting them and sharing their stories. Join Walkley Award winners Ben Doherty, Sarah Ferguson and Debra Jopson as they discuss sources with Kate McClymont." [More info]
John Saffan: Depends What You Mean By Extremist
1.30pm – 2.30pm, Pier 2 / 3 The Loft
"No-one turns up where they're not wanted quite like satirist, documentarian and writer John Safran. His latest offering, Depends What You Mean by Extremist, delves into the world of white nationalists, ISIS supporters, anarchists and more. Drinking shots with nationalists, and gobbling falafel with radicals, John was there the year extremism entered everyday life. He talks to Sally Warhaft about the political climate in Australia, his adventures with extremists, and the lessons he learned.' [More info]
They Cannot Take The Sky: Stories From Detention
1.30pm – 2.30pm, Wharf 2 Theatre
"Behind the Wire works with people to tell their stories about seeking asylum and being indefinitely detained by the Australian government. Their book, They Cannot Take the Sky, was launched this year. Through audio, video and live storytelling, narrators Peter, Lina and Hani Abdile will tell stories of hope, suffering and resilience, followed by a conversation with Hani and Behind the Wire coordinator, Angelica Neville. These are the voices you will not forget." [More info]
PEN Lecture: The Threat To Freedom Of Expression
3pm – 4pm, Sydney Dance 1 (Free)
"Donald Trump's attack on the media as 'the enemy of the people' is one disturbing aspect of the US President's leadership. Justin Gleeson, lawyer and Solicitor-General of Australia until his recent showdown with George Brandis, believes we should be worried by current events overseas, and how they relate to freedom of speech at home and globally. Justin delivers a lecture about the threats to freedom of expression, which lie primarily in governments and big business using power, surveillance and the law to silence legitimate criticism." [More info]
Ian Rankin: Rather Be The Devil (Parramatta)
7.30pm – 8.30pm, Riverside Theatre
"Ian Rankin is a bestselling, award-winning crime writer, known for his Inspector Rebus novels, which have been translated into 22 languages. His most recent novel, Rather Be the Devil, is the 21st instalment of the series. Publishers Weekly said, 'With its trademark blend of sharp wit and even sharper police work, this entry is yet another example of why Ian remains in the top echelon of Scottish crime writers'. Ian discusses his work and art with crime writer Candice Fox." [More info]
Sunday
Border Force
3pm – 4pm, Pier 2 / 3 The Loft
"Immigration is a hot-button topic in today's troubled times, with the world's heavy hitters making unprecedented moves to control immigration and increase national security. Hosted by The Briefing's Alex McKinnon, a panel of experts weigh in on Australia's immigration debate, with a focus on security, civil liberties and where we stand on the global stage. Featuring The Guardian's Ben Doherty, associate editor of The Australian Caroline Overington and ABC's Sarah Whyte." [More info]
*Selections taken from official Sydney Writers Festival guide
Receive all of our articles weekly
Author
Kieran Adair
Kieran Adair
is the previous Deputy Editor of City Hub. He has written for the Huffington Post, Guardian Australia and South Sydney Herald. He has a passion for social justice and is a member of the
Sydney Criminal Lawyers®
content team.