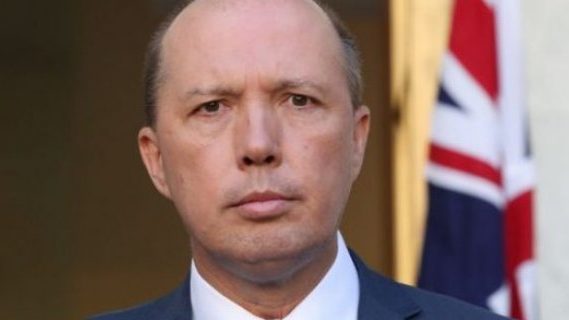 Peter Dutton has been diagnosed with Coronoavirus (COVID-19 virus), after waking up with a temperature and a sore throat. He was immediately tested for the virus, and those tests have come back positive.
But in the days beforehand, Mr Dutton had been in contact with a number of high ranking officials from various countries at a "Five Eyes" gathering in the US.
The group is an intelligence alliance involving officials from Australia, US, UK, Canada and New Zealand and they were meeting to discuss tactics focused on combating online child exploitation. Representatives from major tech companies were in attendance, as well as nine survivors of child sexual exploitation.
Mr Dutton was also in the US to finalise a deal with the White House to give Australian law enforcement better access to data held by US companies.
Is the PM also at risk?
In the days immediately prior to his being tested positive for Coronavirus, Peter Dutton  also attended a cabinet meeting with the PM, Scott Morrison, but Scomo himself is refusing to be tested for the virus, with statements from his office continuing to insist that fine and there is no reason for him to be tested for the virus.
His refusal to be tested is hard to fathom given his government's response in recent weeks as Coronavirus continues to plague countries around the world.  He announced 1 million facemasks to be distributed around the country, and a $17.6 billion Coronavirus economic stimulus package as well as pop up clinics for testing and $2.4 billion national health package to combat the seriousness of the Coronavirus threat.
In fact the PM and Mr Dutton, only several weeks ago suggested a plan to declare Christmas Island a 14-day 'quarantine zone' for Australians arriving home from Coronavirus plagued areas of China.
Christmas Island – a brand new medical facilities with no waiting times
Christmas Island has existed as a place of detention since the turn of the century. Far from the Australian mainland but close to Indonesia, it has been a target destination for people travelling by boat to claim asylum on Australian soil.
There have been riots at the detention centre, and there have been deaths. In 2010, 48 people died when their asylum boat smashed against the rocks. From 2011 to 2015 there were a series of incidents including protests, hunger strikes, and riots, and detainee levels far above capacity. An Iranian asylum seeker escaped over the fence and took his own life, and conditions for asylum seekers became even more restrictive.
It was revamped, and then officially closed in 2018 at a cost of $180 million. Since then its only inhabitants have been the Tamil family from Biolela who continue to fight their refugee status in the Australian courts. Government figures suggest that on top of spending more than $16m reopening the facility, more than $4million has so far also been spent on their detention and legal costs.
Christmas Island was re-opened last year to prepare for the hordes of people the government said it would be forced to deal with because of the medevac laws. Those laws – which enabled doctors to have sick refugees and asylum seekers transferred to Australia for care or assessment – have since been repealed. No one was ever sent to Christmas Island, except the Biloela family. The UN has called for their release, but was ignored by Australia.
Despite promises to close the centre after the medevac laws were repealed, the government has signed a three-year $20m contract with an island-based mining firm to run the centre. Currently the centre has more than 100 Australian tax-pAyer funded staff who have very little to actually do.
Aussies say: Send Dutton to Christmas Island!
Social and satirical media are both currently filled with calls for Mr Dutton to be sent to Christmas Island. Now is the perfect opportunity for him to see the facility in action. Not only would he receive quality medical treatment while in quarantine, he could see first-hand the way the Tamil family lives. They are in complete isolation, despite currently being the only inhabitants, all sleeping together in one queen-sized bed.
The young girls play with leftover broken toys from the time when children were last detained there. They socialise a little with local children, but their time is restricted, and during school holidays they are not free to leave the centre. The family has been told this is for security reasons.
Mr Dutton could also spend time with local residents listening to their concerns about the way the expansion, then closure and subsequent reopening of the detention centre, has affected the island's economy and completely decimated the local tourism industry.
Obviously, even though he does now have to spend a period in isolation, there is no way Mr Dutton will end up on Christmas Island. Which is a huge shame. If our politicians had to actually comply with their own policies, no doubt, Australia would be a very different place to live.
Receive all of our articles weekly