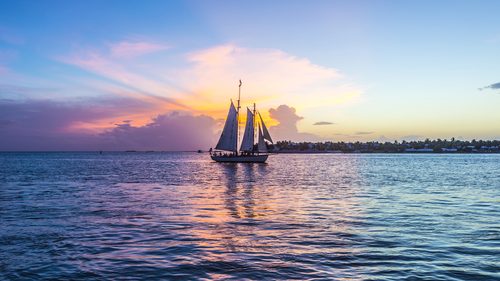 In 2010, Lewis Bennet formed the company called 'Next Generation Solar', which was based in Mount Nathan, Queensland.
The British man became an Australian citizen in September 2013 but left Australia on February 22 last year, writing on his departure card that he intended to live in England for next 12 months.
Bennet is now at the centre of an investigation by the FBI and US Coast Guard, after the disappearance of his wife from the couple's boat last month.
Accident at sea
Mr Bennet told police the couple were at sea about 100km off the Florida Keys on the night his wife, Isabella Hellman, disappeared.
He says he went to bed leaving her alone on deck and, at about 1am, was jolted awake by a collision with an unknown object in the water. He had time to scramble onto the deck and get into a lifeboat, but his Colombian-born wife was nowhere to be found.
He sent up an emergency flare and called for help before being rescued by the coastguard at around 4:30am. He was pulled from the ocean, leaving his boat half submerged and still sinking.
The Coast Guard attached a beacon to the boat but the signal was later lost, suggesting either that the boat had sunk deep into the ocean or the signal malfunctioned.
So far, investigators have searched around 17,000 square kilometres of ocean but cannot find the boat or any sign of Isabella, who is now presumed dead.
Mr Bennett has both Australian and British citizenship and, according to friends, wanted his wife and their daughter to live in Australia – but it's not something that his wife wanted.
The location of Mr Bennet and his daughter is not currently known, but it is understood they have not returned to Australia.
The plot thickens
Bennet recently accused his wife's family of taking items from the couple's apartment including Isabella's engagement ring, electronics and an expensive handbag.
Desperate to find Isabella, her family – some of whom have shared their own suspicions about Bennet to the media, have started a Facebook page appealing for information regarding her whereabouts.
"Isabella needs us! Share her photo and spread the voice. If we work together is easier to find her. Together for Isabella #FindIsabella," the page reads.
While US investigators have confirmed they are conducting investigations into a 'missing person', and have questioned Bennet at length and searched the couple's apartment, sealing it with yellow crime scene tape.
In trouble with the law overseas?
Australians who find themselves in trouble with the law overseas do not normally get special government assistance.
If you are in trouble, it is advisable to contact the Australian Consulate in the country you are in. They may be able to:
Provide you with a list of local lawyers;
Visit or contact you if you are arrested;
Inform your family of your arrest (if you give your consent); and
Seek to ensure you are not mistreated while you are under arrest
Receive all of our articles weekly