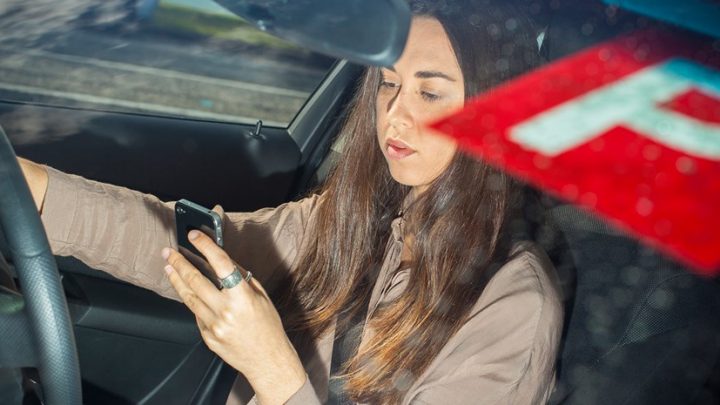 By Sonia Hickey
Tough new laws are now in force for L and P-platers when it comes to using mobile devices.
It's now illegal for L and P-plate drivers to use a phone at all while driving, including navigation apps and music streaming, whether the phone is in a hands-free cradled or not.
The new rules came into effect at the start of December and are aimed at ensuring that less experienced drivers and riders are not distracted while on the road.
Mobile phones cause distraction
Mobile phones are one of the main causes of driver distraction and can lead to collisions, especially by those who are in the early stages of driving. And accidents involving mobile phones are more likely to lead to hospitalisation than those which occur when a phone is not being used. .
Studies suggest that if you're driving at 60 kmph and take your eyes off the road for just two seconds, you will drive for an average of 33 metres blind. Road safety experts warn that a lot can happen in 33 metres, especially in wet and slippery conditions, around tight corners, at night time, in sun strike, in heavy traffic, or when you're tired.
New rules from December 1
Under the new rules, Learner and P1 drivers and riders who are caught illegally using a mobile phone will lose four demerit points, which will exceed their demerit point threshold. They will also face a three-month licence suspension.
P2 licence holders will only have three demerit points remaining if they are penalised for illegally using a mobile phone.
Learners and P-Platers can only use a phone when the car ignition is turned off and the car is parked safely in a designated parking spot.
More Australians than ever are using mobile phones – about 97% of the population. Statistics from the Centre for Road Safety at Transport NSW suggest that phone distraction was involved in 216 crashes between 2008 and 2012, including four fatal crashes, 96 injury crashes and 116 tow-away crashes.
Penalties for drivers
New rules introduced for all New South Wales drivers at the beginning of 2016 provide that if you're not on an L or P plate, you can only operate a mobile phone hands-free, via Bluetooth, and if it's mounted in a cradle that complies with the regulations.
Disobeying the rules costs $319 plus four demerit points, or double demerits during major holiday periods.
As we head towards the festive season, there are sure be more patrols on our roads as police crack down on motorists who break the rules.
As always, police will also be targeting drink driving, driving with an illicit substance and speeding.
From all of us at Sydney Criminal Lawyers®, wishing you and your family a safe and trouble-free holiday period.
Receive all of our articles weekly