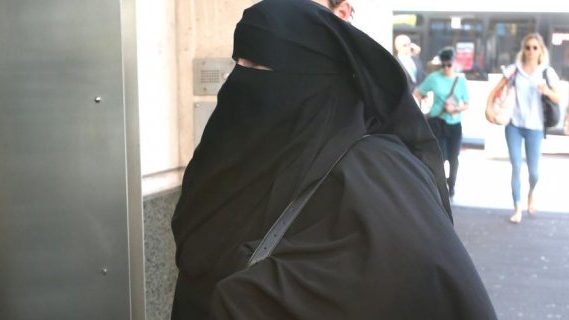 By Blake O'Connor and Ugur Nedim
Three weeks of court time was set aside to hear a case brought by Moutia Elzehad against the NSW Police Force for allegedly assaulting her in 2014 during a terrorism related raid.
Mrs Elzehad is married to Hamdi Alqudsi who, earlier this year, was sentenced to six years in prison for assisting people to travel to no-go zones in Syria.
During her civil hearing, Mrs Elzehad's lawyer said his client would reveal her face to the judge for identification purposes, but she would not remove her veil when testifying, unless no men were present inside the courtroom.
NSW District Court Judge Audrey Balla denied a request to order men attached to the case to leave the courtroom, instead offering to 'close' the court to anyone not directly involved.
Her Honour also offered to allow Mrs Elzehad to give evidence via video link from another room. As both measures would cause her face to be revealed to men, Elzehad maintained her refusal.
Judge Balla then ruled that Elzehad could not testify unless she removed her head covering. The stalemate effectively brought the case to a halt.
Demeanour on the witness stand
The facial expressions and general demeanour of witnesses can be important when assessing the reliability and credibility of their testimony. It is therefore in the interests of justice that witness's faces can be seen when they are testifying in court. Judge Bella made this clear when delivering her judgement:
"It is my role to ensure that there is a trial which is fair to all parties. I must balance on the one hand the need to respect the first plaintiff's religious beliefs. In this case, those beliefs mean that she may choose not to give evidence which could impact on the successful prosecution of her case. On the other hand, I must take into account whether I would be impeded in my ability to fully assess the reliability and credibility of the evidence of the first plaintiff if I am not afforded to opportunity of being able to see her face when she gives evidence".
As Her Honour notes, it is also important to respect the religious beliefs of those who are involved in the criminal justice process.
In attempting to reach a balance, the judge offered to close the court or allow Mrs Elzehad to give evidence from a remote location, but would not go as far as to exclude men who are directly involved in the proceedings from the courtroom. Such a concession would, in Her Honour's view, have been contrary to the interests of justice.
Judge praised
Most have praised Judge Balla for the way she handled the case.
Indeed, one mainstream newspaper called the ruling "a long-overdue counter to a prevailing mood of accommodation when it comes to Islamic exceptionalism. Allowing different rules to apply for any given group of people will only increase divisions rather than mend them."
However, some are concerned the ruling will dissuade women who wear head coverings from seeking access to the legal system for fear of being forced to compromise their beliefs, or that it may even send a dangerous message that it is relatively safe to assault women who wear burqas, as they are unlikely to report the matter or testify in court.
Receive all of our articles weekly
Author
Sydney Criminal Lawyers
Sydney Criminal Lawyers®
is Australia's Leading Criminal Defence firm, Delivering Outstanding Results in all Criminal and Driving cases. Going to Court? Call (02) 9261 8881 for a Free Consultation.