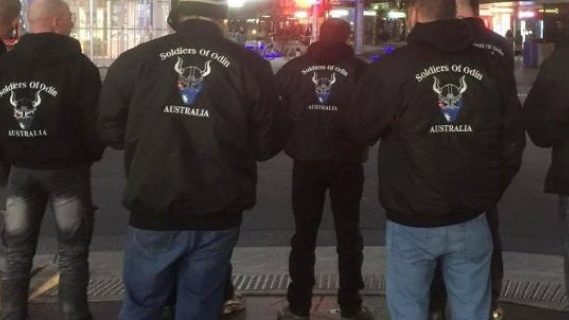 A self-proclaimed patriot group is patrolling the streets of Melbourne's CBD in what they say is an effort to combat rising street crime and protect the public.
The group, called The Soldiers of Odin, is an offshoot of the far-right Finnish group of the same name. It is conducting 'safety patrols' in several areas of Melbourne, including Federation Square, Birrarung Marr and Bourke Street Mall and a number of train stations.
The group says it is compensating for the failure of police to protect the public from crime gangs such as Apex, which is reported to be responsible for violent carjackings, home invasions and burglaries in Victoria.
The Soldiers of Odin is just one of the groups to spring up in response to crime.
Overseas origins
The Soldiers of Odin has its roots in Europe. It commenced in Finland in 2015 as a response to asylum seekers arriving in that country.
At the time, the group declared its primary goal as improving the community's sense of security by intervening in threatening situations and reporting incidents to the police.
The group's stated purpose is to "protect people, especially women, from criminal immigrants", and "to help everyone" regardless of their ethnicity.
The group has been called everything from fascist to racist, to neo-Nazi vigilantes– labels it vehemently denies. The group's founder, Mika Ranta, is reported to have links to the far-right Finnish Resistance Movement and also a criminal conviction for a racially motivated assault in 2005.
Local division gaining popularity
Here in Australia, The Soldiers of Odin appears to be gaining momentum.
It claims to have more than 100 members who are organised into "divisions" in Melbourne, Sydney, Brisbane, Perth and Adelaide. Its Facebook followers in Melbourne tally more than 13,000, and nearly 2,000 in Sydney.
While the group admits to being critical of immigration, it denies being anything but a a patriotic club, devoted to keeping the streets safe, and standing for "old fashioned Australian values".
On Mondays, the Melbourne group distributes food and clothing to the homeless out of a stall in City Square.
Members wear black, with distinctive jackets emblazoned with a Norse war helmet and Australian flag. They patrol the streets in groups, and while there have been no reports of violent interactions so far, the group does look intimidating, which it says is part of its visual presence, and being proactive in deterring anything untoward from happening.
The group claims its protocol is to call police upon witnesses criminal conduct, rather than directly intervening.
Police call for caution
Victoria Police says it's aware of the group and has strongly cautioned the public – including group members – from getting involved in potentially violent confrontations if they witness a crime.
Chief Police Commissioner Graham Ashton has called on the public to assist police by reporting incidents rather than trying to intervene.
A spokesperson for Victoria Police has reiterated that message:
"We do not recommend people confront offenders as this places you at risk of harm. Police have extensive training which equips them with the skills and resources needed to respond to safety issues."
At the same time, police say their resources are stretched to the limit right across the country. A number of stations across NSW and Victoria have slashed their operating hours, and the Police Association in Victoria has called for the recruitment of 3300 extra officers by 2022.
In the meantime, groups like The Soldiers of Odin and other variations of the original 'neighbourhood watch' concept say they feel the need to take to the streets.
Receive all of our articles weekly
Author
Sydney Criminal Lawyers
Sydney Criminal Lawyers®
is Australia's Leading Criminal Defence firm, Delivering Outstanding Results in all Criminal and Driving cases. Going to Court? Call (02) 9261 8881 for a Free Consultation.