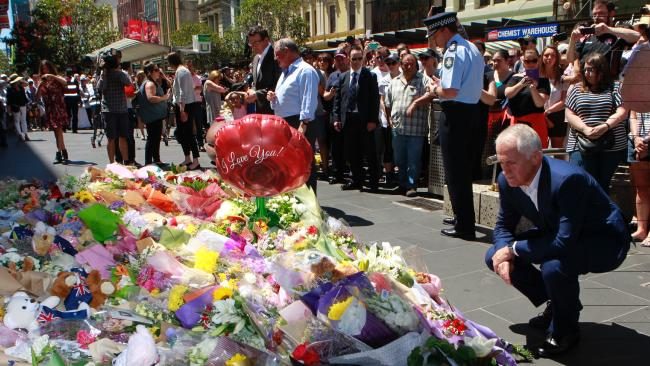 As Australia mourns the victims of a senseless tragedy, the Victorian government has vowed to make the state 'safer'.
In the wake of last Friday's Bourke Street tragedy which killed five people including a three-month-old baby boy and a 10-year-old girl, and left 30 people seriously injured, details are emerging about the life of alleged killer Dimitrious Gargasoulas, including that he was released on bail just days before the incident.
In response to a grieving and incensed public, Victorian Premier Daniel Andrews has promised to review the entire justice system, and to toughen bail laws to ensure an incident like this doesn't occur again.
It may be little comfort the families of the victims, and the thousands who continue to lay wreaths at the scene of the rampage, but the Premier has appointed Director of Public Prosecutions Justice Paul Coghlan to conduct a thorough examination of all aspects of the system, and provide advice back to the Victorian government by April 3.
Bail changes need to 'go much further'.
In announcing the review, Premier Andrews declared there would be "legitimate questions" asked of the system.
He asserted that while bail has become tougher to achieve over the past two years, the changes needed "to go much further".
"We need to have a really close look at each and every element of our bail system and we need to make profound change for the future to keep Victoria safe," he said.
A reform that was recently implemented was to limit the sentencing options for serious offenders. The government also set up a special taskforce to tackle rising youth crime in the state.
Key reforms
Premier Andrews announced that an after-hours magistrates' court will be established to consider bail applications for those charged with violent crimes when police oppose bail.
He says the government will also consider the greater use of technology for efficiency, safety, and to get the very best outcomes.
He also announced extra resources to Victoria Police, and for the Coroner who is investigating the Bourke Street incident.
It has also established a fund for the families affected by the tragedy.
The alleged offender
It is alleged that Dimitrious Gargasoulas was driving erratically around Melbourne after stabbing his brother earlier that morning.
Gargasoulas is well known to police, who say they were acutely aware of his history of family violence and drug use, and his mental health issues.
He had been bailed on an assault charge just five days before his rampage, and pubished a series of bizarre posts to his personal Facebook page in the lead up to the incident, warning of impending doom.
He was recently released from hospital and has been charged with five counts of murder.
Receive all of our articles weekly