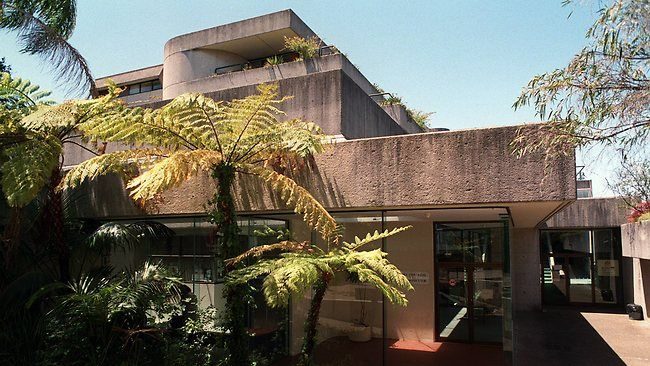 Some of Australia's most infamous criminals had their initiation into custody at Bidura Children's Court and Remand Centre.
The Bidura Children's Court first opened in 1911 and is currently undergoing a multi-million dollar renovation. The excavations have uncovered a number of dark secrets about Australia's criminal past.
The building itself is large and intimidating. Made of heavy concrete, it was built in an architectural style called 'brutalism' . Over the years, it has been poorly maintained – the façade is stained and grubby, garden beds are empty and the building looks every bit as foreboding as the stories being unearthed.
'Hellish existence'
Those who are renovating the site attest to the fact that the holding cells in the old Children's Court are marked with graffiti, symbols and words that paint a picture of misery for the young people detained there.
While that building was closed in 1983, it was home for decades to cells in the basement which fittingly gave rise to the name, 'the dungeon'.
From early on, juvenile offenders were kept in custody for long periods of time over minor crimes such as petty theft and truancy.
For many, it was the beginning of lifelong careers in crime.
Initiation into a life of crime
Crime boss George Freeman, Sydney's "Mr Big" Lenny McPherson, Darcy Dugan, Raymond John Denning, "Neddy" Smith and Russell "Mad Dog" Cox all spent time in Bidura's 'dungeon'.
"Mr Big" went on to build an extensive network of criminal activities that included robbery, theft and extortion rackets, illegal gambling, bootleg alcohol, prostitution and drug supply. He was known to be extremely violent and, legend has it, tore the head off a live rabbit at his Mother's 70th Birthday Party.
Darcy Dugan was an armed robber but became better known for his prison escapes. After his final release on parole in 1984, he became a campaigner for prison reform and exposing corruption.
Ray Denning watched his mother commit suicide by dousing herself with kerosene and setting herself alight, after discovering that her abusive husband was about to be released from prison.
Eventually, Ray Denning was made a ward of the state, but not before he'd spent many years within the confines of the Bidura Court lock-up and in other orphanages such as the Grafton Boy's Home.
He spent all but handful of his adult life behind bars and died of a drug overdose after being released from prison at the age of 42.
George Freeman, a bookie, who continually denied any links to organised crime, was named at three royal commissions into crime and corruption. Despite accusations of murder, drug dealing, race-fixing, bribery and illegal gambling, he evaded any serious convictions. He died in 1990 from an asthma attack.
Convicted armed robber "Mad Dog" Cox who escaped from prison and went on the run for 11 years before being recaptured, was released on parole in 2004. It is believed he now lives in seclusion somewhere in Queensland.
And Arthur "Neddy" Smith, a notorious gangster and heroin dealer now aged in his seventies, is still in prison, serving life for murder.
A 'boot' for goodluck
During Bidura's renovations, workers found an old boot believed to be placed deliberately in the walls behind the fire place, possibly by the original construction team as a symbol of hope and good luck for the young people who came in.
The Bidura Court was closed permanently last year. It has been replaced by the Surry Hills Children's Court, which comprises four courts with Audio-Visual Link facilities, two conciliation rooms, witness protection rooms, as well as other spaces specifically reserved for support services and agencies that support the Children's Court.
Receive all of our articles weekly