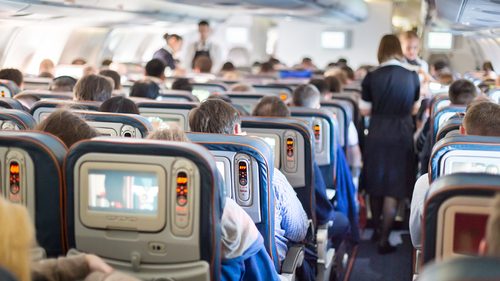 A NSW man is suing American Airlines after allegedly being 'squashed' during a long-haul flight from Australia to the USA.
Michael Anthony Taylor, of Wollongong, is suing the airline for more than $100,000 in damages, saying he was crushed by overweight passengers next to him during a flight from Sydney to Los Angeles.
He says the American Airlines flight crew refused him permission to move to another seat, and that his discomfort over the 15 hour long-haul flight aggravated an existing back injury.
According to his claim, Mr Taylor was seated next to the window in economy class sharing the row with two passengers he described as "grossly obese".
He says the body of the passenger next him "spilt over and encroached" into his seat, forcing him to "contort his body into a series of positions including standing up, crouching, keeling and leaning forward".
The documents say that as a result of not being able to sit straight in his own seat, he experienced pain, injuries and discomfort and has suffered ongoing problems ever since, including back and neck pain as well as aggravation of his pre-existing scoliosis — also known as curvature of the spine.
Speaking on their client's behalf, Mr Taylor's lawyers told the media:
"Mr Taylor asked the cabin crew on numerous occasions if he could sit in another passenger's seat, or sit on one of the crew seats, or sit in the aisle or even to sit on the toilet seat to alleviate the pain and discomfort that he was suffering from. One each occasion, he was refused and rebuffed".
"As a result of the fact that American Airlines failed to reseat him or even offer a viable alternative, he suffered bodily injuries by contorting his body within the cramped space caused by the intrusion of the grossly obese passenger sitting next to him."
Concerns about the shrinking size of economy class seats on newer planes have been around for years. 'Seat pitch' (leg room) is decreasing, and 'slim line' (narrower) seats are being introduced, both of which compromise comfort.
It has been such an issue in the US that there were calls last year for the United States' Federal Aviation Administration to set a minimum seat size and legroom requirements for airlines. The request was rejected in the senate.
The problem is exacerbated by the fact that airlines regularly overbook flights – which is often counter-balanced by the fact that people miss flights or just don't turn up for them, but also means there may be no spare seats for passengers who need to move for medical reasons.
In Australia
As a nation, we certainly have our share of 'obese' people – about 18% of the population is categorised by medical standards as obese. The Civil Aviation authority has suggested that airlines set the size of seats on weights of 81 – 86kg for men, and 66 – 71kg for women.
In America, some airlines have implemented policies whereby those who are assessed as too large must purchase another ticket. If they don't, they may be refused travel.
However, Australia airlines are powerless to impose such regulations. This is because under Australian anti-discrimination laws, obesity can be defined as a disability.
But as long as passenger numbers are seen as more important than comfort, we may find that seat sizes continue to get smaller.
Receive all of our articles weekly