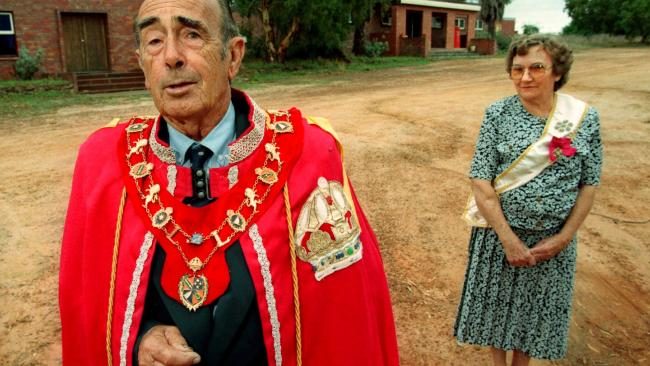 The founders of Australia's oldest 'micro-nation' have found out the hard way that you can be the king of the castle, but still have to pay your taxes, after losing a Supreme Court battle against the Australian Tax Office (ATO).
The Hutt River Province is about 500 kilometres from Perth, in the mid-west of the state. It was created by self-proclaimed 'Prince Leonard Casley' forty-seven years ago, after a disagreement with the WA government over wheat production quotas.
At the time, Prince Leonard anointed himself sovereign and planned to live happily ever after in his own kingdom. But the prince and his son have just lost their Supreme Court battle, and now owe nearly $3 million in tax to the ATO.
Justice Le Miere ordered the prince to pay $2.7 million, while his son has to pay $242,000. The payments relate to unpaid taxes between 2016 and 2013. The family will also have to pay interest and legal costs.
The judge found that the family's argument that courts did not have jurisdiction over them because they are the "sovereign of, or citizen of, the Hutt River Province" had "no legal merit".
"Anyone can declare themselves a sovereign in their own home but they cannot ignore the laws of Australia or not pay tax," the judge remarked.
"It is not sensible or a proper use of judicial resources to recite and analyse all of the defendants' utterances masquerading as legal submissions", the judge added.
"It is sufficient to say that none of them raises a defence to the [tax office's] claims."
The family was not present in court, but listened from Hutt River via a telephone link. They said they were "surprised" by the court's decision in light of the fact that the Province is not legally recognised by the Australian Federal Government, despite attracting thousands of tourists every year who go there to have their passports stamped and buy the 'official currency'.
They are now considering an appeal to the High Court of Australia.
Prince Leonard said the family had paid tax on commercial ventures, but questioned the relevance of goods and services tax within the principality, as it is an 'independent country'.
This is not the first time the prince has formally asserted sovereignty.
After repeated demands for payments from the ATO, the province declared war on Australia in 1977. He withdrew that declaration several days later.
Tax fraud, including tax evasion, are taken very seriously in Australia, and those who are found guilty can face heavy fines and up to ten years in prison.
Receive all of our articles weekly