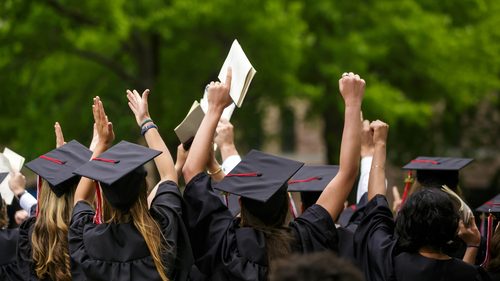 The QS World University Rankings places over 950 institutions across the globe in a range of categories, including by course of study and overall excellence.
It applies six broad metrics to ascertain a score for each category, which then determines the institution's ranking within that category.
These metrics are:
Academic reputation
Employer reputation
Faculty/ student ration
Citations per faculty
International faculty ratio
International student ratio
The 2017 rankings were based on the views of over 75,000 academics and 40,000 major employers around the world. The organisation also analysed 12.3 million papers and over 75 million research citations.
The ANU comes up trumps
The Australian National University in Canberra was placed higher than any other Australian university in this year's rankings, at number 20 in the world.
The ranking puts the ANU in the top 0.1% of more than 26,000 universities worldwide.
ANU Vice-Chancellor Professor Brian Schmidt AC sees the result as a reflection of the university's domestic and international standing.
"The latest results are a wonderful testament to the world-leading research and education on offer from the ANU, and the dedication of our staff and students who contribute to make ANU one the great places in the world to work and study," the professor is reported to have said.
"ANU researchers work every day to help address some of the major issues facing Australia and the world.
"ANU is a truly global university, and we work hard to attract the best and brightest students, academics staff and researchers from around the world."
The University of Melbourne ranked at number 41, the University of New South Wales at 45, the University of Queensland at 47 and the University of Sydney at 50.
Australian Law Schools
In terms of the best law schools in Australia, the University of Melbourne took top spot – ranked number 11 worldwide – followed by a law school in Sydney University of Sydney at 13, the University of New South Wales at 14 and the ANU at 16.
The world's best law school was determined to be Harvard University, followed by the University of Oxford and the University of Cambridge.
Best cities for students
The rankings also placed the world's best cities for students.
The methodology took into account university rankings, student mix, affordability, desirability and employer activity.
Montreal took top spot as the best student city, followed by Paris and then London.
Melbourne was the best Australian city for students, coming in at number 5, followed by Sydney at 13.
But as the organisation points out, the decision about which course is the most suitable for any particular student will often depend on a broader range of factors than those considered by the study, and place greater emphasis on those seen as the most important.
Receive all of our articles weekly