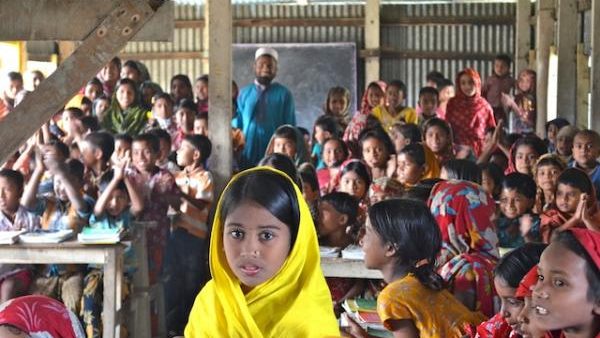 Bangladesh is a remarkable country, but it is plagued by desperate poverty.
Formerly East Pakistan, it became Bangladesh in 1971 after a war of independence. The country is located on the Indian subcontinent and has a population of more than 160 million – roughly 1,000 people per square kilometre – making it one of the most densely populated nations on earth.
Most of the country's people are very poor, and children often need to work long hours to help their families to survive. Millions of children receive no education at all.
But we are keen to do something small to help change that, and working through the Fred Hyde organisation, we are extremely fortunate to be able to fund the building of a school for young children in a particularly impoverished region of the country.
Through our self-funded SCL Help Fund, our Sydney solicitors firm have donated $12,500 to fully fund the construction of the school, and committed to funding a further $8,000 annually for ongoing costs, including teachers and high energy biscuits for the children. The biscuits may not seem like much, but they can mean the difference between parents sending their kids to school or not.
Construction is due to begin at the end of this year – while the country is in dry season – and the school is expected to be completed in March 2018. It will be built on a concrete base, elevated and fortified to protect against flooding.
About Fred Hyde Schools
The Fred Hyde Organisation was founded more than 30 years ago by a Queenslander with a big heart.
Fred was drawn to the Indian Subcontinent after military service and a successful career in retailing. While his friends were getting ready to retire, Fred became involved in children's charity work in Bangladesh and started looking after an orphanage-farm run by an Australian aid agency.
The experience gave him a special insight into the needs of children in Bangladesh. Knowing that foreign dollars could go a long way, Fred realised it would be possible to provide basic education such as reading, writing and maths, for many local children, and his real life purpose began.
Fred was heavily involved in the work of the organisation until his passing last year. To date, more than 100,000 children have been educated through schools established by organisation, and Fred's legacy lives on.
There are currently more than 50 schools in the Fred Hyde network and they are run on a budget of only $350,000 per year. It is an entirely privately funded charity, staffed by volunteers from Australia who give up their time to administer the construction and management of the schools.
The charity is registered in Australia and administered on a shoestring budget, with 97.5% of all donations going directly to help impoverished children.
If you would like to help the charity with its life-changing work, you can donate by clicking here.
We will keep you updated on the progress of the school.
Receive all of our articles weekly
Author
Sydney Criminal Lawyers
Sydney Criminal Lawyers®
is Australia's Leading Criminal Defence firm, Delivering Outstanding Results in all Criminal and Driving cases. Going to Court? Call (02) 9261 8881 for a Free Consultation.