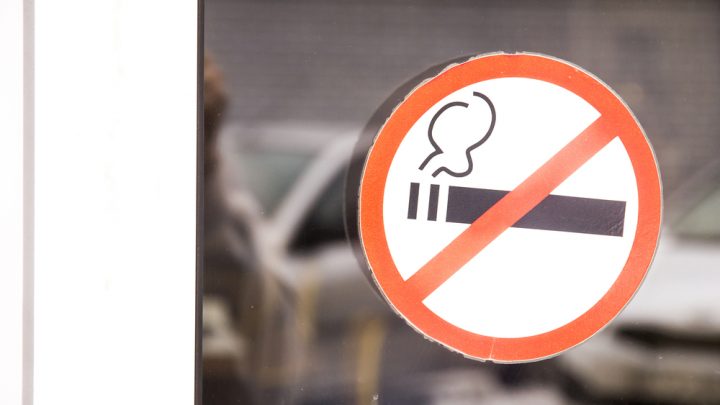 Smoking: it's a habit that divides the nation, with many smokers feeling heavily controlled by a 'nanny state', while many non-smokers are frustrated by exposure to harmful second-hand smoke.
For several years, Australia has been the world leader in regulating smoking. In 1992, we introduced laws banning the advertisement of tobacco products, following decades of reports of the link between cigarette smoking and lung cancer.
Fast forward twenty years, and in 2012, we became the first country to introduce plain packaging for tobacco products. Despite the move angering tobacco companies, other nations including Ireland and England have foreshadowed that they will be following suit.
But one part of Australia wants to go a whole lot further.
Tasmania is home to one of the highest proportions of cigarette smokers in the nation, with around 21% taking part in the habit on a regular basis, compared to 15-16% across the country.
But Independent MP Ivan Dean has a radical plan to dramatically reduce those figures: introducing a Bill to ban the sale of tobacco products to anyone born after the year 2000.
The Tobacco Free Generation Bill
The Public Health (Tobacco Free Generation) Bill is a private member's Bill introduced by Mr Dean earlier this year. It is currently before a parliamentary committee, which has commenced public hearings.
The Bill proposes to amend the Public Health Act to create a 'tobacco-free generation,' defined as any person born on or after the 1st of January 2000, and to introduce laws making it an offence to sell tobacco products to any member of that 'generation'.
A maximum penalty of $7,700 will apply to those who break the law, increasing to $15,400 for a second or subsequent offence.
Those who seek to purchase tobacco products using fake forms of identification will face fines of up to $1,540.
A Territory Divided
Unsurprisingly, Dean's proposal has been met with mixed reactions, with some applauding its perceived potential to ease the burden on the public health system, but others angry at the impact it could have on freedom of choice and small business.
Ivan Dean sees the proposal as necessary to reduce the territory's high rate of smoking – pointing out that 30% of all cancers are linked to the habit. He says that around 750 Tasmanians die each year from smoking-related health problems – a significant figure given that the island is home to just 515,000 people.
Dean asserts that it is 'incumbent on us as lawmakers to look after our people moving forward' and to 'bring in laws that will give support and assistance to our people.'
But others have likened the proposal to a 'nanny state' policy, saying that it unjustifiably impinges upon personal freedoms. Still others have questioned whether it will be practically workable, saying that members of the 'tobacco-free generation' will simply ask older people to buy them cigarettes, or will source tobacco from the black market.
Interestingly, Dean concedes that young people will still get their hands on tobacco, but says that the proposal will prevent 'spontaneous buying.' And while reluctant to label it a form of prohibition, Dean predicts that the policy will result in a totally smoke-free Tasmania in 80 or 90 years time.
Small business owners have voiced their opposition to the Bill, many of whom rely on tobacco products as a key source of income. They assert that the policy will hurt their businesses far more than larger ones.
But Dean has hit back, saying that the proposal will affect all businesses equally.
There are also concerns that the measures will deter smokers from travelling to Tasmania, which could hurt the tourism industry. But Mr Dean says that travellers will still be able to bring tobacco into the state, and that it is simply a case of visitors complying with domestic laws.
But with so many smokers in Tasmania, it is uncertain whether the Bill will pass through to become law.
Receive all of our articles weekly