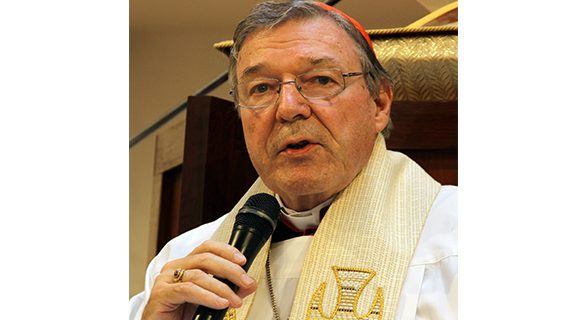 Earlier this week, Victorian police confirmed they had received advice from the State's Director of Public Prosecutions regarding historic allegations of child sexual assault against former-Sydney Archbishop George Pell. While police are yet to announce whether formal charges will be brought against Australia's most senior Catholic, they have foreshadowed a decision within the next few weeks.
The allegations include complaints by two men from Cardinal Pell's hometown of Ballarat. The men allege that Pell touched them inappropriately during the summer of 1978 to 1979, while swimming with them at the town's pool.
The men, Mr Monument and Mr Dignan, claim the Cardinal repeatedly touched their genitals and anuses while playing a game in the pool. The allegations emerged as part of the Royal Commission into Institutional Responses to Child Sexual Abuse, along with reforms which extended the state's limitation period for civil claims to cover cases of historical sexual abuse.
Mr Pell vehemently denied the allegations during an interview with Victoria police in Rome last year. He repeated those denials after this week's announcement. Police will now determine whether there is sufficient evidence to bring charges.
"They're the litmus tests here and that's the decision that needs to be taken now," said Victoria Police Chief Commissioner Graham Ashton. "Generally the process from here, on cases of this nature, are generally done fairly quickly within a case of a few weeks."
It is important to bear in mind that the Cardinal is entitled to the presumption of innocence – charges have not yet been brought let alone proven beyond reasonable doubt.
Catholic Archbishop of Sydney, Timothy Fisher, has come out in support of Cardinal Pell, saying he has been the victim of "relentless character" attacks.
Inability to compel attendance
However, police have already expressed concerns that they would not be able to force Cardinal Pell to return to Australia if they decide to press charges against him.
In 2014, Pell was appointed to the Vatican's Secretariat of Economy, the third highest ranking position within the church – a position which grants him diplomatic immunity in Australia.
In 1973, the Australian government granted the Vatican formal diplomatic recognition. This means the Vatican, along with its senior officials and head office in Australia, are given the same protections afforded to embassy officials and staff of foreign nations. Their documents cannot be subpoenaed and officials cannot be forced to attend court or provide information.
Vatican's refusal to provide documents
In 2014, the Vatican used this protection to deny a request by the Royal Commission for documents, saying it was "neither possible nor appropriate" to provide them.
Because the Vatican has foreign nation status, it can also refuse any Australian request or demand to hand over alleged criminals to stand trial in Australia. While Italy is one of the countries with extradition treaties with Australia, this does not extend to the nation-state of the Vatican, despite the fact that its geographical location is wholly within the city of Rome.
Cardinal Pell reluctant to return
Since starting his role as a Vatican official, Cardinal Pell has been reluctant to return to Australia.
In May 2015, he was invited to appear at a public hearing of the Royal Commission, but chose instead to give his testimony by video-link citing the long distance he would have to fly back to Australia. He was asked to appear later in the year for the Commission's December hearings, but again refused to appear in person, citing health problems.
Extradition request and a fair trial
According to Professor Donald Rothwell, a leading Australian expert on extradition, Australian authorities could still appeal to Italy to make the extradition request on the country's behalf if Cardinal Pell is charged but refuses to come back to Australia voluntarily.
"The mere fact there is no extradition treaty does not create an impossible barrier to extradition because Australia has diplomatic relations with the [Vatican]," Professor Rothwell told Fairfax Media.
Some are concerned about the treatment Cardinal Pell may receive if he is charged and comes back to Australia. Andrew Halphen, from the Law Institute of Victoria, said it was "completely inappropriate" that information about the DPP's investigation into Cardinal Pell has been leaked to the media.
"I can think of no other matter in recent memory where a DPP's advice to the police in respect of whether or not to charge a person finds its way to the front page of a major news publication before a person is actually charged. In the event [Cardinal] Pell is charged I hold grave concerns that he will receive a fair trial," Mr Halphen said.
"There is a serious risk a stay application could be made should this matter reach the courts owing to the prejudicial material that has been published."
Historical sexual abuse claims
Historical allegations of sexual assault are often hard to prove as there are usually no witnesses, and events that are supposed to have occurred years or even decades beforehand may be difficult to substantiate.
Such claims also present difficulties for innocent defendants, as events long ago that have little significance may be hard to recall – potentially make it appear that the defendant is being evasive or untruthful.
Recently, five of Australia's most senior Catholic figures were questioned by the Royal Commission about how the Church had allowed the sexual abuse of at least 4,444 children between 1980 and 2015.
Archbishop Fisher was asked by barrister Gail Furness SC about why the Church went to great lengths to protect individuals who were committing abuse.
"There was a lack of empathy," he replied. "You didn't want scandal; you didn't want causes for people to think less of the clergy or the bishops or the institutions. Things were staring us in the face but … people wouldn't see it."
Fisher conceded that members of the Church recognised sexual abuse of children as evil, adding "I think they didn't appreciate the long-term damage that this was doing to people."
He claimed there is now more empathy and compassion towards those who have been abused, and a better understanding of the long-term damage it causes.
Receive all of our articles weekly
Authors
Kieran Adair
Kieran Adair
is the previous Deputy Editor of City Hub. He has written for the Huffington Post, Guardian Australia and South Sydney Herald. He has a passion for social justice and is a member of the
Sydney Criminal Lawyers®
content team.