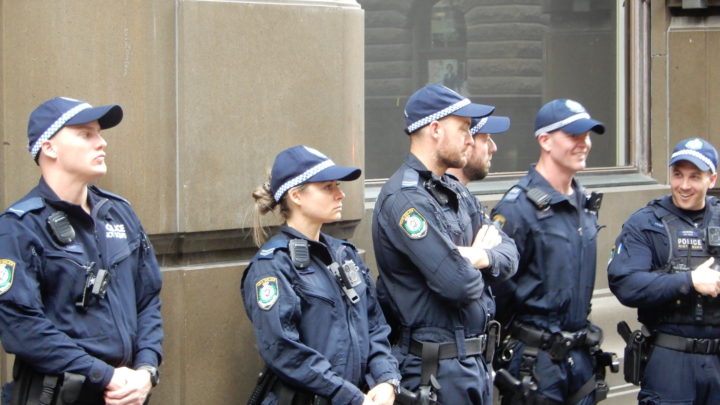 Under NSW's strict lockdown laws, it is an offence to leave home unless it is for work, school, to get groceries or for a limited number of other essential trips. Gatherings of more than two people are not permitted. And at home, you are allowed visitors, one at a time, so long as social distancing measures are adhered to.
Under the rules, you can get a haircut, but you can't get a manicure. You can go for a walk, but you can't go to the beach. You can sit next to a person on a train or a bus, but you can't sit on a park bench by yourself. You can go to school and sit next to another student in a crowded room, but you can't go for a swim or sunbake alone.
In New South Wales, police now have the power to fine or arrest people caught gathering in groups of more than two or for being outside of their homes without a "reasonable excuse".
Breaching the orders is punishable by fines for individuals of up to $11,000 or six months in prison, and most of us would agree that sensible physical distancing measures are required right now.
Police need to show common sense when exercising their discretion
But there are  concerns about the inconsistencies in, and unintended consequences of the application of, the new laws, which were rushed through Parliament last month to enforce physical distancing in order to slow the spread of COVID-19.
And while police have discretion regarding whether or not to enforce the rules, they have in the past few says fined individuals for reasons that seem quite incomprehensible.
For example, a Newcastle man was fined for sitting on a bench alone eating a kebab. A couple from the Hunter Valley were fined for sitting in their car without "a reasonable excuse not to be at home," and another woman who was stopped at a roadside breath test in Moree was fined for the same reason. In New South Wales, people are also being encouraged to 'dob in' others they see doing the wrong thing.
And in Victoria, a learner driver was issued with a $1652 on-the-spot fine for breaching restrictions during a 24 hour period in which 108 fines were issued by police. She was simply getting some practice time on the road with her Mother supervising. The pair had no intention of stopping and would eventually make their way back home. The fine was later withdrawn following a public outcry, but the incident highlights the absurdity of strictly applying the laws.
Victorian Protective Service Officers (PSOs) , whose usual beat is the public transport network, will be redeployed in the coming weeks, given the downturn in the number of people using public transport currently. They will join police in conducting foot patrols in commercial and shopping centre areas during COVID-19.
PSOs currently have the power to arrest someone under the summary offences act, and will soon have powers to issue fines for breaches of COVID-19 stay-at-home measures.
Impact on civil liberties
There's no doubt that these laws have re-shaped our society overnight, and it is worth noting that most people have immediately complied, without question or concern for the way these social control measures have impacted our civil liberties, in particular our freedom of movement, have been seriously truncated.
Fear is a powerful motivator, and moment-by-moment we are updated on media and social media about the dangers presented by this new strain of coronavirus which has already proven to be indiscriminate and deadly, and the continual messages from governments and police agencies that these new laws are absolutely necessary given the public health emergency we currently face.
But, justice advocates are also concerned that police officers have been given such broad discretionary powers to impose fines and court attendance notices. And, given the minimum penalty is $1,000 this could include financial hardship for Australians already doing it tough because they've lost their jobs or had their income seriously reduced. The problem then, is that these people find themselves propelled straight into the justice system because they cannot afford to pay the fine.
The laws are in force until 29 June 2020, after which they will need to be extended or put into other legislation, or new legislation, to remain in force. Meanwhile, Premier Glady Berejiklian says the rules are a "wait-and-see" proposition.
Receive all of our articles weekly