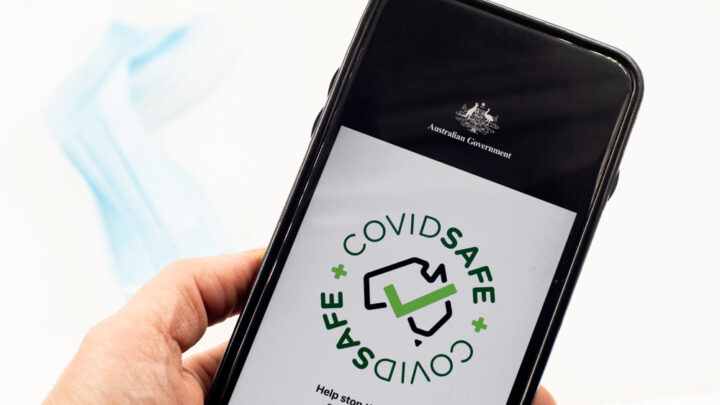 There has been a litany of problems with the Government's app, leading many to question whether the millions of taxpayer dollars spent has been worth it.
A litany of problems
There were initially concerns about the collection and use of data and privacy, and given the great failure that was the 2016 online Census and the widescale privacy breaches associated with My Health Record, these concerns certainly continue.
Then there were the hoaxmessages that the Australian Federal Police were called to investigate after many users reported receiving a text when they were further than 20km from home.
Then more recently, there was a revelation from Victorian Health Authorities that they had stopped using the app for a period of time, even when the virus was hitting its peak.
And now, documents obtained under the Freedom of Information Act show that an early version of the app accidentally informed several users that they had 'tested positive for Covid-19', causing members of the public attend testing clinics in an anxious and distressed state, only to find out the app's information was totally incorrect.
'Accidental' notification
According to a federal government spokesperson, the problem of 'accidental's notification was caused by 'poor and confusing wording' in a section of the app where those people who have actually tested positive to Covid-19 agree to provide the contact information for everyone they have recently been in contact with.
A subsequent updated version, the spokesperson says, fixed this wording and the app now asks, "Is a health official asking you to upload your information?"
But documents obtained under FOI show that the government was aware in early May of a range of issues with the Bluetooth beacons, which are used in the app to record close contacts.
These beacons were also interfering with other applications, including glucose monitors for people with diabetes.
iPhone functionality
This has also been addressed in subsequent updates, but one significant problem that remains is the ability of the iPhone version of the app to be able to record contacts when the app is closed or the screen is locked. IPhone's compatibility with Android is also an issue – in terms of the phones swapping data through the app.
Ironically, it is exactly these issues with the iPhone that stopped Singapore from proceeding with it's version of the app. Singapore was where the technology originated, providing a blueprint for the Australian version. But in recent months the Minister in charge of the program, Vivian Balakrishnan, explained that the decentralised model used by Apple and Google doesn't allow health authorities to identify close contacts, and it is "less effective".
The UK government also abandoned its tracing app some time ago because it had the same basic design faults as the Australian one does.
Of course, Australian developers still hope to resolve the problem. But there are serious questions around the enormous cost of the app to Australian taxpayers, and whether it has actually delivered on its original objective – to be able to effectively track and trace the potential for community transmission in cases where people have tested positive to Covid-19.
The Federal Government maintains that the app has been widely successful, and around 7 million people have downloaded it, meeting the original target of 40% of the population.
In New South Wales
The New South Wales Government claims the app has proven successful. It says that in one case, NSW health authorities were able to locate an unrecognised exposure date from Mounties club in Sydney's west that resulted in the health department notifying 544 people at that venue at that time, and finding two more cases of Covid-19.
However, it's been reported that some people who had been at the Crossroads Hotel in Casula – which has been linked to 21 cases – and who also had the app, were not contacted, and wondered if their apps were actually working.
Victoria
In Victoria, where the second wave of the pandemic is currently threatening to cripple the state, just how well the app functions is much less clear, given that Health Authorities temporarily stopped using it, and now that Victorians are in lockdown, they are only mostly associating with people they already know.
According to data reported in July, in Queensland and South Australia, no one diagnosed with the virus had downloaded the app while in Western Australia there had been no cases of community transmission to make it useful.
Tech fail
A policy paper from the Auckland University of Technology, the University of Queensland, the University of Auckland and Massey University, released in June, CovidSafe is unlikely to help prevent the spread of the virus because it's effectiveness is "extremely limited."
So far, this appears to ring true. Despite what  appears to be a handful of small 'wins', the app seems to be yet another example of a government-led national technology implementation that has nowhere near lived up to expectations.
Receive all of our articles weekly
Author
Sonia Hickey
Sonia Hickey is a freelance writer, magazine journalist and owner of 'Woman with Words'. She has a strong interest in social justice, and is a member of the Sydney Criminal Lawyers® content team.