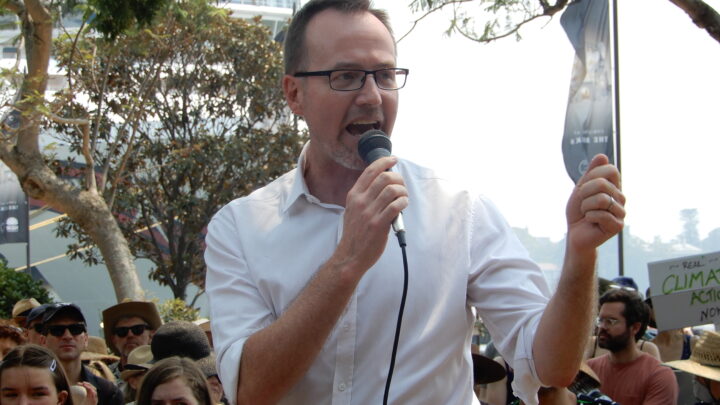 NSW Greens MLC David Shoebridge moved a motion in state parliament on 5 August, calling on the Department of Communities and Justice to release the figures relating to civil actions brought against the NSW Police Force over incidents of misconduct.
The motion calls for the release of data for the years 2016 to 2019, regarding claims and judgements over unlawful searches, illegal arrests, false imprisonment, trespass, assault, harassment, malicious prosecution and other civil liberties infringements that officers shouldn't be perpetrating.
In the NSW Legislative Council, Shoebridge explained that this information would allow for any patterns of misconduct and behaviour prevalent within the force to be identified, which could then point to any need for reforms to standard operating procedures or changes to the law.
"That is why in this motion the Greens are seeking evidence of the amount that the NSW Police Force has paid in civil claims for tortious actions taken against police" Shoebridge told the chamber, and added that "non-disclosure agreements" are resulting in problems being hidden, not solved.
A brick wall
Shoebridge has given the department 21 days to produce the data. And it's not the first time the NSW Greens have requested these figures. They've submitted freedom of information applications, asked during budget estimates and put questions on notice.
In June last year, the Greens justice spokesperson put a question on notice to NSW police minister David Elliott regarding the amount police have had to pay in misconduct settlements. The response was that as claims are "often multifaceted" accurate information was unavailable.
"The NSW Police Force claims it does not ask, does not gather data and does not know," Shoebridge continued. And he outlined several more anecdotes, revealing that as far as NSW police is concerned, it can't collate such data because it's just too complicated.
Forging change
Shoebridge has obtained police data in the past. In February this year, he released figures that revealed NSW police actually have annual quotas for personal searches and move-on orders that each area command is supposed to meet.
While he's also been keeping an eye on the annual figures relating to NSW police sniffer dog operations, which, in his words, get it wrong "two-thirds to three-quarters of the time".
And, in conjunction with the NSW Young Greens, he runs anti-drug dog campaign Sniff Off.
One of the key outcomes his work in this area has achieved is it's provided the NSW citizenry with a solid understanding of the way it's being overpoliced, a greater perception of how policing can be discriminatory, and it's helped build a grassroots movement calling for change.
Sydney Criminal Lawyers spoke to David Shoebridge about why this information is in the public interest, how the sole state police oversight watchdog is performing, and why he's persisting in his pursuit of the release of the police misconduct data.
Last week, you moved a motion in parliament calling for the release of data showing settlements and court orders against police for misconduct.
David, why would this be of benefit to the public?
The public are paying for these civil claims that have been brought against police, and they're paying twice.
First of all, they're having their civil liberties – their rights to walk about their cities and towns – infringed by unlawful police actions. And secondly, the NSW taxpayer is paying the damages to satisfy these individual claims.
Of course, the public has a right to know. The police should be telling this proactively. But it's because the police are refusing to tell us proactively that we're now forcing the release of this information through the upper house.
You've been attempting to obtain this data for over five years now. In your opinion, why won't the NSW Police Force release it?
The obvious explanation for why the police don't gather this information, and therefore, say that they can't release it, is that they don't want to know.
I have repeated contact throughout the year with solicitors, barristers and individual litigants who tell me about the legal action they've brought against the police.
They tell me that it's gone to judgement or been resolved for a confidential figure, and none of that appears in police financial reports. None of it appears in any audited account.
Perhaps even more disturbingly, the police aren't even complying with their obligation to tell the police oversight body – the Law Enforcement Conduct Commission (LECC) – about the civil claims brought against them.
The police want this to be secret, I suspect, because the truth about the number of successful cases against them, and the amount of public money that has to be paid for police misconduct, is disturbing.
Is the information you're pushing for specifically about cases settled out of court?
The intention of this request is to cover all payments. Payments that are made after a court judgement and payments that are made as a result of settlements, whether they be confidential or not.
The intent is to cover all settlements and all judgements.
There are rumours about what the figures you're seeking to obtain might reveal. What are you expecting this data could show?
There's no question that millions and millions of dollars are being paid each year – either through judgements or settlements – because of what's known as tortious conduct by the NSW Police Force.
This can be unlawful arrests, unlawful assaults or unlawful imprisonment.
This is costing taxpayers millions of dollars in damages. But that conduct is also driving an increasing wedge between the NSW Police Force and the general public.
And I'm a strong believer that sunlight is a really good disinfectant.
You mentioned the Law Enforcement Conduct Commission. It was formed in mid-2017 as a result of a process of streamlining police oversight in this state.
In your opinion, how is the LECC operating at present?
The LECC is doing the best job they can, with the very limited resources that the NSW government has provided them. It's a tough job being a police oversight body.
I've previously said, and I will repeat, that they should have stronger investigative powers, particularly when it comes to death or serious injury caused by police. But I respect the work they've done.
The work of the Law Enforcement Conduct Commission over the last few years has been streets ahead of the work of its predecessor the Police Integrity Commission, which was a failed oversight body.
One of the reasons why the Law Enforcement Conduct Commission job is so difficult is they're not only seeking to highlight police misconduct, but they also have to engage the police themselves to try and drive organisational and cultural change.
Doing both of those tasks is really difficult.
And lastly, David, you're attempting to obtain this data to push for police reforms. And you've obtained police statistics in the past around strip searches, quotas and sniffer dogs.
Why are you continually having to dig for this sort of information?
The NSW Police Force put up walls and barriers between them and the public. Not only by how they go about their daily activities but also in their repeated refusal to proactively release information to the public.
It shouldn't be up to an MP, like myself, to have to constantly force the release of the most basic accountability information from NSW police. That should be an accepted minimum, and it is not.
It is yet another example of how secretive and defensive the NSW Police Force is in its day-to-day activities and its corporate mission.
Receive all of our articles weekly