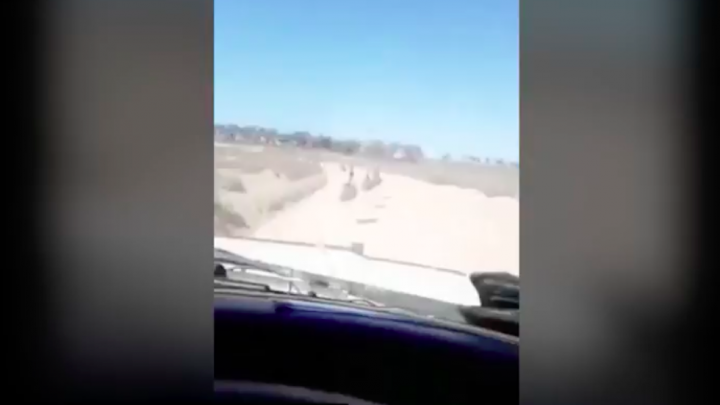 The driver suspected of running down at least a dozen terrified emus has be identified as a 20-year old man from Pinnaroo, a small town in South Australia.
It has been reported that the suspect is the son of a police officer based in Albury, on the border of NSW and Victoria.
The footage
The footage of the incident, taken from a mobile phone, shows the man driving at nearly 120km per hour on a dirt road in the Australian outback.
He is heard to shout "Fucking Emus!" as he continues to speed up to a mob of Emus, who are trying to outrun or get out of the way of his vehicle. He can be heard laughing and counting as he runs over the Emus one-by one.
"One, two, three" he states. "This is fucking great. I've got that one too… and that one".
It's disturbing viewing, as the man appears to hit more than 12 Emus in 40 seconds.
Similar videos
A similar video emerged online earlier this year, showing a driver, thought to be in Western Australia, appearing to deliberately chase and run over five emus.
Dashcam footage shows a vehicle in the outback pursuing the birds as they run for their lives. The car swerves to stay on track with the emus and then, one-by-one, mows them down.
Just like the recent video, there is no information to identify when or where the incident took place.
Anyone with information is being asked to contact Crime Stoppers.
Dolphin towed through streets
Police in Northern New South Wales are seeking help to identify the driver of dark coloured Ford Maverick which was alleged to be driving around Tweed Heads on 27 August, dragging a dolphin tied to the tow-bar.
Reports first emerged on the local community Facebook page, and then reported in local media, but details are scant. It's uncertain whether the dolphin was dragged alive.
The carcass was found several days later hidden in bushland, but police have still not located the suspect.
The law on animal cruelty in NSW

Each state and territory in Australia has legislation that criminalises animal cruelty.
In NSW, animal cruelty offences are contained in the Prevention of Cruelty to Animals Act 1979 (the Act), as well as section 530 of the Crimes Act 1900.
Section 5 of the Act makes it an offence punishable by up to 6 months' imprisonment and/or a $5,500 fine to commit an act of cruelty upon an animal.
While the Act does not provide an exhaustive list of what constitutes animal cruelty, section 12 expressly prohibits the following acts:
docking the tail of a horse, bull, ox, bullock, steer, cow, heifer, calf or dog,
cropping the ears of a dog,
operating upon a dog for the purpose of preventing the dog from being able to bark,
removing one or more of the claws of a cat,
grinding, trimming or clipping one or more teeth of a sheep,
performing a clitoridectomy on a greyhound, and
firing or hot iron brand the face of an animal.
Vets are exempts from the above prohibition.
Section 6 of the Act prescribes a maximum penalty of 2 years' imprisonment and/or a fine of $22,000 for anyone who commits 'aggravated animal cruelty'.
An act of cruelty is aggravated if it results in:
the death, deformity or serious disablement of the animal, or
the animal being so severely injured, so diseased or in such a physical condition that it is cruel to keep it alive.
Section 530 of the Crimes Act is titled 'serious animal cruelty' and prescribes a maximum penalty of 5 years' imprisonment for anyone who, with the intention of inflicting severe pain:
tortures, beats or commits any other serious act of cruelty on an animal, and
kills or seriously injures or causes prolonged suffering to the animal.
Prevalence of animal cruelty

Unfortunately, incidents of animal cruelty are far from rare.
Nationally, the RSPCA responds to about 50,000 reports of animal mistreatment each year, and it has a team of 100 inspectors throughout the country whose job it is to investigate these complaints and compile evidence against suspects, as well as remove animals from harm. And it's not cheap – funding just one inspector can cost as much as $100,000 annually.
RSPCA inspectors have a range of powers to investigate cases of animal cruelty and to enforce animal welfare law and in the course of investigating animal cruelty offences, inspectors are empowered to: enter property, seize animals and evidence of cruelty offences, issue welfare directions and notices as well as on-the-spot fines, and initiate prosecution under the legislation.
Making a complaint
Reporting animal cruelty is not mandatory, but because animals can't speak for themselves, we should all speak up and report any acts of violence that we witness, by contacting the RSPCA, Animal Welfare League or the local Police.
To make a complaint, you will need to give your name, address and phone number as well as the location of the animals, people involved (if known), your concern about the animals and the time and date. You should also report any other information that will help an inspector to investigate and if you have evidence such as video footage or photos these may end up being helpful in ensuring offenders are brought to justice.
By the same token, a complaint should only be made if you have very good reason to believe a crime has occurred. At least one man has already been falsely implicated in the 'emu' case, receiving a tirade of hate mail on social media.
Receive all of our articles weekly