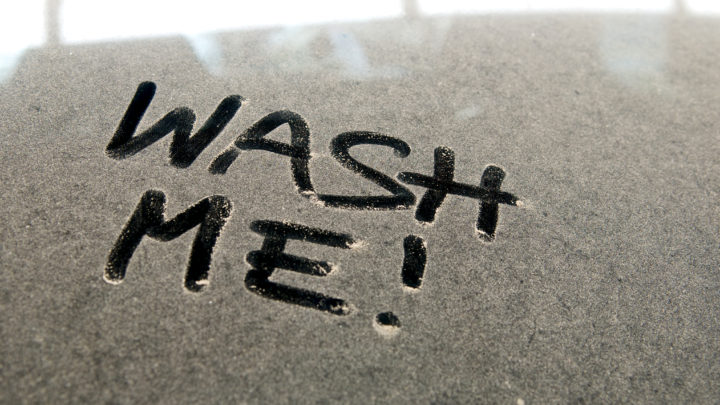 Yes, the country is in drought. But water restrictions are no excuse for not washing your car, as far as New South Wales police are concerned. Having a dirty vehicle is an offence and it comes with serious penalties.
In a post on its Facebook page earlier this month, New South Wales Police warned motorists that not washing their cars could result in an expensive fine. Of course, there are concerns around the driver's ability to have full visibility if a car's windows are not clean, but the one thing that will guarantee you a fine is having a licence plate that cannot be easily read and identified.
Clause 25 of the Road Transport (Vehicle Registration) Regulation 2017 requires vehicle licence plates to be clear and clean, and must not be obscured, defaced or otherwise not legible.
You can also be fined for licence plates that are not properly displayed or are hard to read. The regulations also stipulate that number plates must be visible from a distance of 20 metres away, and that all of the letters and numbers must be display, partial obstruction is also an offence.
Hefty fines
In New South Wales, motorists can be fined $425 and lose three demerit points if their licence plates aren't displayed cleanly and clearly.
If the matter goes to court, the fine can be up to $2,200.
Double demerits now in force
Don't forget that right now, double demerits are in force, across New South Wales and the ACT until midnight on New Year's Day. In Western Australia they are  in force until January 5, 2020.
During this period the higher penalties will apply to a number of offences, including not wearing a seatbelt, children not being restrained properly, running red lights, fatigue and speeding.
Using mobile phones while driving is illegal
Recently the New South Wales Government invested heavily in a new network of 45 mobile phone detection cameras – more than 770,000 drivers have already been snapped. While these drivers won't be fined as part of a grace period during the introduction period.
Unlike speed cameras, there are no warning signs to alert drivers to the presence of mobile detection cameras, and it's claimed that the cameras can capture clear images of the front seats of vehicles as they drive past. They are said to be so sophisticated that they are capable of catching drivers at night, in poor weather conditions and at speeds of up to 300km/h.
Research shows that if you're travelling at 100 kilometres per hour, and you're distracted by two seconds, it is the equivalent of being blindfolded for 55 metres. As such, use of mobile phones are attributed to many preventable accidents on our roads.
Speeding
A total of 319 people have lost their lives on our roads this year, and because Christmas time is usually the annual holiday period for Australians, roads tend to be busier. Speeding remains the biggest factor in death and injuries on our roads, contributing to about 40 per cent of road fatalities.
Stay safe in the roads and keep an eye on the bushfires
Of course, this year it's important to keep an eye on all emergency services information as the fires continue to rage around the country and the weather still works against fire fighters aiming to get these fires under control. There are still many areas considered unsafe, under threat, on watch alerts and some roads are closed, particularly in New South Wales and Victoria.
Receive all of our articles weekly