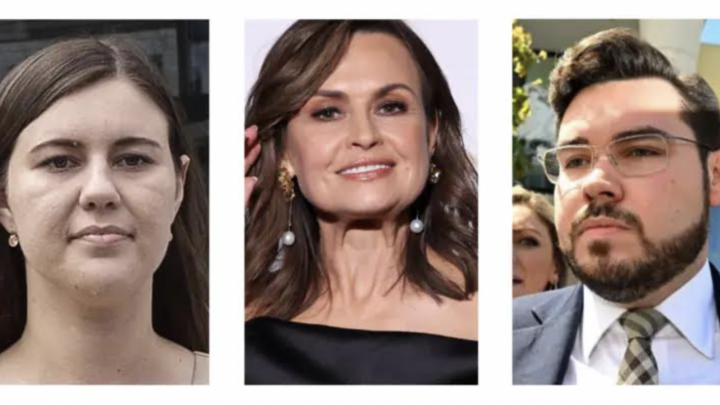 A man whose career and reputation were ruined through heavily-biased media coverage of a claim of sexual assault in Parliament House, Canberra, has commenced defamation proceedings against mainstream media companies and its reporters.
Bruce Lehrmann has filed two civil claims for defamation in the Federal Court of Australia over reports which strongly suggested he in fact sexually assaulted Brittany Higgins in 2019, well before the claims had been tested in court, and in contravention of court orders that the media refrain from such reporting.
The charge of sexual intercourse without consent brought against the former Liberal Party staffer was formally withdrawn in January of this year, after a jury was sensationally discharged during the deliberation process when it was discovered a juror had engaged in jury misconduct by bringing a report about sexual assault allegations into the jury room, thereby contravening the judge's direction not to consider any material other than the evidence adduced during the trial.
The defamation case
Mr Lehrmann has now launched a defamation case against Lisa Wilkinson and Network 10, as well as Samantha Maiden and News Corp Australia's News Life Media.  
The claim by Mr Lehrmann is that the media parties were 'reckless indifferent to the truth or falsity' of the contents of their reports, and that each of the reporters were 'seeking to exploit the false allegations of sexual assault as made by Ms Higgins for her own personal and professional gain'.
The matter has now been set down for a 'directions hearing' during which a timetable will be set for each of the parties to file documents supporting their positions.
Many believe it is unlikely the case will make it all the way to a hearing, and that it is more likely to be resolved by way of a financial settlement.
If it does proceed to hearing, Mr Lehrmann will be required to take the witness stand and be subjected to cross-examination, during which his version of the events will be made public.
The ever outspoken Ms Higgins, whose credibility was decimated on the witness stand during the trial (something which the mainstream media has glossed over) has vowed to also attend those proceedings in order to once again make her tenuous claims against Mr Lehrmann. 
Media and the judicial process
If ever there was a prime example of 'trial by media' in Australia and the impact media companies can have on the judicial process, it is arguably the allegations levelled against Mr Lehrmann – a defendant which, under our legal system, is meant to be presumed innocent until and unless he is proven to be guilty in a court of law; something that never happened in his case. 
Ms Higgins' assertion in 2021 that she was sexually assaulted in Parliament House by Mr Lehrmann, set off a chain of events that dominated media headlines for months – including protests and marches around the country, several internal investigations into the 'toxic culture' within Federal politics, and an apology from the Prime Minister at the time, Scott Morrison. 
Lines of support and even unfair prejudice were drawn very early, as a result of extensive media and social media coverage, despite the fact that Mr Lehrmann, along with anyone accused and charged with a crime, has always been entitled to the presumption of innocence until proven guilty in a court of law. 
Federal Inquiry
The decision by the ACT Director of Public Prosecutions, Shane Drumgold, not to pursue a second trial of Mr Lehrmann triggered claims the extremely experienced and level-headed lawyer was somehow 'pressured' by police into making that decision – a claim which seems ludicrous to many in the legal profession.
In response to the claims, the Federal Government is now throwing more than $400 million of taxpayer funds into an investigation of the entire judicial process. 
That inquest is now underway, led by Walter Sofronoff KC, supported by Queensland barrister Erin Longbottom KC who was on the Royal Commission into Defence and Veteran Suicide and Junior Counsel Joshua Jones, who assisted in the DNA inquiry led by Mr Sofronoff KC.
The inquiry will have powers akin to a Royal Commission and has committed to holding public hearings when possible in the coming months. The probe will specifically focus on whether or not the Australian Federal Police, the Director of Public Prosecutions and the ACT Victims of Crime Commissioner acted in breach of their duties during the investigation of Brittany Higgins' rape allegation.
Australian Capital Territory police chief, Neil Gaughan, has supported the calls for a public inquiry.
Civil defamation
Now, with the criminal trial over, he is free to pursue civil action against those he is accusing of defaming him. 
Lisa Wilkinson and Network Ten have been preparing for the possibility of legal proceedings since last year, when there was speculation that Ms Wilkinson's Logies' speech, delivered days before the Higgins Vs Lehrmann trial was set to begin, could amount to 'contempt of court'. No charges were laid, although The Ten Network engaged its lawyers. 
In recent days Ms Wilkinson has decided to find her own legal representation and it's understood that barrister Sue Chrysanthou SC has been hired as part of the defence team.  
Ms Chrysanthou was originally retained by Former Attorney General Christian Porter in his defamation case against the ABC, which was settled during mediation, prior to proceeding to court. 
However, it was subsequently found that Ms Chrysanthou had previously advised Jo Dyer – the woman who brought historical rape allegations against Mr Porter to light, on behalf of the deceased victim, known only as Kate, before the defamation proceedings were started. 
A Federal Court later ordered Mr Porter and Ms Chrysanthou to pay Jo Dyer's legal costs, relating to a finding that Ms Chrysanthou could not continue working on Mr Porter's defamation case because of a "danger of misuse of confidential information".  
But back to Mr Lehrmann and what happens next.
Fight to restore reputation
Mr Lehrmann has lodged several complaints with other authorities, including a complaint to police about a statement Ms Higgins made outside the court on the date the trial ended and a formal complaint against the ACT's Director of Public Prosecutions Shane Drumgold to the ACT's Bar Association. 
These complaints will most likely be part of the Federal Government inquiry, which will have the power to make recommendations. Whether further action will be taken in relation to these complaints remains to be seen. 
What is defamation?
In a nutshell, defamation is the publication of material which harms a person's reputation. Under Australian law, this can include written material, pictures, or spoken statements.
To succeed in an action in defamation, the plaintiff – the person launching proceedings – needs to prove that the material published by the defendant contained one or more defamatory "imputations" or statements. These are negative claims about the plaintiff which have implications for their reputation or character/standing within the community.   
Hopefully important lessons have been learned here, and the media will refrain from extensive (excessive) coverage, which as we have seen, can complicate the process and can cause unnecessary delays. And as has been said many times before – justice delayed is justice denied and everyone involved in this case deserves to be able to end this chapter swiftly and finally get on with their lives. 
Receive all of our articles weekly
Author
Sydney Criminal Lawyers
Sydney Criminal Lawyers®
is Australia's Leading Criminal Defence firm, Delivering Outstanding Results in all Criminal and Traffic Law cases. Going to Court? Call (02) 9261 8881 for a Free Consultation.