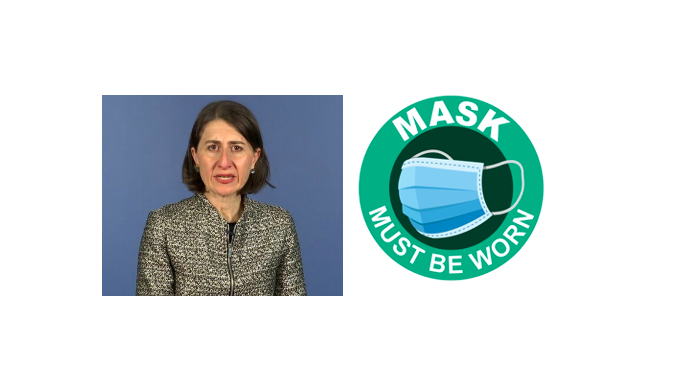 Premier Gladys Berejiklian has just made face masks mandatory in greater Sydney, as the region records seven locally acquired cases of Covid-19.
The Public Health (COVID-19 Mandatory Face Coverings) Order 2021 makes it mandatory from midnight tonight – Saturday 2nd January, to wear masks in many indoor venues in Greater Sydney, which covers the area bound by the Hawkesbury, Northern Beaches, Blue Mountains and Campbelltown.
Masks mandatory indoors
Masks will be mandatory in supermarkets, shopping centres, cinemas and indoor entertainment venues, on public transport, in beauty salons and hairdressers, places of worship and gaming areas.
While the Premier said that up until now masks had been encouraged, they will now be mandatory and anyone not wearing a mask will face an on-the-spot fine of $200, unless they are covered by an exception such as where a person is eating or drinking, where he or she is at work and wearing a mask would pose a safety or health risk, where removal mask is necessary to provide services, when communicating with hearing impaired persons or visibility of the mouth is otherwise necessary, and in emergency situations.
The fines for non-compliance will kick in on Monday 4 January, giving people time to adjust to the new rules and time to purchase face masks if necessary.
Health professionals are in agreement that along with social distancing and good hygiene, face masks can reduce the risk of community transmission significantly.
New rules for greater Sydney
Residents in other areas of greater Sydney are also facing a new set of rules.
Gym classes have been reduced to 30 people from 50, while places of worship, weddings and funerals will be capped at 100 people and have a one person per four square metre rule imposed.
Night clubs have been banned from operating. Outdoor performances and protests will be reduced to a maximum of 500 people, and seated, ticketed and enclosed outdoor gatherings have been reduced to 2000 people.
What about the cricket?
Cricket fans will be pleased to know that the third test at the SCG is still going ahead, with plans for crowds at 50 percent capacity. Health officials, police and event organisers currently reviewing the event's COVID-safe plan. NSW Health will make adjustments if needed, and these will be announced as soon as possible.
Residents on the Northern Beaches are now being considered part of the 'greater Sydney' region and will need to adhere to the current regulations for this area.
Stay-at-home orders for residents north of Narrabeen are set to continue until 9 January. These residents can only leave home to exercise or for outdoor recreation, and must stay close to home. You can leave the area only for essential reasons including to buy food or access goods or services that are not available in the local area.
Up to 5 people, including children, may gather outdoors in a public place for exercise or recreational activity (including boating), but everyone must be a northern area resident.
Fines apply for disobeying Public Health Orders
Under the Public Health Act, the police can give you an on-the-spot fine for $1,000 if you fail to comply with a public health order and fine you for each day that you don't follow the orders.
The court can fine you up to $11,000 or give you 6 months imprisonment or both. These fines also apply for not self-isolating.
You must self-isolate if:
you have COVID-19
are a close contact of someone with COVID-19
are a returned traveller exempt from hotel quarantine
have been tested for COVID-19 and are awaiting results
What about regional New South Wales?
While regional areas in New South Wales don't face these restrictions, authorities are still urging people to practice Covid safe behaviours and to 'check in' at venues so that if there are any outbreaks people can be notified as soon as possible.
Anyone with the slightest symptoms should be tested. And, as we've seen many times before over the past several months in both New South Wales and other states and territories, the rules can change quickly as the authorities adapt with outbreaks.
Border closures
The ACT border is the only state border that remains open to New South Wales. All other borders are closed.
Queensland and the Northern Territory are allowing New South Wales residents into their jurisdictions if they are not from the greater Sydney area.
Travellers need to check with the state of their destination if they intend to cross. There are hefty fines for giving false information to police or crossing illegally.
NSW recorded seven locally acquired cases of Covid-19 in the 24 hours to 8pm last night, with an additional 12 cases in returned travellers in hotel quarantine.
This brings the total number of COVID-19 cases in NSW to 4,928 since the beginning of the pandemic, with 54 deaths recorded.
Receive all of our articles weekly