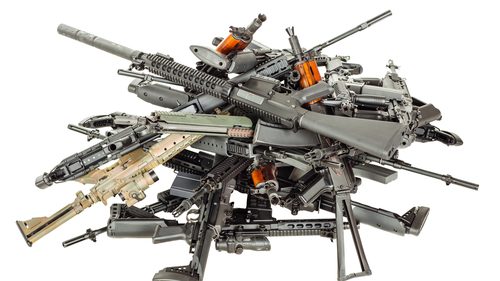 Amidst fears of terrorism, the federal government proposes to implement an amnesty which allows people to surrender illegal and unregistered firearms without fear of prosecution.
Terrorist threat
Australia's gun laws came into the spotlight once again after the Lindt Cafe seige of December 2014, which left many asking the question: how could Man Haron Monis – a man on bail for serious offences, and who posted threats on social media in the days leading up to the siege, get his hands on a gun and travel with it into the Sydney CBD completely undetected?
In the weeks immediately after the siege, the government temporarily banned the type of gun that Monis used. There was serious backlash at the time with many farmers saying that the particular gun in question, the Adler A110, is popular on rural properties for shooting wildlife due to its speed and effectiveness at shooting on the move.
Today, Justice Minister Michael Keenan has gone even further by announcing a three-month gun amnesty, which will begin July 1, allowing people to hand over unregistered firearms without repercussion.
In his announcement, Mr Keenan said there are an estimated 260,000 illegal guns that police wanted to get off the streets.
Tough gun laws
Australia's tough gun ownership laws were introduced by the Howard Government after the last national gun amnesty, which occurred in the wake of the Port Arthur Massacre in 1996.
Our gun laws are some of the toughest in the world, and have been a source of controversy with pro-gun lobbyists pointing out that gun ownership has a strong cultural history in Australia, particularly for people living in remote and isolated areas.
Anti-gun lobbyists, on the other hand, believe that strict gun laws are important to keep the community safe. They highlight the fact that Australia has far fewer incidents of gun violence per capita than many other developed countries, and that several other nations have looked towards us as a model for their own gun laws.
Hand in your gun, 'no questions asked.'
"… We've got a deteriorating national security environment, we've got an environment where there has been five terrorists attacks on our soil and sadly in the vast majority of those cases it has been an illegal firearm that's been used," Mr Keenan stated.
"We want to make sure we can clear as many illegal firearms from the community as possible."
"It might be a family heirloom, it could be the family member who owned it has died for example and the family just doesn't know what to do with it … Hand it in, no questions asked," he said.
People caught outside the amnesty period with an unregistered firearm could face fines of up to $280,000 or up to 14 years in prison.
Receive all of our articles weekly