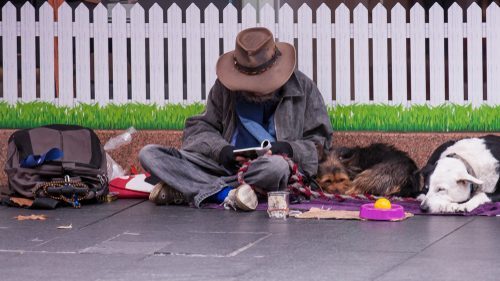 At the height of the Covid-19 pandemic in Victoria, the government made an unprecedented decision: to provide temporary accommodation for thousands of homeless people – to get them off the streets, and into safe places where they could practise social distancing and good hygiene.
For many, staying in hotels over the past several months has been life-changing.
With stability, and a sense of security, many have made great strides in turning their lives around. It's a testament to what most of us take for granted – that when you have a safe roof over your head, you can actually start to ground yourself, consider options, and make plans for the future.
What happens post-pandemic?
The Victorian government announced some weeks ago, that the temporary accommodation would be provided until April 2021, but there have been moves in recent weeks to start transitioning homeless people out of hotels and into social housing. But sadly, it has also been reported that housing is not quite ready yet.
With public health restrictions easing and the state opening up, the state government now has the enormous task of transitioning some 2,000 chronic rough sleepers into supported long-term accommodation, but there are very real fears that, for many, the safety net is about to be pulled out from underneath them, and they will simply fall back through the cracks.
Homelessness is increasing
It's also important to note that these figures don't account for the fact that unemployment levels are still expected to rise in the coming months as a result of the pandemic-related recession, and, at a Federal level there is much pressure but no permanent promises, to increase the basic unemployment allowance.
What's more – mental health experts fear that as a result of all that's occurred this year, mental health problems are likely to increase too, which can also affect a person's ability to hold down a job, particularly if they turn to drugs and alcohol to 'self-medicate' to feel better.
New South Wales is also in crisis
New South Wales also has a crisis on its hands. The 2016 Census estimated the New South Wales homeless population at around 38,000, but given that most people experiencing homelessness are transient, these figures can be difficult to verify. The definition includes people who may be in overcrowded or substandard accommodation, or living in their cars, or 'couch surfing'. New South Wales has the highest population of homelessness in the country, with 32 per cent, followed by Victoria at 21 per cent and Queensland at 19 per cent.
Alarmingly, children under 12 make up 11 per cent of people experiencing homelessness. Teenagers and single women over the age of 45 make up a large percentage of this displaced population too, as do Indigenous people. Despite making up only 3 percent of the population, Indigenous Australians make up 8 percent of the homeless population across the state. Young refugees are also at considerable risk with statistics showing that they are six times more likely to become homeless than other young people.
The New South Wales government is investing $22 million over four years (to 2023) to provide support to people sleeping rough. This includes $20 million to deliver 120 housing and support packages in the inner city of Sydney and regional NSW.
Federal government must assist
But will this be enough? While the pandemic seems to be under control for now, we are still yet to see the full long-term effects of extended lockdowns, economic recession and high unemployment.
There are calls for the Federal Government to invest more, to assist the states financially. But there's also a possible solution that's continually overlooked –  that is the potential for a contribution from private enterprise.
In March 2020, workers were sent home in droves, and by and large, thanks to technology, these employees have been able to do their jobs comfortably and productively, remote from office headquarters. Many social commentators are suggesting that even though now life is beginning to return to normal, many workers, if given the option, will choose a hybrid option – with some days in the office and others working from home.
And of course, there are the very practical issues of social distancing to address, with one expert suggesting earlier this year that if only four people are permitted to use a lift at the same time, then it could – in all seriousness – take people hours to get from the lobby to their desks in an office tower if every employee returns to the same old regime of nine to five.
Given that many large (wealthy) corporations own or have long leases on property in our cities, is it reasonable to ask if there is an opportunity for them to convert some of that space to accommodate the displaced – not just the homeless but also victims of domestic violence?
There is definitely precedent for governments to enter agreements with the private sector – it has been done for many years to provide infrastructure and core services. And, if the private sector could assist by offering space in the cities, then governments could better target funds to remote and regional areas where the problem is often exacerbated.
At this point in time, the gaps in the homelessness crisis are being filled by non-government, non-profit  organisations such as Mission Australia and the Red Cross, which rely heavily on donations from the general public to maintain services.
Criminalising homelessness is not the answer
A secure place to eat, clothes to wear and food are basic necessities that many Australians go without on a daily basis, and yet time and again, study after study shows the very positive outcomes that become possible when these needs are met.
There is less strain on the health system; long-term poverty rates decline. And there is much less strain on the criminal justice system – it's well documented that many homeless people turn to crime to simply survive.
And, perhaps it goes without saying, but as a major part of the solution, governments need to stop criminalising homelessness. The sheer cost of using policing and the criminal justice system as a response to people who end up on the streets would be much more wisely spent providing them with homes to go to.
Receive all of our articles weekly