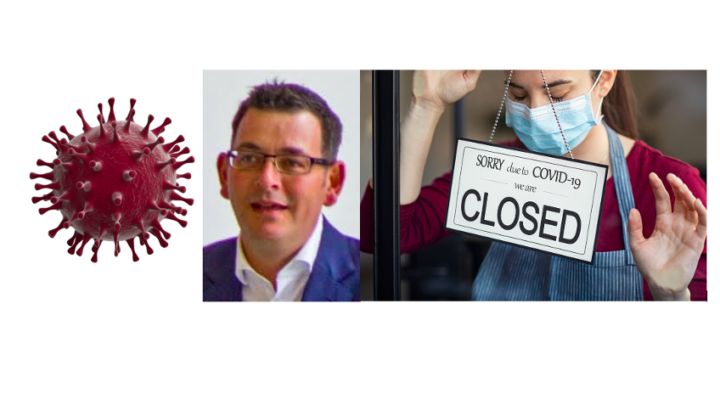 Even after more than 100 days of severe lockdowns, dwindling COVID-19 case numbers, and pressure mounting from the Federal Government, Victorian Premier Daniel
Andrews is refusing to fully reopen the southern state.
The greatest source of controversy is the 'ring of steel' around metropolitan Melbourne, preventing residents from leaving the city without a valid reason. This, Premier Andrews has firmly stated will remain 'indefinitely'. And in fact, in recent days he committed to strengthening the boundary, adding more police checkpoints, with the expectation that "more cars will be pulled over."
The reason the boundary is necessary, Mr Andrews  maintains, is to protect regional Victoria from the virus.
But some health experts disagree, suggesting that it doesn't really matter how far people travel from home, so long as they maintain social distancing and hygiene practices.
'Ring of steel' strengthened
The Andrews Government unveiled its updated 'roadmap' out of the pandemic yesterday. It is at times confusing and contradictory, allowing hairdressers, outdoor car washes and ­mobile pet groomers, and home services (gardening, maintenance etc) along with residential property auctions to resume under specific conditions. However two of the State's largest sectors – hospitality and retail – remain closed.
Melburnians still can't have visitors to their homes (unless they have special reason) but they can meet in limited numbers in outdoor public spaces to socialise or exercise. And, they can now travel up to 25 kilometres from home, instead of the previous five.
Despite criticism from many quarters, as well as questions from the Federal Government over the decision to keep such tight restrictions in place, Daniel Andrews is refusing to budge on these latest decisions which will see many Melburnians remain under strict surveillance and at risk of receiving hefty fines if they attempt to travel outside the metropolitan boundary without a reasonable excuse.
The offence of 'leaving a restricted area'
The offence of 'leaving a restricted area' was introduced in September.  This infringement will carry a heavy fine of $4,957. Permitted reasons for leaving the city include
providing or receiving care, medical needs and visiting an intimate partner. Those leaving the area for work require a valid work permit signed by their employer.
The police and the government have long maintained that the costly fines would act as a deterrent for potential law breakers,however, the police in particular have been heavily criticised for their aggressive tactics when dealing with the general public and the sheer volume of fines handed out during the entire pandemic (from March) and for not being transparent about why many of these fines have been issued.
While there was hope that Victoria would take great strides out of lockdown this week, with case numbers in serious decline, it has baffled many that Premier Daniel Andrews seems so reluctant to give people back their freedom.
Of course, Victorians are fed up, and their complaints appear to be falling on deaf ears.
While Federal Health Minister Greg Hunt has been particularly critical of Daniel Andrew's decision to keep tight restrictions in place especially in recent days, Prime Minister Scott Morrison has been openly supportive of Victoria's cautious approach, despite pointing out the 'heavy cost' of the State remaining in lockdown.
"More than 1000 jobs have been lost, on average, every day," Mr Morrison said. "The continued health, mental health and financial impacts of these restrictions will be profound on many Victorians."
And he's right. Alongside the economic devastation there is an enormous human cost.
The effect on mental health and wellbeing
COVID-19 has infiltrated almost every aspect of people's lives, from their personal finances and relationships, to socialisation, loneliness and isolation, concern about job security and overall enjoyment of life. All of these have an impact on mental health and wellbeing.
Across the world, consensus on the benefit of lockdowns is starting to shift, with many experts, including the World Health Organisation now saying that prolonged lockdowns cause more harm than good, because alongside producing detrimental mental health effects, prolonged lockdowns mean that there is less opportunity for  immunity to build up amongst the younger healthier generations.
But Daniel Andrews seems intent on ignoring this type of health information, or to consider a plan for the State's immediate and long-term management of the virus, so people can get on with their lives.  Rather, he seems intent on maintaining the status quo, at least for now, and the foreseeable future.
In the meantime, Melburnians must continue to live under severe freedom of movement restrictions, under constant surveillance and surrounded by a heavy police presence.
Receive all of our articles weekly