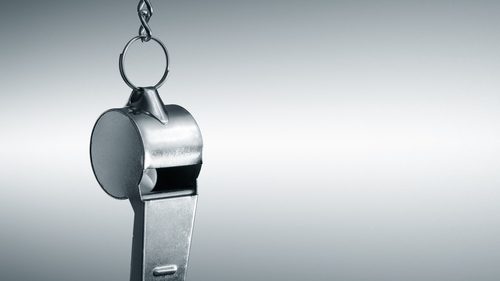 You might remember our blog last year about brave cop Rick Flori, who was charged with 'misconduct in public office' after allegedly releasing footage of four Queensland police officers brutally assaulting a 21-year-old man in 2012.
The footage showed Noa Begic being punched and thrown to the concrete floor while handcuffed in the carpark of a Gold Coast police station. Mr Begic had been arrested earlier that evening for public nuisance and obstructing police.
Mr Flori, a Sergeant with 25 years of service to the community, was stood down for allegedly releasing the footage, and has since been fighting to clear his name and stay out of prison. The offence of 'misconduct in public office' carries a maximum penalty of 7 years imprisonment.
Meanwhile, the officers who inflicted the brutal assault have escaped relatively unscathed; with only two of them facing disciplinary action.
Last week, Mr Flori appeared in Southport Magistrates Court, where his case was adjourned to the 20th of May for a 'committal hearing' – which is a Local Court procedure to decide whether there is enough evidence for the case to proceed to a higher court.
Mr Flori remains hopeful of a positive end to his ordeal, with his lawyers saying they will argue he has 'no case to answer.' If that submission is accepted, the charges against Mr Flori will be dismissed.
While this would normally mark the end of the proceedings (unless the Crown decides to revive the case through a procedure called an 'ex officio indictment'), it will do little to repair the immense psychological and financial damage Mr Flori has suffered – with the former Sergeant telling the media:
'I am essentially absent without pay, I am not getting paid by them, and I intend to fight the matter.
Which is part of their tactic, I'm just getting worn down.
I'm not giving up, so I'll be here to the end, no matter what happens.'
Surfers Paradise Police Continue to Engage in Brutality
Police attached to Surfers Paradise Police Station – which is the same station responsible for the assault of Mr Begic – are now facing a public outcry for another recorded violent assault, this time against a 22-year-old man on Valentine's Day.
As reported in a recent blog, video footage was released of Paul Folasa being tackled to the concrete floor by two officers – with his head just missing the corner of a concrete garden bed. He is then elbowed and repeatedly punched in the face while pinned down by the officers.
Mr Folasa had just witnessed his cousin being arrested and had asked police where he was to be taken.
He kept his hands in his pockets so there would be no suggestion he was aggressive towards police. He was nevertheless violently set upon.
Bleeding from the mouth, Mr Folasa was then taken to the police station and charged with assault, obstructing police and public nuisance. He has pleaded not guilty and will next appear before court on March 17.
The incident has been referred for internal review by the Queensland Police Service; but, as many point out, this simply amounts to 'police policing themselves.'
The incidents exemplify the ineffectiveness of the current approach to police accountability. Mr Flori told the media:
'I've provided evidence of criminal acts committed by senior officers and neither the QPS, the Ethical Standards Command or the Crime and Corruption Commission have taken any action in relation to those.
So really who do you go to, who do you turn to, who do you seek for help?
I've had to take matters outside to try and seek some sort of resolve for it.'
The current approach is clearly not working, and is evidently fostering an environment where police officers know they can engage in serious misconduct without repercussions.
Receive all of our articles weekly