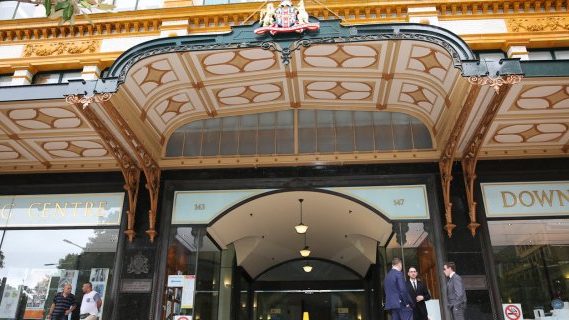 A judge in Downing Centre District Court has found in favour of a 24-year old man who sued the state of NSW for false imprisonment after police illegally detained him for four minutes and 15 seconds at a suburban train station.
During the civil suit, Sam Le's lawyers tendered video footage that their client had taken during his encounter with police at Liverpool train station.
Mr Lee was walking into the railway station last year, when two police officers stopped him and asked for his Opal card and concession card.
After receiving the cards, the officers requested a form of photo identification to prove the cards belonged to him.
Mr Le challenged the request, stating that the Opal card and concession card were sufficient for their purposes.
One of officers asked Mr Le: "So why are you being a smart ass for?".
The officer also asked if he had "a problem listening".
Mr Le stated: "So this officer is now demanding… my driver's licence when I'm not even in a car".
'Be a hero'
When Mr Lee asked for the officer's first name, he was told: "Yeah, put it onto whatever social media you want. Be a hero."
When Le asked if he was under arrest, the officer said he was not, but that he was being "detained" while police verified his identity. The fact Mr Le reasonably believed he was not free to leave meant he was indeed under arrest in the eyes of the law, despite what police told him.
Mr Le waited for four minutes and 15 seconds as police performed a radio check, before he was told he was "free to go".
Reasonable suspicion
One of the officers claimed in court he had "reasonably suspected" that Mr Le possessed a stolen concession card because he appeared "young and fit" and was "evasive" when asked the cards over.
However the judge disagreed, finding that any suspicion of misconduct was "tenuous" rather than based on factual information as required by the law.
His Honour remarked that Mr Le's youth was "not a fact which could reasonably ground a suspicion that the concession card may have been stolen".
The decision
The judge explained that the law does not give police the right to ask for anything more than a commuter's Opal card and concession card, unless they have relevant evidence of an offence; such as a suspicion based on "reasonable grounds" that the individual has something stolen, prohibited or dangerous in their possession.
The judge made it clear that a person is under arrest if they reasonably believe they are not free to leave – a formal arrest and caution does not need to occur. In this case, the officers had performed an unlawful arrest by asking Mr Le for something which the law did not permit them to request, and then telling him that he was being "detained"
The court awarded Mr Le $3201 in damages including interest.
The case serves as a reminder that police may be held accountable for their illegal conduct, and that filming encounters with law enforcement officers may prove invaluable inside the courtroom. A word of warning though, any such filming must occur without 'hindering' the ability of police to perform their duties; indeed, hindering is a criminal offence in NSW.
As usual, the compensation will be paid by the New South Wales taxpayer rather than the offending officers.
Receive all of our articles weekly