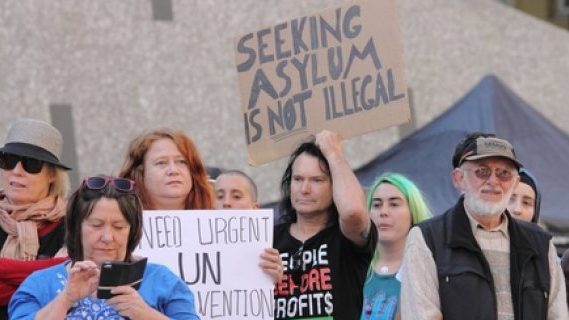 Federal Immigration Minister, Peter Dutton, has once again managed to create false headlines in an attempt to further demonise asylum seekers.
Many groups – from journalists, to immigration lawyers and refugee advocates – have called the Federal Minister out over his baseless claims that 7500 people who arrived by boat between 2008 and 2013, and not yet lodged claims for refugee status, are "fake refugees".
These groups highlight the fact that many of the asylum seekers were only given permission to lodge their applications late last year, creating an enormous backlog. They were also given "near impossible" deadlines to meet, and threatened with deportation after being denied procedural fairness.
Refugee advocates accuse the minister of unfairly attacking those who Australia has international responsibilities towards – obligations which Australia has breached time and again by making it virtually impossible for people to seek asylum and treating the situation the same as deporting criminals.
Despite the enormous bottleneck of protection claims, the minister sent letters to asylum seekers earlier this year requiring them to lodge their applications within 60 days, or face deportation. He also imposed a "non-negotiable" of 1 October 2017 for all claims.
Earlier this week, Mr Dutton told the media that asylum seekers cost taxpayers $250 million in the last financial year. What he failed to point out is that many of these people are denied the right to work, finding themselves in a state of limbo for years while they await permission to file their claims.
Political 'limbo'
The 7500 people belong to a cohort of close to 30,000 asylum seekers who arrived by boat under the previous Labor Government.
The group was placed in a state of uncertainty when the Labor government stopped processing protection visa applications for people who had arrived by boat.
This cessation operated from 2012 until the Coalition government began to permit some of the group to initiate applications from 2015, but the hiatus was not completely lifted until late last year.
Lawyers are angry
Immigration lawyers and community legal centres are furious over the new deadline of 1 October 2017.
They highlight the fact that in a complicated system, such an arbitrary deadline which is just a few months away can only result in "procedural unfairness" and "chaos", as the paperwork is too onerous for many to complete it by themselves, and community legal centres are already stretched to the limit.
Those working within the system say most of the 7500 people are known to the major community legal centres, but the materials required for protection applications are complex, and take time to prepare.
Those who are unable to file their applications by 1 October will be considered to have forfeited their claim to protection, and will ultimately be deported.
Approximately 70% of asylum seekers who are permitted to lodge protection claims are ultimately found to be genuine refugees. However, immigration lawyers say the looming deadline will mean that many applications will be rushed and refused for being incomplete.
They foreshadow a resulting increase in appeals – which will create unnecessary costs to the taxpayer and burden a legal system that is already under great pressure.
Set up to fail
The small section of the legal community which has the experience and expertise to help asylum seekers through the visa application process is already overworked and in many cases underfunded, and waiting lists are lengthy.
And despite setting what lawyers have described as a "near-impossible deadline", the government refuses to provide extra assistance to community legal centres and not-for-profit organisation who are helping to prepare protection applications.
These organisations are now doing all they can to prioritise the most urgent cases, and trying to work out how to deal with the backlog.
Receive all of our articles weekly