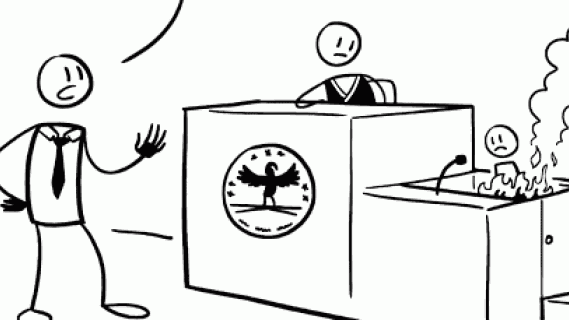 Police are investigating a bizarre incident in Miami involving criminal defence lawyer whose pants caught on fire during closing submissions in an arson case.
Stephen Gutierrez was representing Claudy Charles, who was accused of intentionally setting his car on fire.
Courtroom drama
The lawyer had just started his closing address to the jury, arguing that his client's car had spontaneously combusted and was not intentionally set on fire, when smoke began coming from his trouser pocket.
Witnesses say Mr Gutierrez had been fiddling with his pocket in the moments before he began his address jurors.
As he was speaking, his pants caught fire and he rushed out of the courtroom leaving onlookers stunned. He returned later, seemingly unharmed, except for a singed suit pocket.
E-Cigarette caused fire
Mr Gutierrez insists the fire was not a gag to enhance his argument, but a genuine mishap, caused by a faulty battery in an e-cigarette.
Despite the theatrics, the jury ultimately returned a guilty verdict in the case, convicting the accused of second-degree arson.
However, the lawyer is now under investigation by police and prosecutors.
Contempt of court
Police have seized several frayed e-cigarette batteries as evidence and, depending on the outcome of the investigation, Gutierrez could be held in contempt of court.
While there are concerns the incident was a stunt, there have been other reports of e-cigarettes exploding and catching fire. Not all e-cigarettes contain nicotine, but most do, delivering the vapourised drug through a heated liquid solution. Nicotine itself is flammable, but it seems that in a few instances batteries have also been to blame – overheating and catching fire.
In 2016 in Naples, Italy, an e-cigarette exploded in a man's mouth, leaving him in a coma. And in Colarado last year, one exploded in a man's pockets as a result of keys or coins making contact with the high-powered battery. The man suffered third degree burns on his leg.
One report suggests that there have been as many as 34 separate incidences of e-Cigarette explosions or fires over the past twelve months in Colorado alone, with 27 of them causing injury.
E-Cigarette risks
With many reported incidents of problems with e-cigarettes around the world, questions about fire risks related to the products have mounted. In the US, the Department of Transportation has recently banned e-cigarettes from checked bags on aeroplanes.
Millions of people worldwide use e-cigarettes. They have become popular among people who are looking to cut back or quit their use of regular cigarettes.
In Australia, e-cigarettes have never been approved as an aid to quitting smoking and, despite the fact that many believe they are healthier than traditional smoking, the products are highly controversial, with laws regarding their sale and use differing from state to state.
In New South Wales, e-Cigarettes are legal but they are subject to strict conditions.
Receive all of our articles weekly