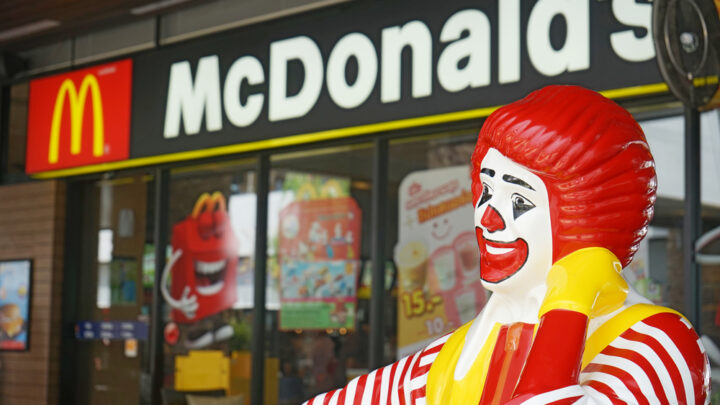 Eyebrows were raised late last year when Maccas fired it's United States CEO Steve Easterbrook for having a consensual sexual relationship with an employee, despite the fact it was in breach of the company's policy.
Now, the fast-food chain has gone a step further by commencing legal proceedings against Mr Easterbrook, with a view to having him forfeit his entire severance package.
The former CEO's package includes 26 weeks of severance pay and pro-rated bonuses, valued at about $US 42 million, but some estimates say that given the strong performance of the stock, it could now be worth as much as $US 57 million.
'Lied to the board'
McDonald's is claiming that Mr Easterbrook lied to the board of directors about the extent of his relationships with not just one, but three employees in the year before he was removed from his role.
When the company cut ties with Easterbrook, it issued a statement to the effect that he had violated company policy and 'demonstrated poor judgement' by engaging in a consensual relationship with an employee.
But legal documents claim that an internal investigation, launched after further complaints came to light in July 2020, found he had engaged in other relationships and destroyed records to conceal these.
The investigation reported finding evidence of emails with attachments of nude, partially nude, or otherwise sexually explicit photos and videos of various women, including three female employees, sent from his work account to his personal account.
McDonald's says the investigation also uncovered that Easterbrook had made a decision to approve an extraordinary stock grant, worth hundreds of thousands of dollars, for an employee during the time of their sexual relationship.
McDonald's has accused Mr Easterbrook of lying to the board when one of his affairs was discovered, and that in doing so, he led them to believe that terminating his position could potentially be considered 'without cause.' As such, the board agreed to exit terms "more favorable than the truth would have warranted."
In the meantime, the company has also taken legal action to stop the former CEO from selling his stocks or taking any other options until the matter is resolved.
It's a bold move for a corporation. When senior executives and companies part ways acrimoniously or under dubious circumstances, often companies simply cut their losses and seek to quickly move on.
The case of Westpac
One local example, is that of former Westpac Australia CEO Brian Hartzer who resigned in the wake of the money laundering scandal, which saw the financial intelligence agency Austrac launch legal action against the bank, accusing it of more than 23m breaches of anti-money laundering and counter-terror finance laws over more than $11bn in transactions, some of which were linked to child sex trafficking.
Investigations by the Federal Police, the corporate regulator (Australian Securities and Investments Commission) and the prudential regulator (Australian Prudential Regulation Authority) were launched immediately after Austrac announced legal action, and it's been reported that some shareholders were considering launching a class action.
When he resigned, despite losing bonuses, Mr Hartzer still walked away with $2.69m, angering not just Westpac shareholders and employees, but many ordinary Australians too.
Often it seems that even when a CEO underperforms, mishandles a company's assets or even engages in corporate misconduct, very seldom do they face serious consequences. Most still walk away with heavily-lined pockets.
In the meantime, the debate rages on about how disproportionate CEO and Senior executive level salaries are from those of a company's general employees. Recent research in Australia suggests that Australian CEOs are paid on average about 15 times that of the average employee's annual salary. Of course, in light of Covid-19 many of those salaries may well now decrease.
There is also increasing pressure on corporations to have to legally disclose CEO remuneration packages to avoid these ballooning out of control, and to provide greater transparency around how these positions are assessed, evaluated, and rewarded.
Receive all of our articles weekly