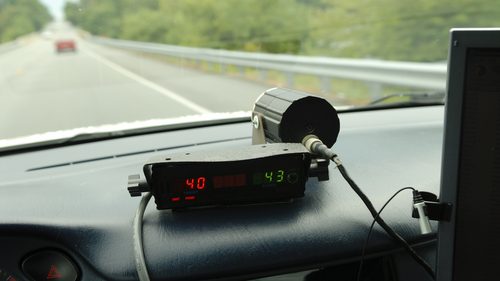 A NSW police officer who pulled over a Sydney motorist over for allegedly speeding has been filmed refusing to show the driver the speed gun reading, then claiming the vehicle is faulty due to a wobbly seat.
Zia Yilda was on his way to work when stopped by the officer and accused of travelling at 83kph in a 60kph zones. Mr Yilda gets out of his car and begins filming the officer with his mobile phone, then asks to see the speed reading on six separate occasions. The officer ignores him and also refuses to provide any details of his identity.
The officer then proceeds to conduct a thorough search of both the interior and exterior of Yilda's BMW 330 convertible, after the driver invites him to do so.
Wobbly passenger seat
The officer is seen grabbing and yanking at the front passenger seat of the vehicle, then claiming it is defective for being "wobbly". He goes to great lengths to find further alleged defects, even getting on his knees to take photos. He claims there are problems with the car's height and suspension, front grill and back tyres.
But the officer doesn't stop there. He also searches the engine and all of Yilda's personal belongings, including his laptop bag, bum bag and diabetic kit.
The law
There is no legal requirement for police officers show a drivers the reading of speed.
Indeed, officers will often allege that a motorist was speeding based on their own 'estimate of speed', without any digital reading at all.
However, section 202 of the Law Enforcement (Powers and Responsibilities) Act 2002 (NSW) requires an officer who is exercising a police power to provide:
(a) evidence that the police officer is a police officer (unless the police officer is in uniform),
(b) the name of the police officer and his or her place of duty,
(c) the reason for the exercise of the power.
Section 201 of the Act lists the police powers to which the requirement relates, which are:
(a) a power to stop, search or arrest a person,
(b) a power to stop or search a vehicle, vessel or aircraft,
(c) a power to enter or search premises,
(d) a power to seize property,
(e) a power to require the disclosure of the identity of a person (including a power to require the removal of a face covering for identification purposes),
(f) a power to give or make a direction, requirement or request that a person is required to comply with by law,
(g) a power to establish a crime scene at premises (not being a public place).
It appears the officer failed to comply with this requirement.
Mr Yilda claims he was driving at the speed limit and has taken to Facebook to brand the officer's conduct as "pretty ridiculous". And while he is yet to receive a fine for the alleged speeding offence, he says he would contest any such penalty notice.
Receive all of our articles weekly