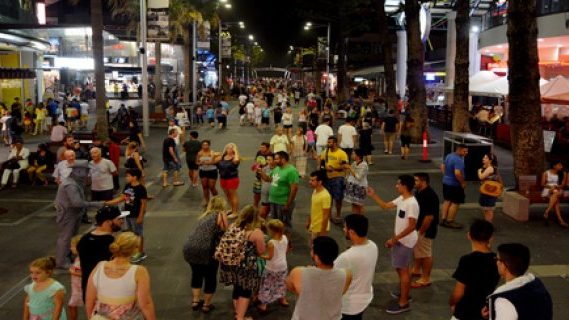 Three teenagers on the Gold Coast have been charged over an alleged one-punch assault in Surfers Paradise that has left a 21-year old man fighting for his life.
The alleged victim, Thomas Dover, was walking on Ferny Avenue in Surfers Paradise with a friend in the early hours of the morning when confronted by a group of youths.
But according to his older sister, the trouble may have started earlier that night. She says Thomas called her earlier that evening to advise that he and his mate were trying to outrun a gang of teenagers who were chasing them.
Punched in the back of the head
When the teens caught up, one of them allegedly punched Thomas in the back of the head, causing him to fall face down onto the concrete footpath and suffer a closed head injury. Paramedics attended and Thomas was rushed to hospital.
Police later arrested three teenagers over the incident: charging 15 and 16-year old boys with causing grievous bodily harm, and a 14-year-old boy with common assault and public nuisance.
None of the boys made applications for bail and they have all been remanded in custody. Their cases will return to court on January 25.
Thomas remains in an induced coma.
Previous attack
The incident comes one year to the day year after a one-punch attack killed water polo player Cole Miller in Brisbane's Fortitude Valley nightclub precinct.
Cole's death invoked an awareness campaign to curb alcohol-fuelled violence, leading to the introduction of tough new laws in Queensland including lockout laws, which come into force from next month.
Lockout laws
In New South Wales, lockout laws were introduced in 2014 after a spate of fatal one-punch attacks.
Supporters of the laws say they have been successful in curbing violence, pointing to statistics which suggest that alcohol-fuelled assaults in the Kings Cross precinct are down by as much as 40%, and as much as 20% in the Sydney CBD.
However, opponents of the laws highlight the fact that foot traffic is down by as much as 80% in Kings Cross, and that they have contributed to the closure of dozens of businesses and significantly affected Sydney's previously vibrant night life.
An independent review has led to a slight relaxation in NSW's lockout laws, with the following changes now in place:
Small bars can have higher maximum occupancy rates, up from 60 to 100 people, and closing times have been shifted from midnight to 2am.
The 1.30am lockout will be extended to 2.00am, and last drinks moved from 3.00am to 3.30am for venues in the city that offer live entertainment, performances, or art and cultural events.
Takeaway and home delivery sales will be extended from 10.00pm to 11.00pm across the state.
Peter Miller, a former nightclub bouncer and now professor of violence prevention at Deakin University, believes lockout laws do protect victims as research suggests that people are eight times more likely to get into a fight when they are drunk.
However, others suggest the laws may simply be shifting drinking and violence away from the Kings Cross and CBD, and into homes and other suburbs.
Receive all of our articles weekly