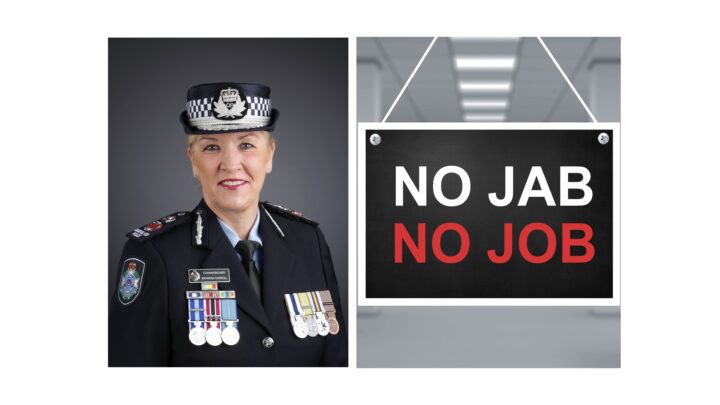 Queensland Police Commissioner Katarina Carrol has come under fire in the Supreme Court over her directive last year compelling officers to be vaccinated against Covid-19 in order to keep their jobs
A number of Queensland Police Officers pushed back against the mandate and commenced civil proceedings asserting that the directive is unlawful.
In the Supreme Court
Commissioner Carrol told the court that prior to issuing the mandate, she had received an 'extraordinary' amount of information about vaccines from a range of sources, including Queensland's Chief Health Officer. She also told the court that she backed the committee responsible for granting or denying exemptions for police officers. 
But under cross-examination, she admitted that she had not read all relevant documents before requiring officers to be vaccinated.
When asked about how she reached the decision that Covid-19 would have a significant impact on unvaccinated officers, she stated:
"In a small station, if 50 per cent of the people have COVID it would be significantly impacted. In larger areas, that would not be the case".
It was then put to her conclusions were "an exercise in pure speculation", she rearked:
"No, it is not… We had very good evidence of what occurred across the world."
However, her reasoning appeared scant and unsupported, especially given there is no evidence to suggest that vaccinated officers who contract the virus are less likely to pass it on. 
To the contrary, the 'medical evidence' that vaccinated person who have the virus are more likely to have less severe symptoms suggests they may also be more likely to fail to detect the infection and attend work, thereby increasing the likelihood of spread.
The case is continuing over the next week or so, and it represents an important moment for democracy. 
'No jab, no job'
During the peak of the Covid-19 pandemic in 2020 and 2021, State Governments around the country introduced harsh authoritarian rules under the guise of 'protecting public health'. 
People were severely fined or punished for not wearing masks, breaking lockdowns and curfews and travel limits, for crossing interstate borders without appropriate permission, for gathering in groups and protesting, and for refusing to get vaccinated. 
Multiple challenges
The 'no jab no job' was the most severe of all the public health regulations because it threatened people's livelihoods. 
It was mandated across several industries in most states and in fact, when it was first introduced, being vaccinated meant having a double-dose of an approved vaccine. 
Towards the end of 2021, the termination began to change, inferring that three jabs would be required to be considered' fully vaccinated' against Covid-19. 
New South Wales
In New South Wales, a police officer who legally challenged Health Minister Brad Hazzard over vaccination mandates when they were originally introduced has reportedly won her case however, details of the case have not been made public. 
Other cases which were taken to court challenging vaccination mandates, such as the one by NSW paramedic John Larter, were not successful, highlighting the need for NSW to implement a charter of Human Rights. 
State Charter of RIghts
In Queensland, where there is a charter, the Human Rights organisation recently submitted to the Supreme Court that mandates for teachers were unlawful. It is also looking into many of the decisions made by Queensland Premier Annastacia Palaszczuk's government with regard to border pass exemptions. 
While there was no 'rule book' for governments to follow during the pandemic, a lot of the panic-related decisions were particularly authoritarian in nature, and it's important that those rules are tested in the courts, especially those which have a long term impact on people's ability   to earn a living. 
Individual workplace policies  
Of course, what's also a concern is that during the Fair Work Ombudsman issued advice to Australian businesses that they are at liberty to make their own workplace policies regarding the vaccination of employees. 
It qualified the statement by saying that any policies must be 'lawful and reasonable' – although there are significant concerns over the ambiguity of that advice, because it gives neither employers or employees certainty. 
And to date, the unfair dismissal cases over vaccination mandates taken to the Fair Work Commission have all resulted in rulings in favour of employers. 
While Covid-19, or various strains of the virus, are still making thousands of people sick, it has become less of a focus for governments who feel confident that high vaccination rates combined with the fact that newer strains are less severe and can be managed from home, pose minimal threat in terms of overloading the strained health system. 
Are mandates still needed? 
But even though the media headlines may have moved on from Covid-19 and Governments seem to have too, it's critical that mandates that were put into place are still challenged in our courts, particularly because they rule out the possibility of 'free choice' which is a hallmark of democracy. 
Vaccination rates are high in Australia, and while vaccines may have subdued the severity of the Covid-19 coronavirus, they have done little-to-nothing in terms of stopping the spread. 
While most science and health experts agree that mandates may have had an important role to play at the height of the pandemic, there is no compelling evidence to suggest that mandates should continue to be enforced over the long term. 
It is critical that Governments and businesses are held accountable for these pandemic-related rules, and that they wind them back as necessary, so people can get on with their lives. 
Receive all of our articles weekly