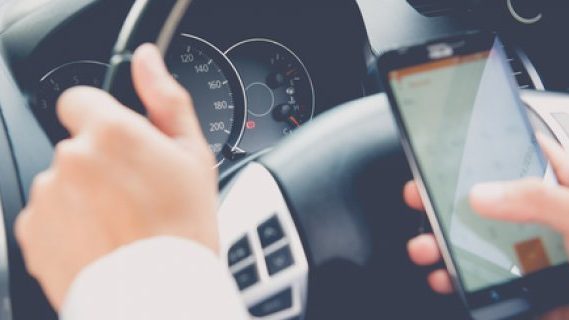 Just in case you missed the media frenzy this week, NSW Police Minister Troy Grant hit the headlines claiming he did not know that using a mobile phone while driving is unlawful.
Mr Grant was a police officer for 22 years, before entering politics in 2010. He has been the police minister since January this year; so you'd think he'd know a thing or two about what is legal, and what is not.
The minister was in roadworks on the Newell Highway last weekend, when he snapped a picture of a ewe which was in the boot of the car ahead of him. He later uploaded the image to Twitter.
When a journalist asked the MP if the picture had been taken when he was behind the wheel, he admitted that he was. He was informed that such conduct is against the law, after which Mr Grant says he called police and dobbed himself in.
The minister was subsequently fined $325 and given four demerit points, the penalty for mobile phone use while driving.
In ensuing statements, Mr Grant emphasised that his car was stationary at the time he took the photo and that he was not "physically driving or distracted".
"This serves as a massive reminder," the minister said. "Nobody is above the law even if you are the Police Minister, even if you have to ring up and dob yourself in to get a ticket."
Plea of ignorance
But Mr Grant's 'plea of ignorance' may have backfired, with many asking how he could not know that using an unmounted mobile phone behind the wheel is against the law, regardless of whether the vehicle is moving or not.
After all, the NSW Police Force spends an enormous amount of time and resources publicising and enforcing laws against such conduct. Mr Grant himself told journalists that he "works hard" to promote road safety, citing his presence at the recent launch of Operation Westfield – an initiative targeting speeding, seatbelts, drink and drug-driving, fatigue, driver distraction and mobile phone use in rural areas until April 10.
The law
It is illegal in NSW for a fully licensed driver to use a mobile phone unless it is secured in a legally mounted cradle which is not obscuring the driver's view of the road.
This means a driver cannot:
Hold a phone between their shoulder and ear, even while keeping their hands on the steering wheel,
Have a phone in their lap or on their leg and talk with the speaker function on, or
Touch a phone while the vehicle is stationary; for instance, at an intersection or traffic lights.
Regardless of whether the phone is used to talk, take photos, stream music through the audio system, get map directions, receive speed information or live traffic updates, a driver cannot touch a mobile phone under any circumstances (unless it is mounted), other than to hand it over to a passenger.
All functions such as texting, Facebook, Twitter, email, chat and so on, are prohibited.
Learner Drivers (L-platers) and Provisional Drivers (P-platers) are are not permitted to use phones at all while driving.
Section 4 of the Road Transport Act 2013 defines 'drive' as being in control of the steering, movement or propulsion of a vehicle; it does not matter if the vehicle is not in motion.
Dangers of using mobiles while driving
Crash data for the 2010 to 2014 period suggests there were 236 road accidents where hand-held mobile phone use was a contributing factor. Seven were fatal accidents and 116 were serious injury crashes. However, the actual figures could be much higher as it is often difficult to find evidence of illegal phone use at crash scenes.
From July 2014 to June 2015, more than 35,300 fines were issued to drivers in NSW for using hand-held mobile phones.
And recent figures suggest that over the past two years, the road toll has increased after years of being in decline. Police have identified the use of mobile phones as a contributing factors to the rise.
Mr Grant says he wants his experience to be a lesson for everyone.
Receive all of our articles weekly
Author
Sydney Criminal Lawyers
Sydney Criminal Lawyers®
is Australia's Leading Criminal Defence firm, Delivering Outstanding Results in all Criminal and Driving cases. Going to Court? Call (02) 9261 8881 for a Free Consultation.