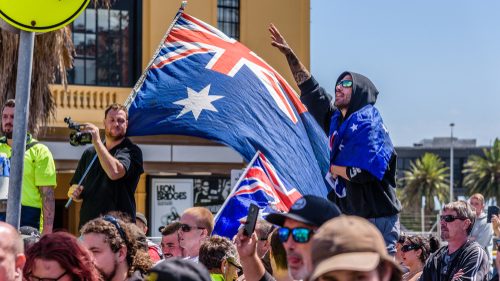 Footage from the 'Reclaim St Kilda Rally' over the weekend has emerged depicting extreme right-wing protesters giving Nazi salutes, and showing a demonstrator holding an SS helmet.
The images are controversial to say the least, as was the presence of Independent Senator Fraser Anning, who recently sparked controversy when he cited "the final solution" in his maiden speech which spoke of a "Muslim problem".
The MP stood for photos with organisers and went so far as to make inflammatory remarks, criticising the Victorian State Government for being "weak" and saying "the Police Commissioner and his or her offsider are a joke" in the context of  so-called "African crime gangs".
The rally itself, and Mr Anning's involvement in it, attracted condemnation from various politicians including Independent MP Derryn Hinch, Greens Senator Sarah Hanson-Young and the Labor Party's Tanya Plibersek.
Taxpayers Fund MP's Attendance
Mr Anning has since admitted he expects taxpayers to fund his $2,800 trip to Melbourne to attend the rally, claiming the expense is justified on the basis that "Queensland also has problems with African crime gangs".
But many disagree that taxpayer funds should be used in that way, expressing the view that it is unacceptable for taxpayers to foot the bill for an attendance at a divisive, intolerant and 'un-Australian' event.
The Prime Minister Scott Morrison has criticised the event via Twitter, saying "intolerance does not make Australia stronger".
The 'Reclaim St Kilda' rally
The rally of so-called 'patriots' was led by convicted criminals Neil Erikson and Blair Cottrell.
Neil Erickson is far-right figure who has been convicted of inciting serious contempt against Muslims. In 2014, he alsi narrowly escaped prison time for verbally abusing and threatening a Rabbi over his faith.
Last week, Erickson again had another brush with police when he confronted a group of African youths who were playing football at St Kilda Beach. He recorded the exchange and shared it to social media. The young men described Erickson's conduct as intimidating.
Blair Cottrell runs the United Patriots Front (UPF) and an underground fight club for men. The right wing figure is reported to have called for a picture of Adolf Hitler to be hung in every Australian classroom.
In 2017, both Erickson and Cottrell were convicted and fined in the Victorian Magistrates Court for inciting contempt and ridicule of Muslims, by making a video in which they beheaded a dummy with a toy sword in a protest against the building of the Bendigo mosque.
Via social media over the past few weeks, the pair have been calling for their supporters to gather at St Kilda Beach at 1pm on Saturday to "take back the beach" from "African crime gangs".
Strong Police Presence
Concerned that the protest, which involved about 100 far-right activists and 200 anti-racism demonstrators, had the potential to unravel into something resembling the Cronulla riots in 2005, police were on high alert, with hundreds dispatched to the area to keep crowds under control. The police presence included officers from the mounted, riot and dog squads.
Despite scuffles and high tension between the groups, only three arrests were made, one for drug possession, one for breach of bail, and a third for possessing a weapon, with officers conducting random searches for concealed items throughout the afternoon. One man was treated by paramedics after being sprayed with capsicum spray.
While police were pleased there were minimal arrests and no reported injuries, they are still closely watching the far right group.
ASIO Watching
Authorities have stepped up their efforts to monitor extremist groups and act upon planned acts of violence, believing they constitute a potential threat to safety and security.
In 2016, ASIO uncovered an alleged plot by a right-wing figure to attack a so-called "extreme left target". The suspect had been linked with Cottrell's group, and in 2015, the co-founder of the Reclaim Australia movement, John Oliver, was caught carrying a gun while on his way to a rally in Melbourne.
As a result, groups such as UPF are being watched closely, including their increasing use of social media to recruit new members and spread hatred.
Such groups often attract those who wish to blame immigrants for their own inadequacies, rather than act constructively to improve themselves.
The groups often use secret social media groups to spread their messages, which is a reason the UK is considering a ban on secret groups.
Receive all of our articles weekly