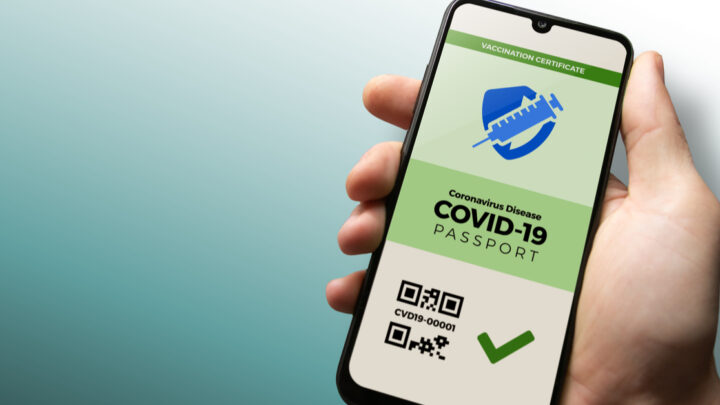 A Private Member's Bill introduced in Federal Parliament aims to prohibit the introduction of COVID passports for use in Australia.
The No Domestic COVID Vaccine Passports Bill 2021 has been put forth by Craig Kelly, who is the Federal Member for the NSW Division of Hughes and a member of the United Australia Party.
The short title for the proposed legislation states that it is, "A Bill for an Act to protect the right of Australians to make their own health decisions in relation to COVID vaccination, and for related purposes."
The Bill
At its core, the Bill proposes to make it unlawful for persons to be discriminated against based on COVID-19 vaccination status.
The prohibition
Section 7(1) of the Bill provides that, 'Commonwealth must not issue COVID vaccine passports'.
Exceptions to the prohibition
The proposed prohibition is qualified by section 7(2), which provides that it:
"does not prevent the Commonwealth from giving information about whether a person has received a COVID vaccination if the information is given to:
(a)  a court; or
(b)  a hospital; or
(c)  a medical practitioner.
 In addition to this, section 11 makes clear that the prohibition:
 "(1)  does not prevent the Commonwealth from issuing a COVID vaccine passport for the purpose of enabling a person to comply with a foreign law relating to international travel.
(2) This Part does not apply to discrimination undertaken for purposes relating to compliance with a foreign law relating to international travel."
Meaning of COVID passport
A COVID vaccine passport is defined by section 3 as, 'a vaccine passport, vaccine certificate, vaccine pass or other standardised documentation (including documentation in electronic form) issued for the purposes of certifying to a third party when an individual has received a COVID vaccination.'
Meaning of discriminates
Section 4 defines 'discriminates' as:
(1)  Without limiting when a person discriminates against another person on the basis of whether the other person has received a COVID vaccination, the first person discriminates against the other person on that basis if the first person:
(a)  requests or requires the other person to produce a COVID vaccine passport; or
(b)  discriminates against the other person on the basis of whether the other person has a COVID vaccine passport.
Discrimination on multiple bases
(2)  A reference in this Act to discriminating against a person on the basis of whether the other person has received a COVID vaccination includes a reference to discriminating against the other person on 2 or more bases that include that basis, whether or not that basis is the dominant or substantial reason for the doing of the act.
Fighting for the 'right to choose'
The issue of mandated vaccinations is a political hot potato right now, with many Australians starting to feel like their right to choose will be taken away.
While the No Domestic COVID Vaccine Passports Bill 2021 has good intentions, it is before the Federal Parliament and under current pandemic management we have the State leaders in charge, able to pass their own public health laws.
Right now, the New South Wales government is considering a proposal that will stop unvaccinated people from entering restaurants, bars and other hospitality venues once NSW begins opening up.
No jab, no drink in New South Wales
Consultation with industry groups is reportedly underway to discuss the option to require all hospitality staff and patrons to prove they have received two doses of a COVID-19 vaccine when the state reopens later this year. The plan would require merging vaccination certificates and QR code check-ins on either the Service NSW app or a new federal government app.
But there are concerns that the plan not only takes away personal choice, it has implications for privacy too, making a person's previously personal health choices, a public matter.
In France, where similar oppressive laws are currently before Parliament, prescribing jail time for the unvaccinated, people have taken to the streets, fighting for their rights.
While it has long been understood that vaccinations will go a long way to stopping the spread of coronavirus, fundamental civil liberties are being ignored in many of the Government's latest plans. This is, in the eyes of many, a dangerous erosion of human rights and the fundamental principles of democracy.
Civil liberties
The NSW Government is also considering mandating vaccinations across some industries, as it has done with health and quarantine workers, and construction workers.
It has also recently issued a new public health direction which states that if an authorised worker is not vaccinated or does not have a medical contraindication form, they will not be able to work outside their LGA. It also announced that rapid antigen testing will no longer be an alternative to vaccination for authorised workers who live in a local government area of concern.
Within the New South Wales liberal party, Western Sydney MP Tanya Davies, Corrections Minister Anthony Roberts, Wollondilly MP Nathaniel Smith and Riverstone MP Kevin Conolly are reported to be against on the basis that "a government should be protecting people's individual rights and circumstances." and mandated vaccinations are "an assault on an individual's freedoms and civil liberties."
So far, it appears, their opinions are falling on deaf ears.
Those who choose not to be vaccinated, whether now, or ever, are already being stigmatised. If these laws are passed they will be further marginalised and discriminated against, as a direct result of policies made by a government that has been elected to protect their rights and freedoms.
While there is no easy solution here, it has to be noted that mandating vaccinations is a slippery slope. People must retain their rights to informed consent and their right to refuse a medical procedure. We have to ask ourselves if we really want this enshrined into law.
While it all might seem daily sensible right now, mid-pandemic, what happens in future? What if a more extreme power took office?
Health advice
It also should be noted that despite consistently high daily case numbers, which reached 1029 Premier Gladys Berejiklian has admitted that the current strategy is working.
"The rate of hospitalisation is still relatively low and the mortality rate has been relatively low, compared to other outbreaks in Australia," she told media last week.
So what is the rush to mandate vaccinations? Where is the health advice that suggests mandated vaccinations the only pathway forward?
Right now, vaccination rates continue to climb voluntarily, despite the availability of vaccinations still being relatively haphazard.
The original pandemic lockdowns and restrictions on movement were put into place to save the health system from overload.
In New South Wales we have continually registered 'record high case numbers', yet currently there are less than 800 COVID patients in hospital, of whom 117 are in intensive care and 47 are on ventilators.
It's important to consider whether such draconian laws really are necessary, or whether they are just an excuse to exercise further social control.
Receive all of our articles weekly