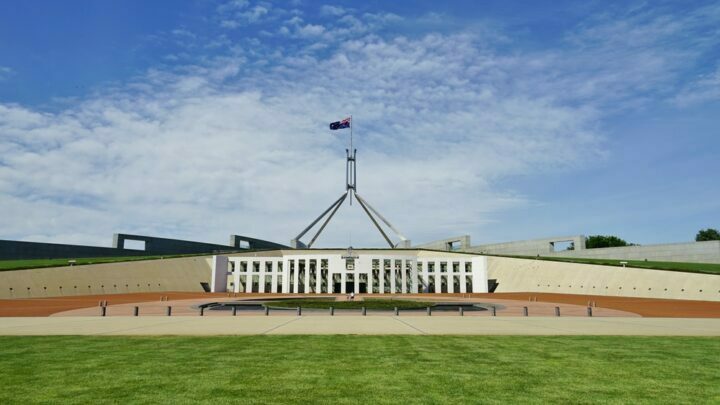 Sex Discrimination Commissioner Kate Jenkins has been given the task of overhauling the workplace culture in Parliament House.
The initial part of the process involves an inquiry, the terms of reference for which are deliberately broad.
Ms Jenkins says she is expecting a wide range of people to come forward, including former politicians and staff members, as well as anyone working in the vicinity of Parliament House, including the surrounding cafes and gardens.
The point of such a broad scope, the Commissioner says, is to leave no stone unturned when investigating allegations of misconduct that may occur in offices, as well as at events, and on polling booths.
Since Brittany Higgins came forward several weeks ago alleging she was sexually assaulted un Parliament House, several other reports have emerged of the misogynistic sexualised culture behind parliament walls.
Staff performed lewd sexual acts
To add to the government's woes, images were leaked to the media earlier this week showing a male staff member exposing his genitals at work and a male employee masturbating on the desk of a female Member of Parliament.
Some of the images are said to be so disturbing that they could not be shown to the public.
There are also allegations of staff exchanging nude photos of themselves, having sex in the 'prayer' room and sex workers being bought into the building at the request of MPs.
The PM 'doesn't get it'
While Scott Morrison has publicly condemned the acts, the reports suggest that Commissioner Jenkins has a long road ahead of her to transform the toxic culture within the halls of power.
Mr Morrison himself has clearly garnered a reputation over the past several weeks, including amongst some of his own female MPs, as failing to understand the problem, let alone being able to fix it.
He has been criticised for needing to get clarification from his wife in the wake of the rape allegation by Brittany Higgins. He, and the Minister for Women Marise Payne, were noticeably absence from the March 4 Justice Rallies, despite being invited to attend.
Apology to NewsCorp
And earlier this week, Mr Morrison made a serious gaffe at a press conference which was aimed at  acknowledging  the "rubbish" and "crap" women have to contend with at Parliament House.
When questioned by a Sky News journalist as to whether he had lost control of his staff, our PM boldly asserted that a female journalist had been harassed in the toilets at Sky News, which is owned by NewsCorp.
The statement was blatant 'whataboutism', with many holding the view Mr Morrison should clean up his own backyard rather than point the finger at others.
NewsCorp fought back by asserting the allegation is 'simply untrue', which led the PM to capitulate by making a formal apology.
"I deeply regret my insensitive response to a question from a News Ltd journalist by making an anonymous reference to an incident at News Ltd that has been rejected by the company," he said in a Facebook post.
Workplace training to combat misogynism
Mr Morrison has now announced he is considering implementing mandatory face-to-face workplace health and safety training for MPs.
He has also supported calls for quotas to ensure more women get elected.
Only about a quarter of the Liberal party's elected representatives are women, compared with almost half of Labor's caucus, raising questions about whether more women in Parliament would change the dysfunctional, disrespectful male-dominated culture.
But both of these recent initiatives appear to be an effort to put a band aid on a gaping wound. And, as many have already suggested, are also 'too little, too late'.
Addressing the problems in Parliament
A significant problem which must be addressed is the fact that there is currently no independent process for sexual harassment complaints in Parliament House. Any complaints are handled through the Department of Finance, which essentially acts as the Human Resource Department.
It has been criticised as a "risk-management approach," rather than one which promotes and encourages the prevention of sexual harassment, discrimination and misconduct.
Last month the Labor party finalised its own internal complaints system for handling sexual harassment, sexual misconduct and sexual discrimination claims, but it is yet to be tested.
Commissioner Jenkins is expected to report the findings of her inquiry by November. It's also expected that the Commissioner will make a number of recommendations for reform. The pressure will be on Scott Morrison's Government to implement these.
In the meantime, if his Government is to be taken seriously on its promise to change workplace culture it must also consider implementation of other recommendations made by Commissioner Jenkins which were presented to Parliament last year after a two-year nation-wide inquiry into sexual harassment in Australian workplaces.
Receive all of our articles weekly
Author
Sonia Hickey
Sonia Hickey
is a freelance writer, magazine journalist, and owner of 'Woman with Words'. She has a strong interest in social justice and is a member of the
Sydney Criminal Lawyers®
content team. Sonia is the winner of the Mondaq Thought Leadership Awards, Spring 2022.