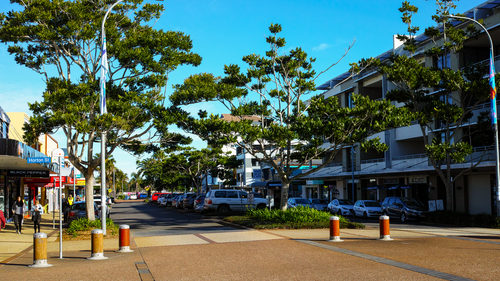 The 'rule of law' dictates that everyone should be treated equally under the law, regardless of who they are, who they know and what position they hold.
A senior police officer learnt this the hard way when, some time ago, he was issued with a penalty notice and placed under an internal investigation for allegedly failing to quit two licensed premises in Sydney.
It was reported that 38-year old NSW Police Force Chief Inspector Shane Cribb started his day out at the VB Gold Port Macquarie Cup, the mid north coast's premier annual horse racing event.
He is reported to have cut a long queue of patrons waiting to use the bathroom, before urinating in a hand basin.
He later left the event and was allegedly refused service at Finnigan's Irish Pub, where he was in the presence of fellow police officers.
In response, the 195cm former rugby player reportedly pulled out his police badge and demanded service, before being physically ejected from the premises due to his level of intoxication.
Inspector Cribb is alleged to have told his colleagues that he was checking into Port Macquarie Hotel, before returning to Finnigan's after they had left, flashing his police badge again, demanding re-entry and being again physically made to leave.
The Inspector is alleged to have then attended Port Macquarie Hotel where he held his police badge in the air and yelled, "This is war – this is the NSW Police Force versus the Macquarie Hotel", refusing to leave the vicinity.
A staunch advocate of responsible drinking
Chief Inspector Cribb had presented himself as a champion of responsible drinking, telling the media:
"The responsibility for maintaining safe alcohol practices rests with everyone in the community, and should be taken seriously".
"Alcohol-related crime and violence will not be tolerated by police within the Coffs/Clarence Local Area Command and all offenders will be dealt with accordingly."
He is no stranger to controversy, making headlines in 2001 after being charged with criminal offences for shooting an alleged-ram raider in Abbotsford.
He was cleared over the shooting and the NSW Police Force later reached a civil settlement with the man who was shot.
The offence of failing to quit a licensed premises in NSW
Section 77 of the Liquor Act 2007 (NSW) contains sets out the rules relating to 'non-voluntary exclusion of persons from licensed premises'.
Subsection 77(2) empowers an 'authorised person' – being a licensee, or employee or agent of a licensee, or a police officer – to refuse to admit a person into, or to turn them out of, a licensed premises if:
They are intoxicated, violent, quarrelsome or disorderly,
Their presence would render the premises liable for a penalty under the Act,
They smoke while in a smoke-free area of the premises,
They are suspected of possessing or using a prohibited drug or plant on the premises, or
A condition of the licence otherwise requires their removal.
Section 5 of the Act provides that a person is intoxicated if:
(a) his or her speech, balance, co-ordination or behaviour is noticeably affected, and
(b) it is reasonable in the circumstances to believe that the affected speech, balance, co-ordination or behaviour is the result of the consumption of liquor.
Subsection 77(3) makes clear that an authorised person can continue to refuse entry to a person, or turn them out of, a licensed premises at any time if they have been refused entry or removed.
Subsection 77(4) prescribes a maximum court-imposed fine of $5,500 for any person who refuses to comply with the directions of an authorised person under subsections (2) and (3).
The conduct may alternatively be dealt with by way of a $550 on-the-spot fine.
Subsection 77(8) stipulates that a person who has been refused admission to, or turned out of a licensed premises, must not without reasonable excuse:
Remain in the vicinity of the premises, or
Re-enter the vicinity of the premises within 6 hours of being refused admission or being turned out.
The 'vicinity' of the premises is defined as within 50 metres from any point on the boundary of the premises.
Subsection 77(5) empowers authorised persons to use "such reasonable degree of force as may be necessary to turn a person out of licensed premises".
Subsection 77(6) provides that a person who is refused entry to, or turned out of, a licensed premises must not re-enter or attempt to re-enter within 24 hours, while subsection 77(7) outlines that an authorised person is not prevented from turning a person away from a premises, or removing a person from the premises, beyond that 24 hour period.
The defences
Subsection 77(9) of the Act states that a 'reasonable excuse' for a person remaining in, or re-entering, the vicinity of the premises includes where he or she:
Has a reasonable fear for his or her safety if they leave or do not re-enter,
Needs to remain in or re-enter in order to obtain transport, or
Resides there.
In that event, subsection 77(1) requires the excluded person to prove the offence 'on the balance of probabilities'.
Self-defence, duress and necessity are also defences to the charge.
Charged with failing to quit a licensed premises?
If you have been issued with a penalty notice or court attendance notice for refusing to leave a licensed premises, call Sydney Criminal Lawyers anytime on (02) 9261 8881 to arrange a conference with a defence lawyer who will advise you of your options and the best way forward.
If you believe the authorised person exercised his or her power improperly, your lawyer can advise you of the most appropriate course of action to have the fine or court case dropped.
This may involve writing a letter to the prosecution requesting withdrawal, and the basis for that request.
If the matter proceeds to a defended hearing, your lawyer can fight to have the case thrown out of court.
Receive all of our articles weekly