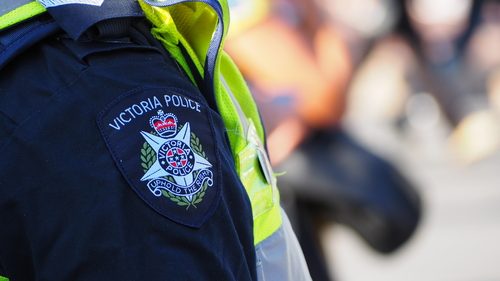 One of Victoria's top police officers resigned this week, after it was discovered he was responsible for a series of bizarre racist and sexist rants posted to YouTube.
Brett Guerin, the head of Victoria Police's Professional Standards Command and Assistant Commissioner for the state's police force, tendered his resignation after the state's anti-corruption commission announced it would begin investigating his social media posts.
One string of comments regarding a video of a Somali pirate attack read as follows:
"I'm afraid this is what happens when the lash is abolished. The jigaboo runs riot and out of control.
The 'boo needs the lash. The 'boo wants the lash.
Deep, deep down the 'boo knows the lash provides the governance and stability".
But the Assistant Commissioner's remarked, made under a pseudonym, weren't limited to racial slurs.
Commenting on former Victorian Police Commissioner Christine Nixon and former police union boss Paul Mullet, with whom he had disagreements, Guerin wrote:
"She [Nixon] bent the Mulletmeister [Mullett] over and slipped a rather large schlong up his date courtesy of the Supreme Court's decision this morning."
Questions about Mr Guerin's decisions
Legal advocates are now asking questions about the integrity of decisions made by Guerin during his time as head of the Professional Standards Command.
Staff from the Flemington and Kensington Community Legal Centre have announced they will be reviewing a number of racial profiling complaints they believe may have been dismissed unfairly.
"In my research I spoke with and heard the testimonies of many African-background young men, their lawyers and their social workers, who described outlandish acts of gratuitous violence and being persistently hailed by police as either 'black dogs' or 'black c—s'." Tallace Bissett, a doctoral candidate at the University of Melbourne, wrote in The Age.
Not the first time
Although it is particularly concerning that the officer responsible for making decision about complaints and ethics was posting such inappropriate comments, Mr Gueren certainly isn't the first officer to be in trouble over offensive social media posts.
In 2016, several New South Wales Police Officers were caught harassing Newtown MP Jenny Leong over her criticism of drug sniffer dogs – resulting in at least one suspension.
In 2013, Victoria Police settled out-of-court with a group of almost 20 young African-Australian members, after officers racially profiled, harassed and assaulted members of the group.
These incidents raise concerns about a broader culture of bigotry within police forces across Australia.
Victorian police distance themselves
Victoria Police Chief Commissioner Graham Ashton has since described Guerin's behaviour as "abhorrent", and "completely and utterly unacceptable at Victoria Police".
"It goes without saying, it's that's obvious, it's behaviour that is well, well below the line of expectation," he said during a media conference.
"We'll be talking to the broader multicultural community today and making sure they know those views in no way represent what Victoria Police is about."
Mr Guerin offered his apologies for the comments, stating: "It's certainly crude, coarse, not the type of language I want my mother to hear or read about, or my daughters… But they have, and there's one person to blame for that, and you're looking at him."
Acting Victorian Premier James Merlino also spoke out about the comments, labelling them "extraordinarily offensive", and commending Guerin for standing down.
"The community expects the highest ethical behaviour of every member of Victoria Police," he said. "These comments were extraordinarily offensive, out of line, and the appropriate action has taken place."
However, Ashton praised Guerin's achievements as head of the Professional Standards Command, stating: "he has been leading integrity reforms across Victoria Police, and we've been seeing really good results with that. Complaints against police are down, the work that he's been doing in integrity reforms has been going really well for us."
Police culture
Reviews of South Australian, New South Wales and Federal Police culture has found significant issues with sexism, racism and bullying in workplace culture.
The South Australian review described the state's police as a "boys club", finding that almost half of those interviewed reported experiencing harassment and/or sexual discrimination within their workplace.
Reviews of the Australian Federal Police and New South Wales Police Force found widespread instances of bullying, homophobia and sexism.
Several official bodies and independent experts have criticised a system whereby police are effectively policing themselves, calling for a truly independent body to review police conduct and complaints from both within and outside the institutions.
As more information surfaces about Guerin's online postings, Age editor Alex Lavelle has argued for a more thorough investigation of the State's Police:
"Without a purging examination of police culture, public faith is unlikely to be restored. And how are junior members of the force supposed to have faith in decency and probity when the man who was in charge of the force's decency and probity is linked to such vile views?"
Receive all of our articles weekly
Author
Kieran Adair
Kieran Adair
is the previous Deputy Editor of City Hub. He has written for the Huffington Post, Guardian Australia and South Sydney Herald. He has a passion for social justice and is a member of the
Sydney Criminal Lawyers®
content team.