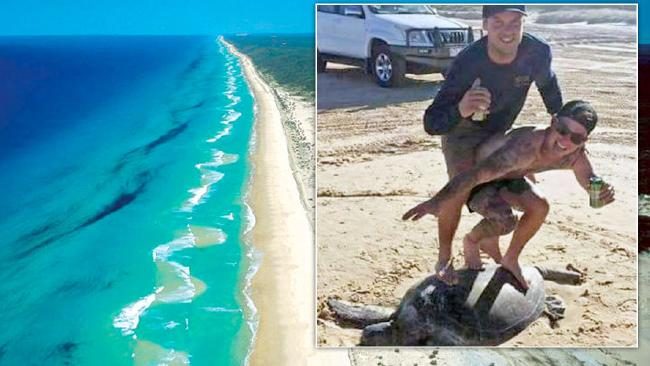 Three organisations with prosecutorial powers – the Department of Heritage and Environment, the RSPCA and the Queensland Parks and Wildlife Service – are investigating the actions of a Gold Coast man and his mate who took a photo of themselves standing on top of a green turtle on Fraser Island.
The men – who cannot be named for legal reasons – have not only come under the wrath of the public, but could face fines of up to $20,000 each.
The photo shows the men standing on the turtle with drinks in their hands, with the caption: "Surfed a tortoise on zee weekend … gnarly duddddeeeee". It was originally shared on Instagram, but caused outrage on Facebook after it was shared by a wildlife volunteer. It has since had around 3,000 shares, a lot of angry responses and about 900 comments.
By and large, the public reaction to the post has been one of fury, with comments such as: "idiotic", "shameful" and "disgusting".
One comment read: "You should be barred from all national and state parks. Bet your parents are proud of you."
But others have reacted more moderately, with one comment saying: "I have been to Fraser a few times and it's not uncommon to see dead turtles washed up."
The actions of the men are now being investigated by Queensland Parks and Wildlife Service. (QPWS).
The maximum penalty for interfering with a natural resource such as a green turtle is $19,965.
QWPS says that there is evidence to suggest the turtle was dead at the time the photo was taken, but that it is nevertheless taking the matter very seriously and investigating further.
Regretting their behaviour
The two men have expressed regret since the post went viral.
One of the men, who describes himself as an animal lover, has said: "We pulled over to help it because we thought it was stuck and as we got closer we realised it was dead… Not thinking, we hopped on it for five seconds and got a quick photo and left."
"This is what social media does to people. Ruins names over false and misleading information," he said.
There are still calls for the men to be reprimanded, with one social media commentator saying: "Regardless if this animal is alive or not … this is clearly disgraceful."
RSPCA investigating
Michael Beatty, spokesperson for the RSPCA, has described the men's behavior as appalling and another example of the thoughtless things people do while drinking.
He is adamant the RSPCA will also investigate the incident and, if there is any information that the turtle was harmed, Biosecurity Queensland could also launch investigations under the Nature Conservation Act.
"These guys are just complete idiots – there's no way they should be doing what they were doing," he said. "I hope they get their comeuppance on social media".
It is understood the Department of Environment and Heritage Protection is also investigating the matter.
Turtles are currently nesting on Fraser Island and the QPWS is working to educate visitors about programs which encourage turtles to keep coming back to nest in the area.
Last month, the QPWS also began investigating the circumstances behind the suspicious discovery of multiple turtle carcasses near Elliott Heads, east of Bundaberg in Queensland.
Receive all of our articles weekly
Author
Sydney Criminal Lawyers
Sydney Criminal Lawyers®
is Australia's Leading Criminal Defence firm, Delivering Outstanding Results in all Criminal and Driving cases. Going to Court? Call (02) 9261 8881 for a Free Consultation.