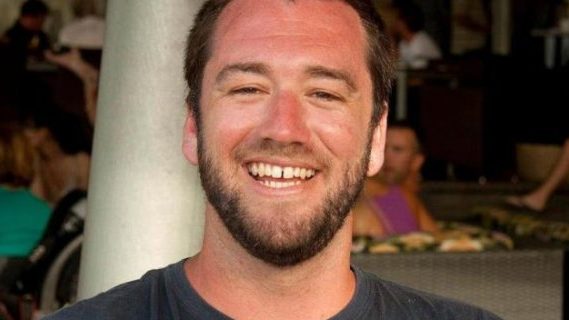 Melbourne rugby player Michael Quinn (pictured) was recently sentenced in a Los Angeles court to twelve years imprisonment on child sex charges.
The 33-year-old IVF geneticist was arrested in a hotel room in LA in May this year, as he was attempting to pay a 'pimp' $US260 ($AU342) to have sex with a six-year old boy.
At the time, Quinn thought he was attending a "paedophile party", but he was actually at the centre of an elaborate sting operation set up by local authorities.
The sentencing
After five months awaiting his fate in the US prison system, Quinn looked gaunt as he sat in the courtroom this week with his ankles shackled.
He told US District Court Judge John Walter, "If you give me a second chance, I won't let you down." But the judge showed no leniency when he handed down the sentence.
Hoodwinked
Quinn was traveling to the States in May, to compete in the Bingham Cup in Nashville, Tennessee with the Melbourne Chargers rugby team.
Several weeks before leaving Australia, Quinn posted a message under the pseudonym Mick on a social media site used by child sex offenders.
"Aussie perv, heading to the US late May/June interested to meet others while I'm there. LA, Nashville, NYC," he wrote.
US Homeland Security special agent Aaron McClellan saw the post and began exchanging messages with the football player.
At the time, the agent was investigating online groups whose members were "attracted to children", he said in his deposition.
McClellan posed as three different paedophiles on an unnamed website and several social media platforms.
"Hello young man,' the agent wrote in their first exchange. "An Aussie aye? I have run across a couple of Aussie pervs on here recently."
Quinn – who said in court that he'd never molested a child before – told the agent he had a preference for boys between the ages of five and ten.
The pair then agreed on a price for Quinn to molest a boy, arranging to meet up in LA. Quinn then got in contact with two other men he believed were involved in the paedophile ring, although they were both actually McClellan.
Last minute jitters
On the day before he flew to LA, Quinn got cold feet and suggested to the other men that they meet up before the party, because he wanted to make sure they weren't cops. The agent then assured him they weren't.
However, the investigators had already discovered Quinn's real identity, as they'd linked one of his user names to his Facebook account. They even knew the flight he was on.
The sting
On May 21, a few days after he arrived in California, Quinn took an Uber to the prearranged beachside hotel and met up with three agents, who were parading as paedophiles.
The four men sat in the hotel room and had a few drinks. Eventually, a fake pimp entered and said, "Money time." Then Quinn handed over the cash.
"Quinn, clearly remembering the previous discussions where he had been told the price would be $US250 to sodomise the boy for approximately an hour," McClellan recalled, "He pulled out his money and gave the pimp $US260."
At that point, police officers raided the room and arrested all of the men, including the undercover agents.
Operation Broken Heart
The sting was a part of a larger operation being conducted by the Los Angeles Regional Internet Crimes against Children task force targeting child predators in southern California.
The two-month long operation – codenamed Operation Broken Heart III – nabbed 238 individuals involved in child sexual exploitation, sex tourism and child pornography.
Amongst those arrested during the sweeps that took place in April and May, were community leaders, white-collar professionals, members of the clergy and a Buddhist monk.
The plea deal
On July 20, Quinn pleaded guilty in a US District Court to traveling to the country for the purpose of having illicit sexual conduct with a minor, a charge that carries a maximum penalty of 30 years imprisonment.
As part of a plea deal negotiated by his criminal defence lawyer and prosecutors, the judge had to agree to a sentence of between 10 and 13 years.
An initial charge of attempted sex trafficking of a minor was dropped as part of the deal. That sentence carries a minimum of 15 years and a maximum of life imprisonment without parole.
Excuses the judge didn't buy
Lisa Shinar LaBarre, Quinn's lawyer, told the court her client's dependence on methamphetamine gave him psychotic thoughts. She also claimed her client had been abused as a child.
The court heard that a psychologist had examined Quinn and said he was unlikely to reoffend. But Judge Walter said he wasn't "overly impressed," as Quinn hadn't undergone standard testing for paedophilia.
The judge also didn't "buy" the idea that Quinn's drug use and abuse as a child should be factored into the sentencing, as "the defendant had every intention of raping a boy."
The Chargers
As for Quinn's Melbourne Chargers teammates – who were in Los Angeles at the time he was arrested – they've been suffering the consequences of his actions ever since.
Many of them have had to undergo counselling, they told the ABC this week, and they've been accused of having harboured a paedophile.
The football players have been trolled online with accusations that they were somehow complicit in Quinn's actions.
Two companies withdrew their sponsorship of the club, and eight players have left because they couldn't handle the stigma.
But the Chargers went onto win the Bingham Cup in Nashville: a tournament against forty three other teams.
"To win it and lift the cup up and everyone's bursting into tears," recalled club president Dan Syrus, "it was a very cathartic moment." He added that Quinn didn't deserve to be a part of it.
Leon Kennedy, a club committee member, said the team was now focused on next year's Bingham Cup, which is an event aimed at helping LGBTQI youth.
An apology
Michael Quinn apologised to Australia for "damaging its reputation" and told the court he never wants "to put a child in danger again."
The "Aussie perv" won't be due for release until 2028.
Receive all of our articles weekly