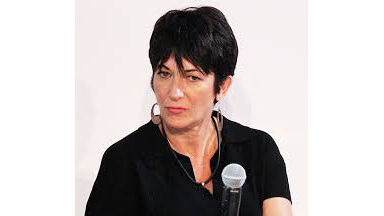 The Jeffrey Epstein case has all the hallmarks of the conduct exposed by the #MeToo movement: A wealthy man in a powerful position taking advantage of vulnerable young women.
But there is a significant difference. In the case of Jeffrey Epstein, there is his long-time confidant, Ghislane Maxwell, who has now been arrested by the FBI in the United States and faces a string of charges relating to grooming young women, and conspiring with child sexual offender Jeffrey Epstein to sexually abuse minors.
The six-count indictment in Manhattan federal court alleges that Ghislane Maxwell helped Epstein groom girls as young as 14 years old. Prosecutors say she was in the room during — and took part in — the sexual abuse of three underage girls. She faces up to 35 years in prison.
According to Audrey Strauss, the acting US Attorney of Southern District of New York, "Maxwell enticed minor girls, got them to trust her, then delivered them into the trap that she and Epstein had set for them."
The indictment lists three minor victims who prosecutors say were recruited by Ms. Maxwell from 1994 to 1997, without identifying them by name. Federal laws in the US allow the government to prosecute sexual offences committed against minors at any point in the victim's lifetime.
The story so far
Powerful, wealthy businessman Jeffrey Epstein committed suicide last year while on remand, awaiting trial on charges of sex trafficking. Two of the guards tasked with monitoring Epstein at the Metropolitan Correctional Center now face federal charges for not properly supervising him before his death.
At the time, lawyers representing some of the women procured by Epstein for sexual acts with himself and his friends, described Epstein's acquisition of young women as a 'pyramid' scheme whereby he would pay young women to procure other young women. Ghislane Maxwell has been accused of being central to this scheme, gaining their trust, and having conversations with the girls that would 'normalise' the abuse.
One day before his suicide, a federal appeals court released the transcript of a 2016 deposition in which Epstein repeatedly refused to say whether Maxwell had procured young girls for him.
Ms Maxwell now faces multiple counts of perjury for allegedly lying in her own deposition about Epstein's sexual activities.
Before his arrest, he was friends with some of the world's most rich and powerful people including Donald Trump, Bill Clinton and Prince Andrew.
Allegations against Prince Andrew
The FBI remains hopeful that Prince Andrew will voluntarily cooperate with their investigations, because he was a long time friend of both Jeffrey Epstein and Ghislane Maxwell and may be able to confirm evidence or provide new information.
While the Prince faces a string of allegations from several young women that he had sex with them while they were underage, and also allegations involving sex orgies and prostitution, which he strenuously denies, no formal charges have been laid against him. Although it is understood that there are five accusers who want to give evidence about Andrew in US courts and that subpoenas have been prepared which could be served on Andrew if he ever sets foot in the US.
Recently, the US Department of Justice issued a formal request for "mutual legal assistance" (MLA) to the British Home Office, bypassing Buckingham Palace. The prince's lawyers have agreed to provide New York prosecutors with a written statement, but have said the Prince will not sit for an interview.
Despite this, the prosecutors say they would still like to speak with Prince Andrew. Their  investigation is ongoing, and officials urged others who might have been victims to contact the authorities.
The offence of grooming a child for unlawful sexual activity
Grooming a child for unlawful sexual activity is an offence under section 66EB(3) of the Crimes Act 1900 which carries a maximum penalty of 10 years in prison, or 12 years if the child was under 14 years of age.
To establish the offence, the prosecution must prove beyond reasonable doubt that:
You were at least 18 years of age,
You groomed a child for unlawful sexual activity, and
You did so intentionally.
'Groomed' means to expose a child to indecent material, or provide a child with an intoxicating substance, or with any financial or material benefit with the intention of making it easier to procure the child for unlawful sexual activity.
'Procure' means to encourage, entice, recruit or induce, whether by threats, promises or otherwise.
A 'child' is defined as a person under the age of 16 years.
'Unlawful sexual activity' covers a broad range of conduct, including:
Producing child abuse material,
Forced self-manipulation, and
Child prostitution.
The prosecution does not need to specify the type of activity you groomed the child for the offence extends to procuring adults who pretend to be children, provided the prosecution proves you believed the adult was a child.
A defence to the charge is that you reasonably believed the other person was not a child.
Duress is also a defence to the charge.
Grooming an adult to access to a child under their authority
In response to the Royal Commission into Child Sex Offences, the New South Wales Government adopted one of the formal recommendations of the final report and introduced new laws in 2018 which make it an offence to 'groom a parent or carer to gain access to a child.'
This is an offence under section 66EC of the Crimes Act 1900, which carries a maximum penalty of 5 years in prison, or 6 years if the child was under 14 years of age.
To establish the offence, the prosecution must prove beyond reasonable doubt that:
You were an adult
You provided another adult with a financial or material benefit, and
You did so intending to make it easier to procure a child under that adult's authority for unlawful sexual activity.
Again, a child is a person under the age of 16 years.
Those with authority over a child include:
The child's parents or guardians, and
Any other adult/s with responsibility over the child at the relevant time.
Proceedings for the offence can only be commenced by, or with the approval of, the Director of Public Prosecutions.
Again, duress is a defence to the charge.
Accused of a sexual offence?
If you have been accused of a sexual offence and require the assistance of lawyers who are vastly experienced and have an outstanding track record of defending these cases, call Sydney Criminal Lawyers® 24/7 on (02) 9261 8881 to arrange a free first conference.
Receive all of our articles weekly