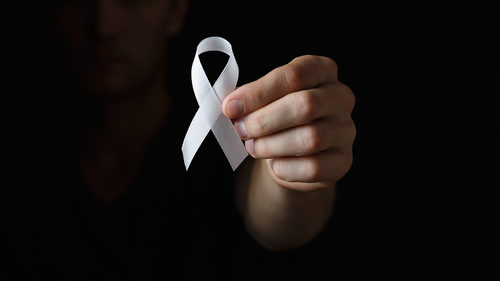 With our nation in the grips of a domestic violence epidemic and the world still reeling from hundreds of thousands of allegations on the back of the global #MeToo movement, it's difficult to fathom that White Ribbon Australia is shutting its doors.
Financially unsustainable
But in a statement, the board said the decision became necessary after an analysis of the Australian organisation's future sustainability.  It was only weeks away from its annual flagship fundraising and awareness day which was due to be held on November 22.
Last financial year, the charity registered an operating loss of more than three quarters of a million dollars, and in recent times it has also lost a string of key people, including the CEO and four directors.
It's been reported that the organisation has struggled financially for a number of years, but the full picture won't become clear until the liquidators and forensic accountants officially wind up the organisation over the coming weeks.
How the money was spent
And, given the organisation's financial hardship and difficult circumstances, questions should asked why both the state and federal governments continued to provide the organisation with around $600,000 a year.
While organisation declared a $298,481 profit in 2017, the 2018 annual report reveals a loss of $840,826. Its liabilities rose over the period from $2.13m to $2.53m.
Almost 20 per cent of spending was on marketing, communications, website and information management. Miscellaneous administration costs account for $1,889,034, while employee expenses jumped from $2.9m in 2017 to $3.98m in 2018.
On the face of it, it seems very much a case of the organisation spending a lot more than it earned. The charity was reliant on government funding as well as corporate sponsorship, and the selling of merchandise along with community donations, although it's understood that it lost two key sponsorship partners in recent years, including Telstra.
Cracks in credibility
But putting it's unstable financial position aside, it's important to note that the charity also suffered a number of significant incidents which seriously damaged its credibility.
Last year when Queensland decriminalised abortion, White Ribbon's then new chief executive Tracy McLeod Howe (who has since left) removed the organisation's support for reproductive rights, and then backtracked. This put the organisation into the spotlight for all the wrong reasons. A charity which has the protection of women as one of its core aims, cannot be seen to fail them on a key issue of importance such as their right to choose.
Two years ago, the charity accepted a large donation from Fairfield Hotel. The donation was made on the proviso that the pub succeeded in its bid to increase its number of poker machines. Clearly White Ribbon ignored, misunderstood, or overlooked the extensive research which links incidences of family violence to gambling. This also landed the organisation in hot water with the Australian public.
Ambassadors have proved to be an ongoing problem too, including politician Luke Foley who was sacked by White Ribbon after sexual harassment allegations were made against him by a journalist. The organisation's chairman too, former Director of Public Prosecutions Nicholas Cowdery resigned as after comments he made in an ABC documentary about former Water Polo player Keli Lane, who is serving an 18-year prison term for killing her baby.
Services under pressure
But many working in domestic and family violence have also long held the opinion that the organisation lacked meaningful relevance and took valuable money and resources away from necessary frontline emergency services that are dealing with the real issue of violence against women on a moment-by-moment basis.
Others also say that the organisation will leave a big gap – and that it's important that men continue to have a national forum, a way to take an active leadership role in facing and dealing with Australia's escalating crisis of violence against women.
Statistics show that on average in Australia, one woman a week is murdered by her current or former partner.
Mid-way through this year, the Bureau of Crime Statistics and Research (BOCSAR), released statistics that show the number of domestic violence-related murders in New South Wales has doubled over the past year.  Women continue to account for the majority of victims. And we know that indigenous women are 32 times more likely to be hospitalised due to family violence.
The numbers paint a mixed picture of success for the Federal Government's 12-year National Plan to Reduce Violence against Women and their Children which was introduced in partnership with state and territory governments in 2010. Almost a decade later, $723 million in federal funds has been committed to the plan, over and above whatever money state and territories are spending on their own programs.
What is clear is that violence against women is showing no signs of abating and while a whole-of-society approach is often talked about, it's not an easy fix. It is highly likely that it will take a generation or two before we see any real results in eradicating this problem.
Receive all of our articles weekly