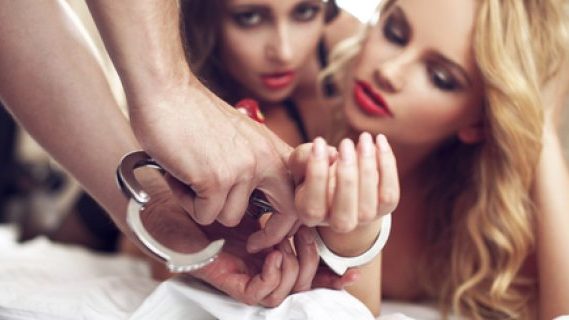 A man in the US has allegedly been stabbed in the arm and abdomen after refusing to participate in a 'threesome' with his girlfriend and another woman.
The defendant, forty-two year old Teresa Gillard, met a woman at a local dog park on the morning of the incident and they exchanged details.
After returning home, Gillard suggested to her boyfriend that they invite the woman over for a threesome, but he declined as he was feeling ill.
An argument ensued which turned physical, ultimately resulting in Gillard stabbing her boyfriend with a pair of scissors.
The man managed to remove Gillard from the house, but she allegedly re-entered through the back door and the fight continued.
The alleged victim suffered minor injuries to his arm and stomach.
Ms Gillard is facing felony charges of aggravated assault with a deadly weapon and disorderly conduct with a weapon. She faces a maximum prison sentence of 15 years.
She is reported to have told police that she consumed one Budweiser Strawberryrita and two shots of peppermint schnapps shortly before the incident.
She says her boyfriend had grabbed her by the wrists, swung her around and told her he had a gun before she grabbed the scissors and stabbed him.
Wounding Offences in NSW
Had the incident occurred in NSW, Ms Gillard may have been charged with:
Reckless wounding
Assault occasioning actual bodily harm', and / or
Wounding with intent to cause grievous bodily harm.
The particular charge/s would depend on how police perceived Ms Gillard's intentions and the extent of the injuries.
Reckless wounding is an offence under section 35(4) of the Crimes Act 1900 (NSW)  which carries a maximum penalty of seven years' imprisonment.
It also comes with a 'standard non parole period' (SNPP) of three years imprisonment, which is a reference point or guidepost for a sentencing judge when imposing any 'non parole period' – which is the minimum time an offender needs to spend in prison before being eligible to apply for release.
The offence requires proof of 'wounding', which is where both layers of skin are broken, namely the dermis and epidermis. It encompasses all cuts which penetrate into the flesh, including a 'split lip'.
Assault occasioning actual bodily harm is an offence under section 59 of the Act which carries a maximum penalty of five years' imprisonment.
'Actual bodily harm' (ABH) is that which is more than 'transient or trifling'; in other words, more than slight harm – such as minor redness or passing scratches – which quickly subside.
Wounding with intent to cause grievous bodily harm is an offence under section 33(1)(a) of the Act, which requires proof that the defendant had an intention to cause very serious harm to the victim.
It comes with a maximum penalty of 25 years' imprisonment and a SNPP of seven years.
Self Defence
It appears Ms Gillard may seek to raise self-defence, which is a 'complete defence' in NSW and would therefore lead to an acquittal if successfully raised.
Section 418 of the Act provides that a defendant is not criminally responsible for conduct which is necessary to:
(a) defend himself or herself or another person, or
(b) prevent or the unlawful deprivation of liberty, or
(c) protect property from unlawful taking, destruction, damage or interference, or
(d) prevent criminal trespass to any land.
The conduct must, however, be a reasonable response to the circumstances as the defendant perceived them.
Section 420 contains a proviso that self defence cannot be relied upon if death is inflicted in order to protect property or prevent trespass to property.
To rely on self defence, there must be some evidence capable of raising the defence in the minds of the jury, or the magistrate or judge if there is no jury.
Once self defence is raised, the prosecution is required to prove beyond reasonable doubt that it does not exist. The defendant must be acquitted if the prosecution is unable to do so.
Only time will tell whether Ms Gillard will rely upon self defence, or how she otherwise deals with the charges brought against her.
Receive all of our articles weekly