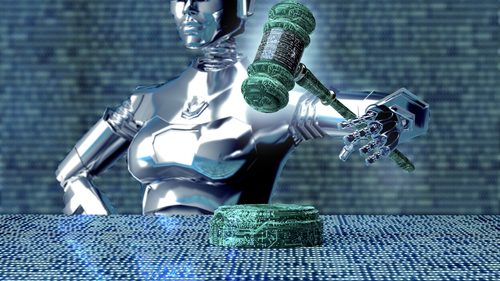 The online sensation DoNotPay has been dubbed the world's first robot lawyer, and is now giving out free legal advice to asylum seekers via Facebook.
The app, which was originally developed by a Stanford University student, and which has successfully disputed more than 160,000 parking tickets in the US and UK is branding into humanitarian services.
The technology behind the service is called a 'bot', and it asks users a series of questions in real time. Originator Joshua Browder developed the original idea for a way to check parking fines when he was continually fined himself for parking 'legally'.
The idea took off, and 20 year old Browder, who is from the UK, has just made the Fortune 30 Under 30 list of bright entrepreneurs.
To make the first bot he studied hours of YouTube tutorials, and while the original idea was to deal with a range of consumer issues such as parking tickets and delayed flights, interest has grown exponentially in his automated legal services and he has now expanded the idea into providing legal aid for those seeking asylum in the United States and Canada.
The innovation helps people to complete the necessary forms and understand the process.
The bot offers a glimpse into what's possible in the future with regard to the delivery of legal services. In the same way that many other industries are undergoing transformation, the legal profession is also being 'disrupted' by technology, in a way that many feel is for the benefit of the public.
Graduates need to be equipped for change
Like many, the Law Society of New South Wales notes that the profession is changing swiftly, and those looking for legal careers need to be aware of new technologies.
A report by Graduate Careers Australia suggests that only 74.1 per cent of law undergraduates were successful in finding jobs in 2015, compared with 88.4 per cent in 2005. This has been a trend for some time, with at least one Australian law firm responding to the oversupply of graduates by asking them to pay for a 'job' to gain experience.
Now, the Law Society is urging graduates to obtain other skills, or risk being left behind.
Qualifications in business and technology skills such as coding and data are highly sought after right.
'Disruption'
Research by the Law Society suggests that changing cultures, as well as consumers wanting value for money, cheaper offerings and predictable costs, and a general expectation that lawyers are abreast of, and use, technology to deliver their services are the key drivers behind significant investments in technology amongst leaders in the profession.
To help prepare graduates for a changing profession, the Law Society has been working with educators that are offering new technology courses to law students, including the UTS, which has launched a new course on creating artificial intelligence web applications for legal issues, as well as the University of NSW, which will soon introduce a course on designing technology solutions.
Graduates are being encouraged to take up these extra learning opportunities.
But while the future is wildly exciting, it's also unpredictable and there's bound to be more change in the industry in the form of clever technology inventions like DoNotPay.
Faster, cheaper and more effective ways of accessing services online are in great demand, and like the success of Avvo in the US, there is little doubt that innovation will lead to positive 'disruption' in the Australian profession.
Receive all of our articles weekly
Author
Sydney Criminal Lawyers
Sydney Criminal Lawyers®
is Australia's Leading Criminal Defence firm, Delivering Outstanding Results in all Criminal and Driving cases. Going to Court? Call (02) 9261 8881 for a Free Consultation.