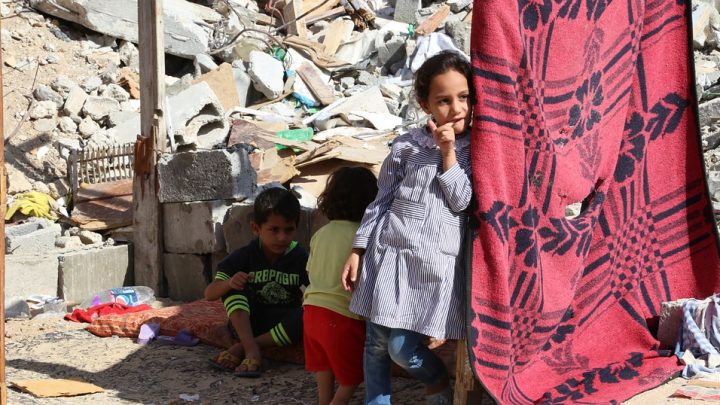 Two years on from the day war ended in Palestine, life for Palestinians remains desperate.
75,000 are still homeless. There are not enough shelters, there are not enough building materials to make more shelters. Power operates only a few hours a day, making cooking, cleaning and washing difficult. Many families use candles, and last month alone three children died in fires caused by candles.
Clean water is almost impossible to come by, and although a lot of work has been done to restore water and sewage networks, only about one-third of the system has been repaired.
Food, clean water and medicine are scarce
The employment rate is nearly 50%. Farmlands, which were destroyed, are starting to revitalise, but production levels are low.
Without proper food, clean water and unsanitary living conditions, health is deteriorating and hospitals are stretched beyond their capacity. Essential medicines are in critically short supply.
With borders to Egypt closed, market shelves are empty, with Israel imposing crippling restrictions on what can come and into the county.
The outlook is bleak for Palestinians, particularly in Gaza, which the United Nations predicts will be uninhabitable by the year 2020 – just four years from now. This is an area that desperately needs our help.
Donations help build self-sufficiency
ANERA – American Near East Refugee Aid, is an organisation set up in 1968 to help ease the suffering of Palestinian refugees after the war of 1967. ANERA still operates today, with the need for its services as great as ever given the continuing conflicts in the Middle East.
ANERA is dedicated to working with local groups and communities, delivering aid in emergencies, but also helping institutions to find long-term solutions that lead to self-sufficiency. ANERA is non-political and not affiliated with any religion, and because of it's strong presence in the region for more than 40 years it has incredible knowledge of, and sensitivity to, the particular humanitarian problems faced by Palestinians and others living in Palestine and Lebanon.
Heifer International
Heifer International's very simple philosophy has been changing poverty stricken communities for more than 70 years.
Its mission is to work with communities to end world hunger and poverty and to care for the earth, and it does this by providing – 'gifting' – families with an animal: a cow, or goat, or a lama or a water buffalo, or a chicken or bees … whatever is appropriate for the region.
By doing so, it gives families a gift that's really useful – something that can plough fields, or make honey or supply eggs, or wool, milk … and once families have these commodities, they can begin to make a living for themselves. When they are able to do this, they can go to market and buy another family's produce, they can afford to buy medicines and stay healthy and support schools to educate their children.
The key to success – passing on the 'gift'
The original animal 'gift' is very likely to have a baby. The recipient family is then obliged to pass on the first female born to another family, and to pass on the knowledge about how to care for animal, and how to make use of what it produces – eggs, wool, meat, fertilizer.
What starts to happen then, is that a small economy starts develop and communities begin to thrive, because the people within them have the strength and confidence that comes with knowing they are capable of being self-sufficient.
This incredibly simple model operates everywhere around the world.
We are delighted to donate $500 through our Sydney Criminal Lawyers® Help Fund to each of these worthy charities. If you would like to help, you can donate to ANERA here or to Heifer International here.
Receive all of our articles weekly
Author
Sydney Criminal Lawyers
Sydney Criminal Lawyers®
is Australia's Leading Criminal Defence firm, Delivering Outstanding Results in all Criminal and Driving cases. Going to Court? Call (02) 9261 8881 for a Free Consultation.