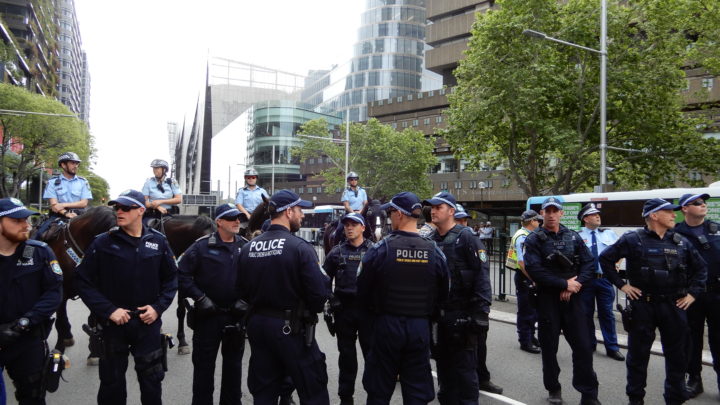 The recent Stop All Black Deaths in Custody rally brought central Sydney to a standstill, as citizens from all backgrounds came together to call for an end to the systemic racism and violence in the NSW policing and criminal justice systems.
Law enforcement in this state developed out the British colonising project, at a time when its focus was on dispossessing First Nations peoples from their lands, whether that be via fatal force or paternalistic policy.
The colonial legacy in the modern Australian system is all-pervasive. A stark reminder of it was the sight of NSW police surrounding the Captain Cook statue in Sydney's Hyde Park last Friday night, as Black Lives Matter protesters were overwhelmingly outnumbered by the presence of officers.
NSW Coalition governments of the last decade have had a tough on crime focus. And in late 2018, state premier Gladys Berejiklian upped the numbers of police by 1,500 officers, which was the largest increase in NSW policing in 30 years.
Yet, with the NSW population being just over 7.5 million people, there are questions to be asked about why such a comparatively small population would warrant NSW police being one of the largest forces in the English-speaking world.
And with the brute force of policing systems under the microscope right now, it may be high time to contemplate defunding the NSW police.
The global campaign
Calls to defund police aren't new. But, the campaign has gained recent attention sparked by the graphic footage that showed African American man George Floyd being killed in public by a group of Minneapolis police officers, who were acting as if they were simply doing their duty.
Defunding the police entails divesting funds from police forces and reallocating the finances towards investment in community-based forms of ensuring public safety and community support.
Following the killing of Floyd, the Minneapolis City Council voted to dismantle its police department as it was deemed nonreformable. And council president Lisa Bender told CNN, that councillors are looking towards "a new model of public safety" that actually serves its purpose.
The Australian context
UTS Jumbunna Institute professor Chris Cunneen explained in a recent article that defunding would work differently in Australia, as this country doesn't have separate police departments funded by councils, but rather reimagining the system would involve federal, state and territory governments.
The professor of criminology points out that the defund the police campaign poses questions as to whether the current investment in policing and prisons is the way to go, or if alternatives, such social housing and domestic violence services, could lead to a reduction in crime.
An example of how it would work, Cunneen outlines, is that instead of sending police out to deal with people suffering a mental health crisis – which often ends in violence – funds could be diverted towards establishing a mental health emergency response unit that could be deployed.
And the professor has further explained that community-based models are already operating in many Aboriginal communities, whereby locals take part in night patrols that ensure public safety, prevent harm and also provide assistance to those in need.
The overpolicing of First Nations
The fact that the NSW Police Force continues to operate with racial bias towards First Nations people is readily apparent when considering the statistics.
The NSW Bureau of Crime Statistics and Research (BOCSAR) custody report for the end of March this year reveals that 43 percent of those in NSW juvenile detention facilities were First Nations youths, yet they only account for around 5 percent of the state population under 18 years old.
Then there's the NSW adult prisoner population. Of the 13,525 inmates at the end of March, 3,437 were Aboriginal or Torres Strait Islander people, meaning 25 percent of that population was First Nations, while Indigenous people only account for around 3 percent of the overall populace.
The Guardian has revealed that despite a cannabis cautioning scheme operating in NSW, between 2013 and 2017, police took 80 percent of Aboriginal people found with small amounts of cannabis to court, which compared with just 52 percent of non-Indigenous people found with the drug.
Last year's UNSW report Rethinking Strip Searches by NSW Police outlines that despite only making up 3 percent of the state population, Aboriginal and Torres Strait Islander people account for 10 percent of those police strip search in the field, and 22 percent of those strip searched in custody.
And it's an advantageous moment to reflect on the fact that NSW police has increased its use of strip searches by twentyfold since 2006.
This has particularly been the case over the last five years, to the point where peak hour commuters at Central Station are now greeted with screens used to conduct these searches.
A colonial legacy
But, considering the NSW Police Force is so weighed down by historical prejudice, it might be asked if the Minneapolis model of dismantling the institution and building a new community-based body that doesn't harbour prejudicial attitudes towards certain sectors of society is needed.
As Melbourne Law School senior fellow Amanda Porter told Sydney Criminal Lawyers last week, the policing bodies charged with dealing with the Aboriginal resistance to colonisation were all incorporated into the current NSW police system.
The policing academic added that the early NSW Mounted Police has been described as "the most violent organisation in Australian history" by local historian Henry Reynolds.
Inherent prejudice
A recent incident in a Surry Hills park and its aftermath reveal that the prejudice in the current policing system just might be too deeply ingrained.
Footage shows a NSW police constable kick the legs out from under a 16-year-old Aboriginal boy and throw him face first onto the ground.
And while the teenager did make a verbal threat towards the officer, it was part of an exchange they were both partaking in.
Indeed, the boy posed no actual physical threat to the constable whatsoever and yet the officer resorted to violence.
The constable felt emboldened enough to do this just a week after the Floyd killing, when the entire globe was focused on police violence towards people of colour. And two days later, NSW police commissioner Mick Fuller simply put the incident down to one of his officers having "a bad day".
So, when you have the top cop casually dismissing an assault upon a First Nations teenager by one of his officers, it's quite obvious that there's something rotten in the state of the NSW Police Force.
Receive all of our articles weekly