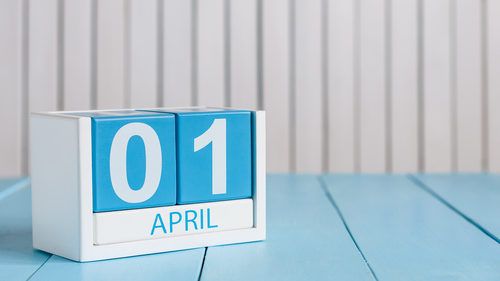 Have you seen the meme doing the rounds on social media that says "April Fool's Day is cancelled this year because no made up prank could compare with the unbelievable shit that's happening in the world right now."
Well, ain't that the truth?
Who would have thought even a few weeks ago that you could be stopped by police after leaving your house and fined for not providing a good reason to be outside? Who would have thought Australians would get arrested for fighting over toilet paper or indeed for crossing a state border.
Unfortunately none of these things are a joke …
But with April Fool's Day now here, let's take a look at some of the most notorious pranks in the past several years.
Hoax call pretending to be the Queen
One of the most serious in Australia was in 2012 when radio station 2DayFM broadcast a phone call to a hospital in London pretending to be the Queen and Prince Charles. Princess Kate was in hospital, pregnant with her first baby, George.The nurse who took the call and transferred it through to the ward later committed suicide as a result of the hoax.
There was international backlash and the Australian media watchdog, the Australian Communications & Media Authority decided that the station breached the Australian commercial radio code of conduct by "broadcasting a statement of an identifiable person without her consent & that they had treated her in a highly demeaning or exploitative manner."
Fake terrorism attacks
In 2016 the Jalals, a YouTube channel created by three young Muslims of Kurdish decent uploaded a prank bombing video. They were dressed up with fake beards and filmed themselves tossing a suspicious looking bag into public places – shops, car windows, elevators and toilet cubicles and running away. But what sparked the most outrage was when they were driving in a 4WD at night and lifted an AK-47 rifle through the window taking aim at a man and his young daughter using a payphone. The videos went viral, but the Jalal Brothers were actually arrested by counter terrorism police and had to face court.
The left-hand burger
Aussies always like to think that Americans are more gullible than us. And maybe it's true. In 1998, Burger King in the US announced it was offering a version of the Whopper that had been carefully designed for people who are left-handed … The joke was on Burger King tho, when stores across the country were flooded with orders.
Water emergency
And in 2002, two radio station announcers made an emergency broadcast that the local water supply had been found to contain high levels of "dihydrogen monoxide" (DHMO), – the side-effects included sweating, urination, and skin-pruning. Hundreds of citizens flooded the water department and the police with distressed phone calls. Dihydrogen monoxide is actually H20—the chemical name for water. The DJs were widely criticized and accused of "terrorism" by one government official. A couple of years later, in 2013, two Florida DJs pulled the same prank – they were taken off the air and nearly saddled with felony charges.
So – as the day dawns. Just be wary of everything you read, see and listen to. While Google has cancelled it's well-known and time-honoured prank this year, with the company saying the decision was made "out of respect for all those fighting the COVID-19 pandemic," most people would agree that in dire times like this, it's vital to keep spirits up. Laughter, after all, connects people, it's good for health and boosting immunity, and it's also a great distraction.
And right now, we could all do with a healthy dose of it.
Receive all of our articles weekly