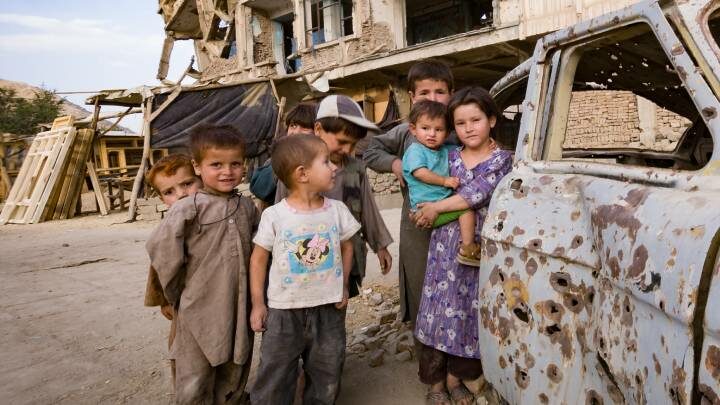 As the Taliban swept back into Kabul last Sunday to consolidate its control over Afghanistan, questions are being raised as to how the Australian government is going to meet its obligations to those who've fled, are fleeing and will be fleeing the rule of the newly restored authoritarian regime.
Under the Howard government, our nation sent in ADF troops to accompany the US in its late 2001 invasion of the Central Asian nation, which was in response to the 9/11 attacks that had just taken place, despite there being no substantial link between the Afghan people and events in New York.
The invasion toppled the five year-long repressive rule of the Taliban. And it established the now fallen Islamic Republic of Afghanistan.
Over the following two decades, five top defence contractors cleaned up. And on the recent abandonment of the western coalition forces, the region has returned to its former rulers, with a refugee crisis now unfolding.
But it's business as usual for PM Scott Morrison. "We will not be allowing people to enter Australia illegally, even at this time. Our policy has not changed," he announced on Wednesday. And after 20 years of occupation, he'll only be extending visas to 3,000 Afghan people, and nothing more.
So, refugee groups nationwide are calling on our devotedly religious head of state to go further. They're demanding that visas are extended to at least 20,000 refugees, that locals who assisted our troops are provided asylum, and that Afghan refugees already here are permanently protected.
"A despicable position"
"Over the next weeks and months, we are going to see tens of thousands – perhaps hundreds of thousands – of people attempting to get out of Afghanistan," said Refugee Action Coalition (RAC) spokesperson Ian Rintoul.
"The scenes we've seen at Kabul airport are an indication of the general fear that's gripped the community," he told Sydney Criminal Lawyers. "And for women and Hazaras, in particular, there are historical reasons for their fear of what a Taliban regime is going to mean."
Commencing in 1996, the half decade of Taliban rule was excessively repressive, especially for women and girls, who were subjected to a segregated system, which saw them confined to their homes, forbidden from participating in education and work, and beaten for breaching the rules.
The Taliban is also notorious for its persecution of minorities, especially the Hazaras: a predominately Muslim people living in the mountainous region of central Afghanistan. During the last reign of the Taliban, the Hazara were subjected to extreme persecution and violence.
"It is a despicable position," Rintoul said in regard to Morrison's announcement of the nation's response to the burgeoning crisis. "But it is typical of the fortress Australia position that the Coalition government has been responsible for in terms of its anti-refugee policies."
Positions do change
Australian refugee advocacy groups are calling on the government to permit 20,000 Afghan asylum seekers to come to this country as a result of the current crisis, in line with other comparable liberal democracies, such as Canada and the United Kingdom.
The government's current humanitarian program has a provision of taking in 13,750 refugees annually, which was dropped by 5,000 at the 2020 budget. Immigration minister Alex Hawke has stated the proposal to take in 3,000 Afghan refugees would be from within this allotment.
However, a similar set of circumstances occurred in 2015, involving then PM Tony Abbott responding to the crisis unfolding in Syria. Abbott initially said a small number of Syrian refugees would be taken in, before committing to an additional 12,000 on top of the annual allotment.
"Australia has a very particular obligation," Rintoul made certain. "It's very clear that being part of the American occupation has led to the degeneration of the political circumstances inside Afghanistan, so there's a particular obligation to that."
"In that respect, there is also an obligation to the refugees who are already in Australia and to their families that, so far, the government has denied any possibility of reunion," he added.
Fortress Australia
Last month, retired ADF army major Stuart McCarthy burnt his service medal to protest the Coalition government not extending asylum to dozens of Afghan civilians – including many interpreters – who assisted our country's forces during the war.
This week, Morrison conceded it is now too late to help many of these Afghan nationals. Although his government did manage to abruptly close down the Australian embassy in Kabul last May, and withdraw our final troops not long afterwards.
Home Affairs data shows that there are over 4,200 Afghan nationals classed as "illegal maritime arrivals" on temporary visas in Australia, while there are a further 400 whose applications are currently being reviewed.
And, according to Rintoul, there are many others in the community who are in legal limbo after their temporary visas have either expired or been denied.
Several Morrison government ministers have stated this week that there will be a temporary halt to returning any of these people to Afghanistan, but opposition leader Anthony Albanese maintains that these people should simply be provided with permanent protection visas.
There's also a ban on permitting Afghan Australians who arrived by boat from reuniting with family members. Currently known as Direction 80, this rule provides that these people can pay and apply for their relatives to join them, yet their applications are deprioritised to the end of the queue.
"Morrison himself has a very particular responsibility for this deprioritising," Rintoul added. "He was the immigration minister who led Direction 80."
A humane approach
The Refugee Action Coalition Sydney held a meeting on Monday. It produced a list of demands regarding how the Morrison government should be handling the unfolding refugee crisis, following its decision to withdraw our troops from the longest war our nation has ever known.
RAC is calling for at least 20,000 Afghan refugees to be resettled. It wants asylum provided to those in detention. It's calling for those on temporary and bridging visas to be provided permanent ones, it wants the scrapping of Direction 80, and that the 6,000 Afghan refugees in Indonesia be brought here.
"One other thing that we are calling for is that there are thousands of Afghan asylum seekers who have been denied protection visas in Australia on the spurious basis that Kabul was safe," Rintoul concluded.
"It has always been nonsense. It is clearly nonsense now, and there needs to be an urgent review of all of those cases who have been denied on that basis."
Receive all of our articles weekly