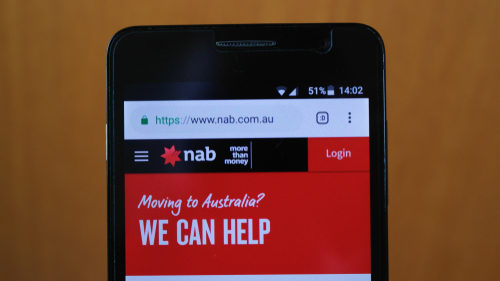 The former banker who defrauded the NAB for $640,000 over a period of four years by exploiting its 'introducer' scheme has been sentenced to eight months behind bars.
In 2015 Andrew Matthews was celebrated by the bank for his work ethic, winning the National Australia Bank's internal award for the best mobile banker of the year for regional Victoria.
Twelve months later, he was sacked after it was discovered that he's exploited a scheme set up by the bank to encourage lending referrals.
The court heard that Andrew Matthews approved 129 loans between 2012 and 2016 (when an internal audit detected the fraud) which falsely claimed his friend Nicola D'Agostino was the person who had "introduced" the customers to the bank.
Clients unknowingly signed forms saying D'Agostino had introduced them to Matthews, and the men would divide the commission paid by the bank.
Under the NAB's 'introducer' programme, this made Mr D'Agostino entitled to a commission of 0.04 per cent of the loan amount.
Mr D'Agostino and Mr Matthews had an arrangement for the commissions to be paid into D'Agostino's bank account, with about 90 per cent then being steered back to Matthews in payments made out to his private company.
Mr Matthews will spend 8 months in jail with an additional 28 months as a suspended sentence. He must also pay back the money he stole.
His co-accused, D'Agostino, was spared jail after pleading guilty to two counts of recklessly dealing with the proceeds of crime, in relation to the $67,000 he pocketed. He has been fined $1000 and ordered to repay the money, as well as perform 125 hours of community service.
Culture of greed
In sentencing Mr Matthews, the Judge acknowledged that his offending had taken place during a time of cultural turbulence at NAB, and that the referral scheme was ill-conceived, open to abuse and given "scant" monitoring.
Ironically, NAB scrapped the scheme in the wake of the findings of the Royal Commission into Finance and Banking, which described the scheme as 'fraught with risk.
However several of the other big lenders continue to make introducer payments. These lenders defend the programs on the basis they are limited to certain groups, the payment is disclosed to customers, and referrers have no involvement in the actual lending decision.
In the meantime, the case alleging multi- million-dollar fraud against National Australia Bank is still in progress. Former chief of staff to NAB then-CEO Andrew Thorburn — is accused of taking bribes worth more than $40 million over five years, according to forensic police accountants. She faces 57 charges alleging she corruptly received cash, holidays and assets including a boat.
Late last year, the Royal Commission heard of poor risk controls at NAB, leading to fraud at a number of levels within the bank. Several other NAB executives may also face criminal prosecution over the fees for no service scandal.
And NAB was not alone, there were many stories that revealed systemic misconduct in some of our biggest financial institutions, leading to the Government pledging around $50 million in further funding to ensure the Federal Court and Commonwealth Prosecutors have sufficient resources to ensure financial institutions are brought to account.
And given the stories that unfolded throughout the Royal Commission there is a high community expectation that those responsible for criminal behaviour should be punished accordingly.
White Collar Crime in Australia
It's been reported that these types of white collar crimes cost the Australian economy more than $8.5 billion a year and account for 40 per cent of the total cost of crime in Australia.
Offences that are categorised as white collar crimes include: bribery, copyright infringement, cybercrime, fraud, identity theft, tax invasion, insider trading and money laundering.
The Offence of Fraud in NSW
Section 192E of the Crimes Act sets down a maximum penalty of 10 years in prison for any person who obtains property belonging to another, or obtains any financial advantage or causes a financial disadvantage to another, where this is done dishonestly by any deception.
To establish the offence, the prosecution must prove that:
By a deception, the defendant acted dishonestly, and
These actions created a financial advantage over another person's property, or caused them to suffer a financial disadvantage, and
The actions were intentional or reckless.
If the prosecution is unable to prove each of these elements beyond a reasonable doubt, the defendant is entitled to an acquittal.
In assessing the seriousness of any fraud offence, the court is required to take into account a range of factors including:
The amount of money involved,
The length of time over which the offences were committed,
The motivation for the crime,
The degree of planning and sophistication, and
The extent of any breach of trust.
Receive all of our articles weekly
Author
Sonia Hickey
Sonia Hickey is a freelance writer, magazine journalist and owner of 'Woman with Words'. She has a strong interest in social justice, and is a member of the Sydney Criminal Lawyers® content team.