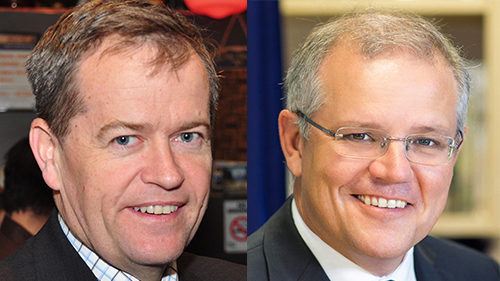 Australians are heading to the polling booths this Saturday. And with the Coalition racking up its 54th consecutive Newspoll loss earlier this month, as well as a number of key Liberal ministers who've been jumping ship like rats, it seems we might have a new government quite soon.
And as the remaining Coalition MPs make their way over to the other side of the parliamentary chamber, many in the community will sigh, "good riddance", as near on six years under them has meant economic blowout, attacks on the poor and the enactment of draconian laws.
Indeed, under the Liberal Nationals government, we've seen a swag of new bills passed in the name of national security and counterterrorism that have been incrementally eating away at the civil liberties of all Australian citizens.
Although, when it comes to passing national security legislation that enables government to tighten control over citizens, there's an understood bipartisanship, which finds both major parties – along with the Nationals – on the same page.
Since 9/11, there's been over 70 pieces of such legislation passed at the federal level. And over that almost 18 year period, Labor has either been giving the nod to the Liberal's freedom eroding bills, or, for a third that time, the party was drafting its own.
Watered down and ineffective
In November 2017, UNSW Law Professor George Williams told Sydney Criminal Lawyers that the need for an Australian bill of rights that protects citizens' freedoms has become more pressing due to the post-9/11 laws, which are being replicated in other areas besides national security.
The professor recalled in a 2016 article that following a 2009 national consultation recommending that rights protection legislation be passed in this country, the Rudd Labor government rejected the idea, claiming it was "divisive".
And instead, the Gillard government oversaw the passing of the Human Rights (Parliamentary Scrutiny) Act 2011 (Cth). It established the Parliamentary Joint Committee on Human Rights, which is charged with examining the adherence to human rights obligations of new legislation.
The Scrutiny Act also requires government to include a statement of compatibility in the explanatory memorandum of any new legislation. This outlines how a bill is in compliance with the seven core international human rights treaties that Australia has ratified.
However, as of January 2016, Professor Williams found the committee had been ineffective. It had found 95 bills were incompatible with human rights. Although, this still saw the passing of 69 of those bills, while it basically had no impact on most of the others.
Let's pass them, and head home early
Last year was a fine example of this bipartisan agreement. The Coalition drafted a number of iron-fisted bills. And while Labor members were seen to question some of the provisions at parliamentary committee hearings, when it was time to vote, they happily raised their hands in support.
Take the National Security Legislation Amendment (Espionage and Foreign Interference) Bill 2018 (Cth). The Turnbull government passed it on 28 June last year, with full support from Labor. And the laws enacted had a wartime chill about them.
Newly inserted sections 82.5 and 82.6 of the Criminal Code Act 1995 (Cth) contain sabotage offences that could be applied to protesters that temporarily block mining facilities. And this would see them facing maximum penalties of up to 15 to 20 years imprisonment, depending on intent.
For journalists, new espionage laws contained in section 91.1 of the Criminal Code mean that they can be prosecuted for reporting on anything that harms Australia's international reputation politically or economically. If convicted, this can land an individual in gaol for 25 years to life.
Habitual bipartisan behaviour
On 27 November last year, the Defence Amendment (Call Out of the Australian Defence Force) Bill 2018 (Cth) finally passed both houses. Labor supported this legislation, which will allow the party to call in the army to deal with domestic incidents when it's in office.
It also created new section 39(3)(b) of the Defence Force Act 1903 (Cth), which states that normally the troops can't be sent in to deal with "protest, dissent, assembly or industrial action". Although, they can if there's a "reasonable likelihood" of death, injury or even "serious damage to property".
Then, just to make sure Australians' privacy online will be a distant memory you can tell your grandchildren about, both parties voted the Telecommunications and Other Legislation Amendment (Assistance and Access) Bill 2018 (Cth) over the line on 6 December last year.
It's true, Labor initially put on a bit of a performance like it wasn't going to grant the passage of the bill, which allows the party, when in office, to take measures to access encrypted data on citizens' electronic devices.
But, then Labor MPs thought, "What the hell? It's right on Christmas. Let's gift ourselves a bit more power in the future."
Dutton's Frankenstein Resurrected?
The Identity-Matching Services Bill 2018 (Cth) was introduced into parliament by home affairs minister Peter Dutton on 7 February last year. It was designed to establish a vast surveillance system which would allow for the matching of citizens' identity photos with footage from all CCTV cameras.
As renowned human rights lawyer Julian Burnside put it in June last year, "It would amount to having plain-clothes policemen in every street, watching out for specific individuals who are of interest to the government for one reason or another."
The legislation was sent to the Parliamentary Joint Committee on Intelligence and Security (PJCIS) for review. Although, the bill lapsed on 11 April, due to the dissolution of parliament with the announcement of the impending election.
So, it's yet to be seen whether an incoming Labor government revives Dutton's Orwellian surveillance system, which is also being implemented in other countries, such as China, the US and the UK. The Coalition has already been utilising a manual prototype here since November 2016.
Real protections from government
The PJCIS is a parliamentary committee that reviews most of the national security bills that whittle away at our rights. And as Civil Liberties Australia CEO Bill Rowlings explained via email last July, the PJCIS is always dominated by Liberal and Labor MPs.
A criticism Professor Williams levelled at the Labor and Liberal dominated Parliamentary Joint Committee on Human Rights, and its function of overseeing rights compliance, is that it leaves this task to the branch of government "most frequently charged with breaching those rights".
And as the professor recommends, an Australian bill of rights needs to be established, so that legislation would be assessed for its human rights compliance by the judiciary. And this would break the bipartisan grip the major parties have over removing the rights of the Australian constituency.
Receive all of our articles weekly